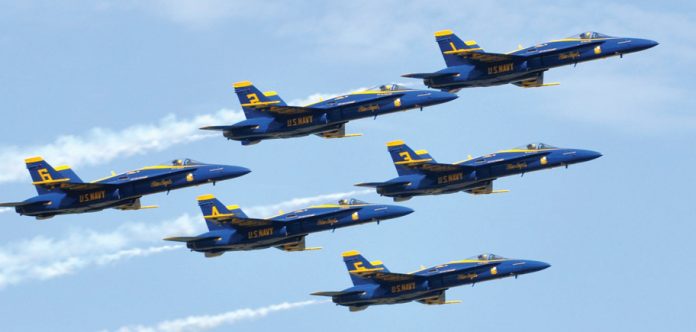 Story by Darl DeVault, contributing editor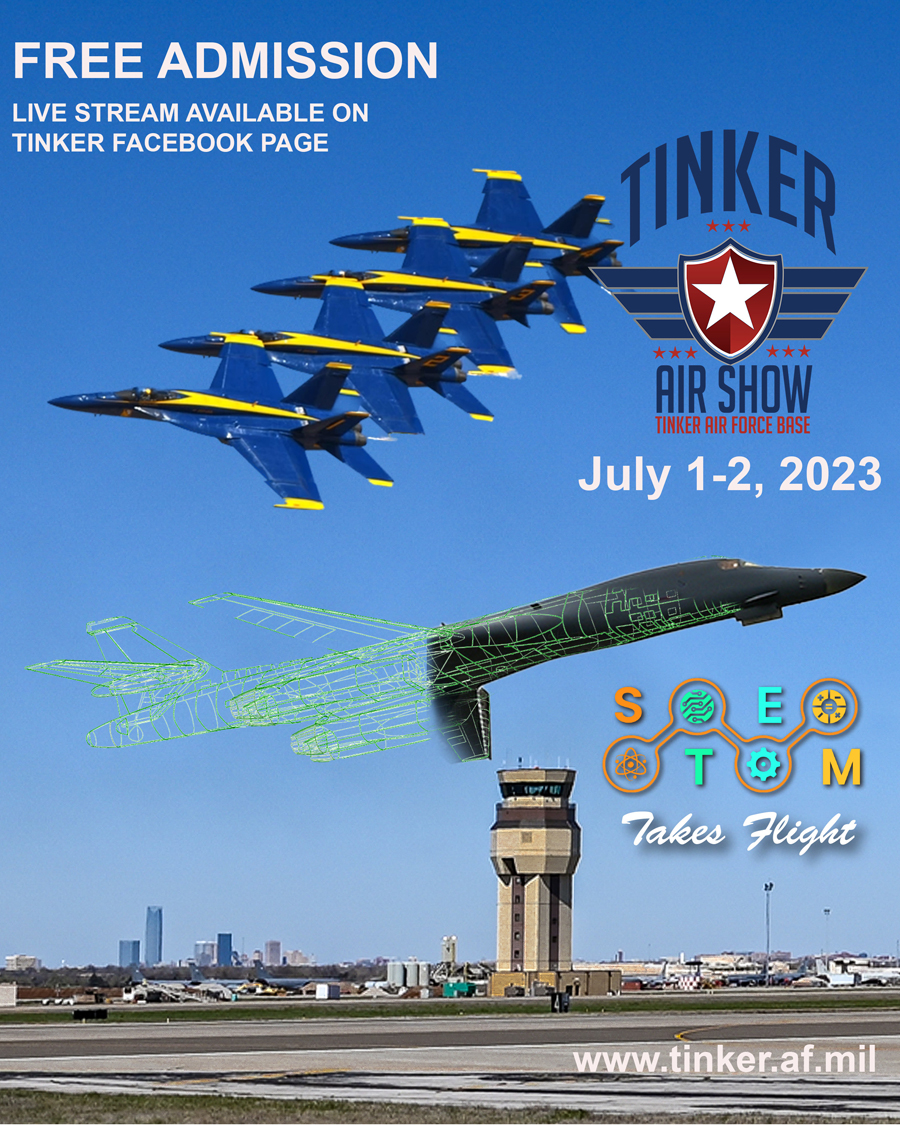 The free admission Tinker AFB Air Show returns July 1-2, featuring the U.S. Navy Blue Angels' highly anticipated aerial exhibition finale each day. The Blue Angels aerobatic flight demonstration team of six fighters will treat spectators to their precision flying skills and professionalism. In the team's rich history, they have performed for an estimated 500 million spectators, sharing their flyovers and shows worldwide since 1946.
The Blue Angels Navy pilots will feature their famous delta formation as they perform in their single-seat, supersonic F/A-18E Super Hornet fighters.
"We are excited to open our gates to host a safe, family-friendly event with an awesome lineup of aerial performers and interactive ground displays," said Lt. Col. Kyle Moats, commander of the 72nd Operations Support Squadron. "The Air Show is our way of giving back to our community and saying 'thank you' for all the continued support of Tinker Air Force Base and our warfighters."
The world's most advanced multi-role stealth fighter, the Lockheed Martin F-35A Lightning II, will compete with the Blue Angels for the crowds' attention by flying above Tinker for the first time. A single fighter demonstrating its stealth and next-generation technology built to replace many older and less technologically advanced fighters will perform each day. The supersonic F-35A's helmet-mounted display system is the most advanced system of its kind. All the intelligence and targeting information an F-35 pilot needs to complete a mission are displayed on the pilot's helmet visor.
As Oklahoma's largest single-site employer, Tinker AFB personnel are part of the enduring 75-year advantage as the world's most capable and respected air power source. This open house will demonstrate why the last time an American combatant was killed on the ground by an adversary air force was April 15, 1953.
Because admission, parking and shuttles are free, organizers encourage everyone to arrive early. Seniors will want to arrive early enough to park at Building 9001, formerly the old General Motors Plant, off SE 74th Street because those buses drop them off at the gate area requiring the least walking. The event has been popular, and the gates will close when capacity is reached. Gates open at 8 a.m. daily, and aerial demonstrations begin at 11 a.m. All acts are expected to perform each day, but the order of performers may change.
As you approach Tinker Air Force Base from Interstate 40 or I-240, look for signs directing you to the entrance. From I-40 or SE 29th Street, you may enter through the Hruskocy Gate. From Douglas the Lancer Gate. And from the I-240 exit at Air Depot or Douglas, come in on 74th Street to access the old GM plant. The Liberator Gate off Douglas will only be a drop-off point for any LYFT, UBER and other Ride Share vehicles. It is important to note that driving from the west side of the base to the east side will be restricted.
Guests with wheelchairs, strollers or wagons are highly encouraged to enter through the Hruskocy or Lancer Gates to mitigate excessive time spent loading/unloading buses.
Small diaper bags and purses are permitted. Bringing sunscreen, hats, and umbrellas for shade is strongly recommended, as shade availability may be limited. Visitors are also advised to bring blankets, lawn chairs, and strollers, as seating will not be provided. ATMs will be available on-site.
Drivers should have their licenses available for the gate guards as they approach the gates. Park vehicles in designated areas and proceed to the gated entryway or shuttle bus stop. Base security forces will send you in the right direction. All visitors will proceed through a security checkpoint before boarding the shuttle buses or entering the event area.
The show will feature dozens of military and civilian aerial performers and a wide variety of ground display aircraft, such as Tinker's own E-3 Sentry AWACS, the U.S. Navy E-6B Mercury, and the KC-135 Stratotanker.
The theme for this year's air show is "STEM Takes Flight," highlighting science, technology, engineering and mathematics that make human flight possible. STEM City will fill a large hangar so children and adults can witness the "outside-of-the-box" thinking needed to solve the daily problems Tinker's engineers and mechanics face to deliver air power for America.
Youth can explore various hands-on activities with drone tech, robotics, LEGOs, snap circuits and more for kids ages 5 through high school. The emphasis is on how they can get involved in the field of aerospace, whether in the private or public sector. They will be shown the many jobs available that require a STEM-related education."
Other educational opportunities include a mobile movie theater showing films about the Tuskegee Airmen, the first Black military aviators in the U.S. Army Air Corps, and the Women Airforce Service Pilots (WASP), who served in World War II.
Visitors can also walk inside an E-3 Sentry AWACS, explore a full-scale E-7 exhibit of the Air Force's new global defense plane, and get an up-close look at the Blue Angels' C-130J Super Hercules and other static displays.
Stand-out air acts include a World War II reenactment by Tora, Tora, Tora, including the famous "Wall of Fire," the USAF Wings of Blue Parachute Team, Jelly Belly Comedy Air Act, Matt Younkin and his Twin Beech aerobatic air act, T-33 demo flight, Tuskegee Airman WWII Red Tail P-51, Adam Baker and his Extra 300 aerobatic air act and more.
Most attractions are free except a VIP area, the Flightline Chalet, and the Kidz Zone. Flightline Chalet VIP tickets are available for $149, offering shade tents, preferential seating, cold beverages, and a boxed lunch. There is also shade seating on the northern end of the flightline starting at $39. Wristbands for the Tinker Air Show's Kidz Zone cost $20 and are good all day. STEM City is free to attend.
Security measures will be in place, and visitors must pass through a security checkpoint before boarding the shuttle buses or entering the event area. Smoking or vaping is strictly prohibited, and coolers are not allowed. Food concessions will be available for refreshments, with beverages for sale and complimentary water provided, so bring an empty water bottle to fill at the water stations.
As the air show draws closer, Team Tinker continues to add performers, ground displays, and exhibits to enhance the overall experience. Visitors are advised to regularly check the public website https://www.tinkerairshow.org/ and or they may log onto the Tinker Air Force Base's website: https://www.tinker.af.mil/) and their social media platforms, including Facebook(@TinkerAirForceBase), Twitter(@Team_Tinker), and Instagram (@Tinkerairforcebase), for the most up-to-date information. For those unable to attend in person, the air show will be live-streamed on Tinker's Facebook page. To ensure a smooth and enjoyable experience, visitors are encouraged to download the air show app AF Connect, which provides important information, including parking and event maps. The official 2023 Tinker Air Show app, 'AF Connect,' can be downloaded from popular app stores for free.