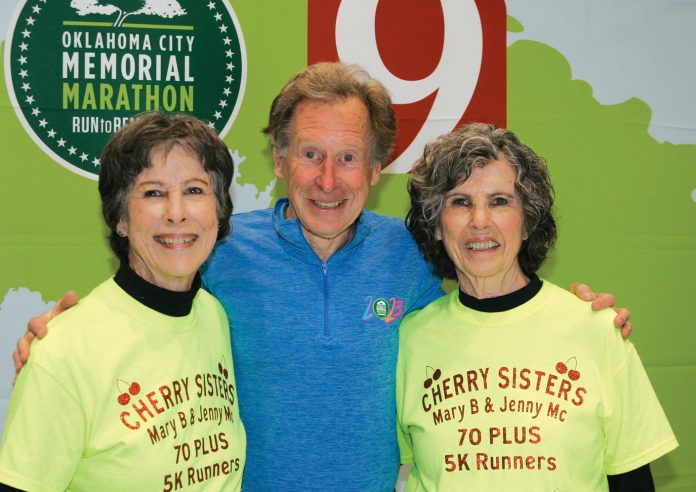 Story and photos by Darl DeVault, contributing editor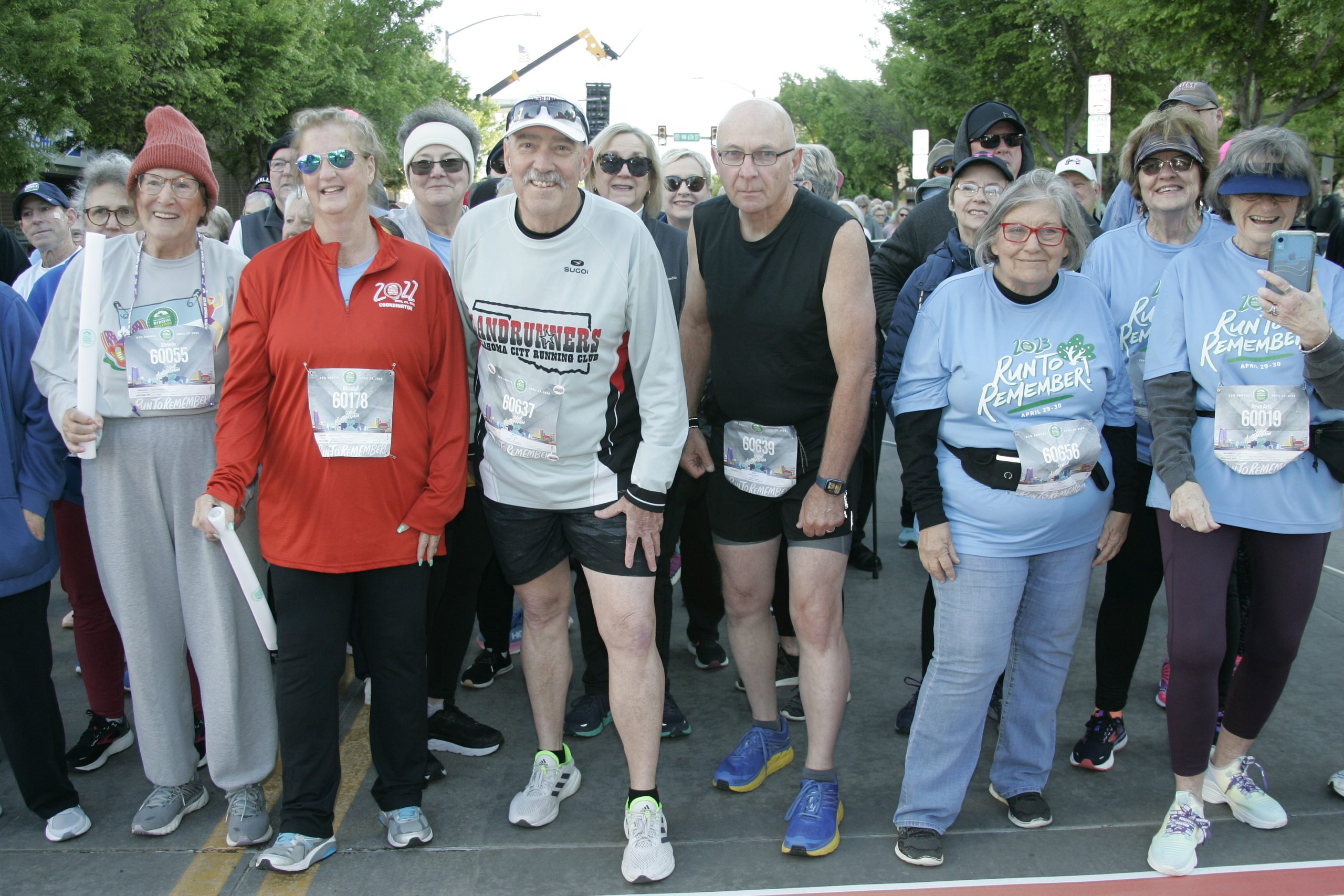 In a heartwarming display of resilience, 1,000 senior citizens aged 65 or older came together on Saturday, April 29th, to walk or run in the inaugural Senior Marathon, a new addition to the 23rd annual Oklahoma City Memorial Marathon. Their participation allowed seniors to support the nonprofit Oklahoma City National Memorial & Museum. This institution has served the community for 22 years in honor of the victims, survivors, rescuers, and all those affected by the devastating April 19, 1995 bombing.
The participants of the Senior Marathon undertook a unique training regimen, walking or running 25 miles before the race weekend and recording their progress by completing 1.5 miles each week starting in January. On their race day, they completed their 26.2-mile marathon.
The Senior Marathoners embarked on their journey a day before the main marathon, setting off at 8 a.m., between the 7 a.m. start of the 5,000 meters (5K) run and the Kid's Marathon that started at 9 a.m. Their route took them from the Oklahoma City National Memorial & Museum starting line on the final 1.2 miles of their marathon distance, directly south to the finish line in Scissortail Park.
Many seniors chose to continue running in their favorite 5K run. Saturday morning began with the more competitive 5K, in which a diverse group of participants, including wheelchair athletes, eagerly participated.
Norman resident Mary Cherry Burleson, 81, and her Edmond sister Jenny Cherry McMonigle, 79, participated in the "Run to Remember" 5K, making it a decade of running it for each.
Despite Mary's admission of never being much of an athlete, her determination to be fit led her to participate. Notably, both sisters have consistently placed in the top ten of their age and gender categories in each run, earning two medals each for being in the top three.
For Mary, participating in the Memorial Marathon weekend holds a profound significance. She said, "One of our good friend's brothers was killed in the bombing, so I run to remember him. I love being a part of all that the Memorial Marathon represents—our community coming together to honor their memory, and the opening 168 seconds of silence at each race are designed to do that."
On the other hand, Jenny has always been naturally inclined towards running. From running to her grandparents' house a block away to watch TV at night during her childhood to participating in races with her classmates during grade school recess, Jenny's love for running has been ingrained in her since a young age.
She even ran in the AAU Junior Olympics one summer. However, it wasn't until 2013 that Jenny felt inspired to participate in the Memorial Marathon after reading the book "Run for God," which explores the parallels between enduring a sport like running and having faith, based on the Bible verse Hebrews 12:1.
Jenny's training for the 5K race demanded commitment, practice, perseverance, and suitable equipment, while also providing an enjoyable, satisfying, and rewarding experience. Upon completing the book, Jenny felt prepared for her first 5K as part of Memorial Marathon weekend, an event encompassing all the elements she had embraced. Jenny's passion for running was ignited, and she has since participated in the event every year.
For Mary and Jenny, running in the 5K yearly goes beyond staying active and maintaining good health. It serves as a way to honor and remember those affected by the tragic Oklahoma City bombing. Their unwavering commitment to the event and dedication to running inspire others, demonstrating that with perseverance and the right mindset, anyone can achieve their goals and positively impact their community.
Readers who notice their custom tee shirts with their names and ages as 70 Plus in the accompanying photo will soon see a new race day version. Next year they will both be in their 80s, so their new tee shirts will list their ages as 80 Plus.
Kevin Lynes was among the inaugural Senior Marathon participants, a 66-year-old runner who discovered his love for running at age 48, once his children had grown up. Over eighteen years, Lynes has completed an impressive 24 full marathons and 10 ultra-marathons of 50 kilometers or more.
Hailing from Oklahoma City, he has participated in the Memorial Marathon full marathon 10 times and the half marathon six times. Additionally, he has completed approximately 75 half-marathons throughout his extensive running career.
Lynes learned about the Senior Marathon a few weeks before the event, prompting him to embark on a focused training schedule. "I quickly ran the required distance and kept track of earning the privilege to run in it right up to race day," Lynes said. "I decided to sign up for the event because generating that mileage quickly would be a fun challenge."
While Lynes ran the final leg of the Senior Marathon alone that Saturday, many of his training runs over the years have been with Oklahoma City Running Club athletes.
This year he began supporting Ainsley's Angels of America. This national organization promotes inclusion and accessibility for individuals with disabilities in endurance events. Lynes said he had the honor of pushing a young girl Jordyn's wheelchair while running this year's half marathon on Sunday, switching off in rotation with her mother and Sarah Mehan. The experience profoundly impacted him, inspiring Lynes to want to help push Jordyn in the full marathon next year.
Lynes' running journey inspires anyone who may feel there is still time to start a new hobby or physically challenge themselves. His story highlights that, with the right mindset and dedication, there is always time to begin running or walking and make a positive change in one's life, as he can attest.
The Senior Marathon was designed to be an untimed event, allowing the participants to savor the experience without any pressure or competition. In addition to the race, the Senior Marathoners had the opportunity to partake in the Health and Fitness Expo, held at the Oklahoma City Convention Center that day. The Expo, presented by the OKC Convention and Visitors Bureau and OU Health, was located adjacent to the finish line. It offered a platform for Senior Marathoners to interact, show their support, and gain insights into health and fitness.
The Oklahoma City Memorial Marathon is the largest fundraiser for the privately owned and operated National Park Service-affiliated Oklahoma City National Memorial & Museum. Over two days, the event welcomed more than 20,000 runners and walkers from across the United States and several foreign countries. In addition to the Senior Marathon, the event featured a marathon, half marathon, marathon relay (comprising five-member teams), 5K, Kid's marathon, and a wheelchair division.
The Senior Marathon inaugural event was presented by Mercy, a nonprofit Catholic health system serving Arkansas, Kansas, Missouri, and Oklahoma.
This new event is an outstanding testament to the indomitable spirit of the senior citizen community. By lacing up their running shoes and embarking on their walks or runs, they honored the memory of the Oklahoma City bombing by showing their dedication to supporting their community while seeking a healthy and active lifestyle.