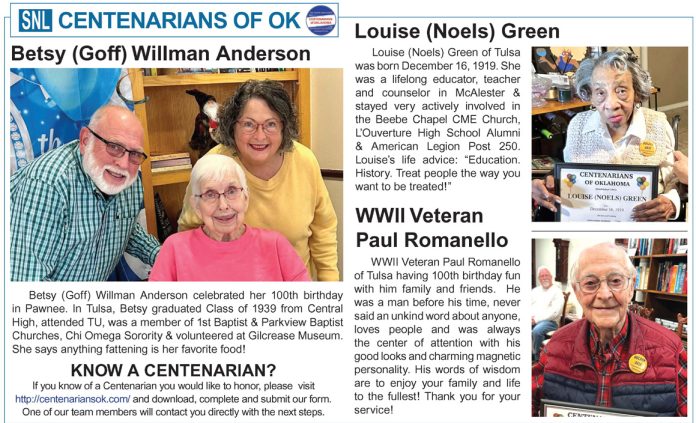 Betsy (Goff) Willman Anderson
Betsy (Goff) Willman Anderson celebrated her 100th birthday in Pawnee. In Tulsa, Betsy graduated Class of 1939 from Central High, attended TU, was a member of 1st Baptist & Parkview Baptist Churches, Chi Omega Sorority & volunteered at Gilcrease Museum. She says anything fattening is her favorite food!
Louise (Noels) Green
Louise (Noels) Green of Tulsa was born December 16, 1919. She was a lifelong educator, teacher and counselor in McAlester & stayed very actively involved in the Beebe Chapel CME Church, L'Ouverture High School Alumni & American Legion Post 250. Louise's life advice: "Education. History. Treat people the way you want to be treated!"
WWII Veteran Paul Romanello
WWII Veteran Paul Romanello of Tulsa having 100th birthday fun with him family and friends. He was a man before his time, never said an unkind word about anyone, loves people and was always the center of attention with his good looks and charming magnetic personality. His words of wisdom are to enjoy your family and life to the fullest! Thank you for your service!

KNOW A CENTENARIAN?
If you know of a Centenarian you would like to honor, please visit
http://centenariansok.com/ and download, complete and submit our form. One of our team members will contact you directly with the next steps.