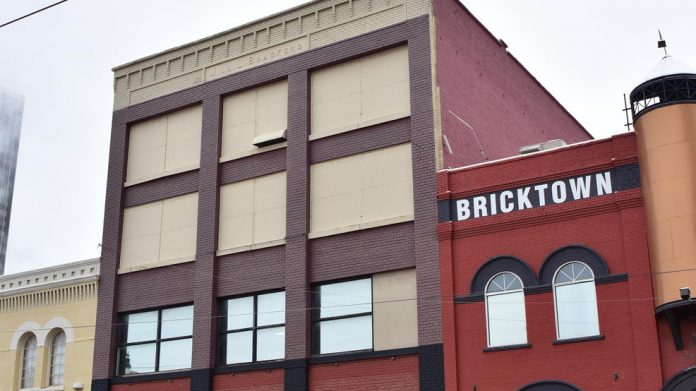 The Oklahoma Historical Society, State Historic Preservation Office (SHPO) is pleased to announce the National Register of Historic Places designation for the following properties in Oklahoma. The National Register of Historic Places is our nation's official list of properties significant in our past.
Oklahoma County
William L. Bradford Building
27 E. Sheridan Ave., Oklahoma City
The William L. Bradford Building near downtown Oklahoma City, Oklahoma County, is locally significant for its association with Commerce and Industry. Constructed in 1909, the four-story, red brick building was developed as an investment property in Oklahoma City's burgeoning warehouse district, known today as Bricktown. A simple corbeled brick cornice adorns the top of the building in reference to the Classical Revival architectural style that was commonly seen at the turn of the 20th century. Various manufacturers and wholesalers occupied the building during its period of significance from 1909 to 1941, including the Southwestern Fountain Company, the Can't Spill Oil Can Company and Kansas City Paper House.
Kay County
Ponca City Coca-Cola Bottling Company
511 S. First St., Ponca City
The Ponca City Coca-Cola Bottling Company is locally significant for its association with Industry. The modest, one- and two-story, painted brick building was completed in a series of phases between 1923 and 1956 as the bottling plant expanded to meet the growing demands of the local community. The historic period glass block windows, drive-through service entries and signage panels reflect the building's unique industrial uses and share common vernacular design elements with other nearby industrial complexes. Part of an integrated chain of local and regional bottling operations, the Ponca City Coca-Cola facility reflects the significant, early-20th-century industrial growth of the community and was the longest continually operated bottling works in Ponca City.
WBBZ Radio Station
1601 E. Oklahoma Ave., Ponca City
WBBZ Radio Station is locally significant for its association with Communications and Architecture. The station property is comprised of a two-story, buff brick, Modernist radio station building and an adjacent 165-foot metal transmitter tower, all completed in 1951–52. The modest, flat-roofed station building with its distinctive corner window and glass block glazing represents an exceptionally well-preserved local example of mid-century International style design. Ponca City does not have a large concentration of mid-20th century International style buildings. Thus, the intact and somewhat unusual nature of the WBBZ Station building marks it an exemplary local example of International style design. The WBBZ Radio Station provided an important outlet for local and regional communications regarding news, current events and general entertainment in an era before the widespread use of television and the Internet for social communications. The station also had a significant role in the establishment of local weather warning systems and civil defense programs in the immediate post–World War II era, a particularly important aspect given Oklahoma's notorious reputation for severe and rapidly changing weather conditions.
Listing in the National Register of Historic Places is an honorific designation that provides recognition, limited protection and, in some cases, financial incentives for these important properties. The SHPO identifies, evaluates and nominates properties for this special designation. For more information about the OHS, please visit www.okhistory.org.