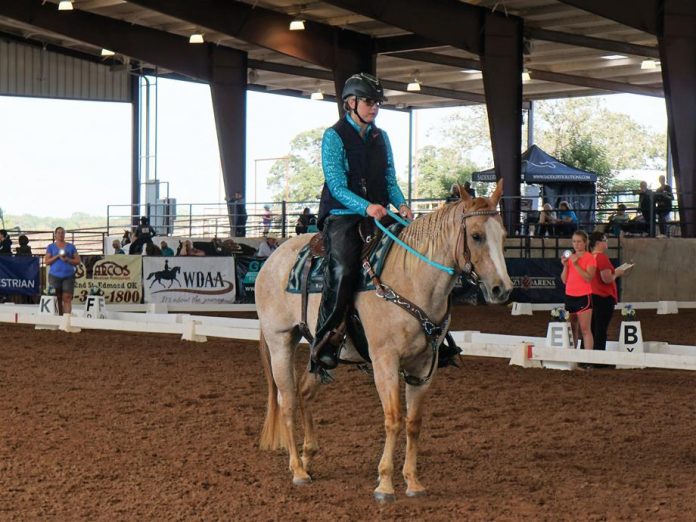 The Western Dressage Association® of America is hosting its sixth annual Western Dressage World Championship Show Sept. 27-30 at the Lazy E Arena in Guthrie, Okla. Entries are open through Sept. 5, and no qualifying is necessary. Admission is free for spectators.
Competitors from across the United States and internationally will vie for 77 world championships, more than 30 breed high-score awards and 20 divisional championship belt buckles. Other competitions include musical freestyle jackpot classes.
New in 2018 is the addition of therapeutic riding exhibition classes, where the benefits of western dressage – and the partnership it can create with a horse – will be on full display.
"Western dressage honors the partnership between horses and riders, and that was certainly on display at our 2017 World Show," said WDAA World Show Committee Chairwoman Ellen DiBella. "I was especially thrilled to see the riders in our Physically Challenged division."
In 2017, three-time world champion Shawn Makepeace, who is legally blind, earned that divisional championship on her American Quarter Horse mare, Mosly A Rose. Volunteers held bright LED lights at each letter around the dressage arena, making it possible for Makepeace, of Belleville, Ill., to discern the location of the letters as she rode her western dressage tests.
This inclusive sport is welcoming to all types of horses and both beginner and expert riders alike. Older horses have also found success in this discipline – many of them on their second or third career.
"It's so exciting to see horses in their mid-20s competing successfully," DiBella said.
A great example was the American Quarter Horse Spindoll, who in 2017 at age 25 helped her rider, Rose Ruotsalainen of Cheney, Wash., earn three junior world championships, two reserve world championships and the overall junior divisional championship at the introductory level.
Support from generous sponsors is what makes this championship show work. Sponsorships are still available for classes, welcome parties and other awards, and inquiries are welcomed.
WDAA's mission is to build an equine community that combines the traditions of the American West with classical dressage. We honor the horse, and we value the partnership between horse and rider.
WDAA is a 501(c)3 educational not-for-profit organization, focusing on educating riders and promoting the ethics and values inherent in western dressage. The United States Equestrian Federation has recognized WDAA as the sole affiliate representing the discipline of western dressage.
To learn more, or for entry or sponsorship information, go online to www.wdaaworldshow.org.