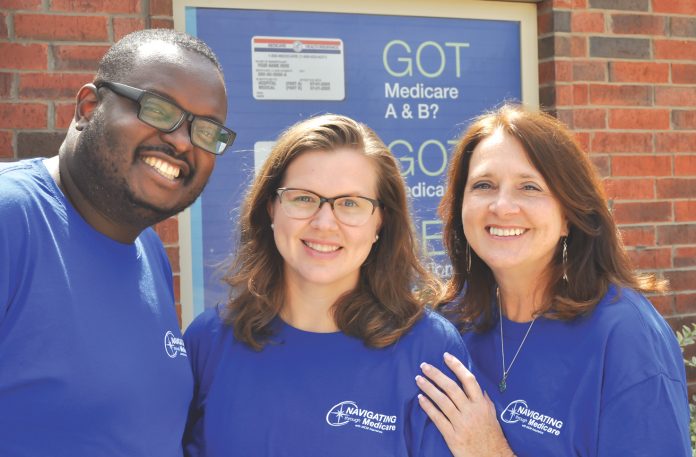 story and photos by Bobby Anderson, Staff Writer
Winter is coming.
So are changes to virtually every Medicare plan as the annual enrollment window opens.
For several years, MCM Insurance has helped seniors in our community navigate what can be murky health care insurance waters as time ticks down on a decision they will have to live with for an entire year.
"The biggest thing we want seniors to know is that every plan changes in some way, every year," said MCM owner Ginny Curtis. "They need to know what those changes are before they enroll or stay on the same plan. "They also need to make sure they're not paying too much for the benefits."
As 2019 begins to wind down, one of the most important times of the year for seniors is here. The Medicare Annual Enrollment Period (AEP) occurs annually from (Oct. 15-Dec. 7). AEP is a time in which current Medicare beneficiaries can choose to change part of their coverage. They can change their Medicare Advantage Plan (Part C) and/or Prescription Drug Plan (Part D). It's a time to reevaluate based on their benefits, health, and finances. If they find a plan that is a better fit for their needs than their current plan, they can then switch to, drop or add a Medicare Advantage or Part D plan.
October 1 is the date consumers can start looking over new plans.
During AEP Curtis' agency goes into overdrive to make sure that everyone that needs help facilitating the changes coming their way is reached.
"It's very important to us that each person that comes through our agency chooses their plan based on their specific needs," said Curtis. During an appointment with the agents from MCM, they will compare plans based on the customer's list of medicines and doctors to narrow down which plan will cover all their needs the best.
In addition to individual appointments, MCM offers no-cost Navigating Through Medicare informational sessions around the metro.
The hour-long informational sessions allow people to become more familiar with the ins and outs of Medicare in a low-key setting.
"I think the big thing we focus on is people know why they made a decision or why they stayed," said agent Jennifer Melton. "They need to know that."
Melton recalled a recent conversation with a client who has had the same supplement and drug plan since turning 65.
"That's OK, but it's also problematic in that premiums for Part D can be over $100 whereas the average right now is just around $35. They just stay on that because they feel like that's what they're supposed to do," she said.
Answering those questions and comparing plans is paramount.
"The cool part about dealing with a group like us is they can come in here without the fear of just being enrolled or sold something," Melton said. "We consistently tell people 'nope, that's good, stay on that – even if they're not our client."
"I feel like it's a safe place for them to come and say 'I've been on this forever. Is this what I should be doing or do I need to do something different?"
While many appointments are scheduled in the comfort of client homes, Curtis staffs the office at 2232 W. Hefner Road in the Village so that clients can walk in anytime 10 a.m. to 3 p.m. and speak with an agent directly without an appointment. During AEP they extend their hours.
Having those free conversations can take a load off of someone's mind, especially when health care costs are eating into their retirement savings.
"You don't want to change for the purpose of changing but when it comes to Advantage plans because the plans change and the drugs change every year they need to know the plan they're going to be on next year will work as good as the plan this year and not all of them will do that," Curtis said.
"That's what I want, a whole bunch of savvy seniors that have done their research and know what they're doing."
MCM also has agents in Tulsa, Claremore and Lawton. You can reach the OKC office by calling 405-842-0494. You can also view their calendar and get more info on their website at www.mcmmedicare.com as well as www.navigatingthroughmedicare.info.