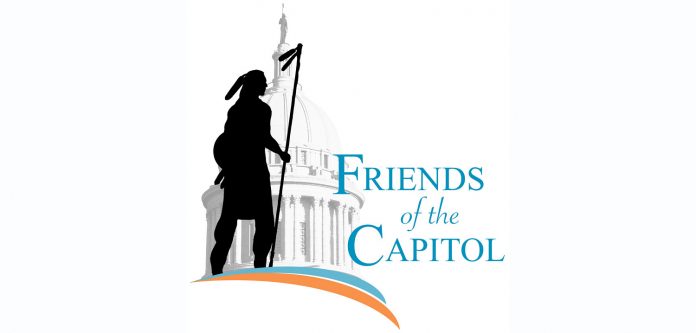 Friends of the Capitol was honored to be a part of the Celebration of the Life of Oklahoman, Robert Miner, by engraving his name at the Memorial Plaza at the Oklahoma State Capitol and meeting Miner's friends and family who visited his paver. Nothing was going to stop Miner's loved ones from celebrating his life, Covid-19, construction or heat, it did not matter!
Bob Nelson Miner, 77, of Edmond, Oklahoma was a very special Oklahoman. He leaves an incredible legacy of love for his country and his people. A graduate of the University of Kansas' political science program, he held top management positions on Bob Dole's U.S House of Representatives and U.S Senate staffs from 1962 to 1977. Bob was a business owner, golfer, photographer and strong health care advocate. He served in many leadership roles while volunteering for the American Heart Association. Bob retired in 2018 from the Oklahoma State Department of Health as the Clean Indoor Air Coordinator where he passionately worked toward a tobacco free Oklahoma.
"Friends of the Capitol" loves being a part of celebrating the life of a loved one by engraving a name on a granite paver at the Oklahoma State Capitol. "I have made so many friends though our non-profit when a donor donates at paver for a loved one", says Amy Dillon, Executive Director.
Friends of the Capitol is a tax-exempt 501 (c) (3) corporation that is devoted to providing private funds to maintain and improve the beauty of the Oklahoma State Capitol building and complex and its works of art. It is the only tax-exempt corporation designated to receive private funds for this purpose.