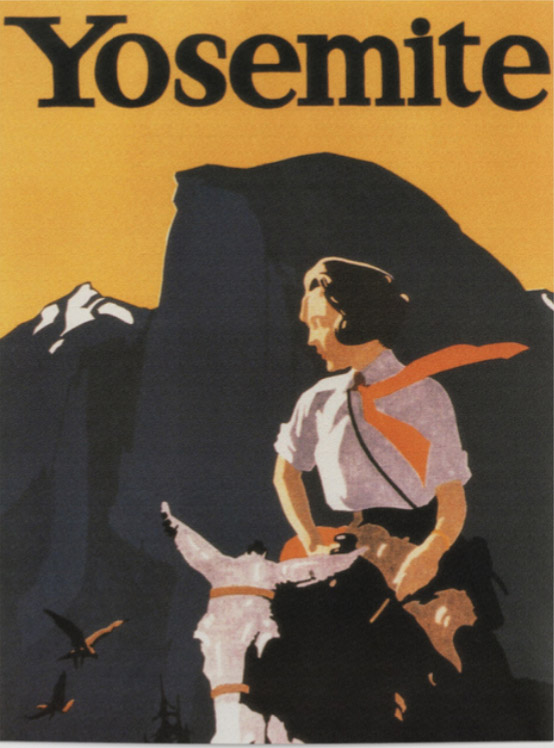 The Fred Jones Jr. Museum of Art on the University of Oklahoma Norman campus opens its 2018 fall exhibition Ticket to Ride: Artists, Designers, and Western Railways, on Oct. 5. The exhibition features more than five dozen works by artists and commercial designers created between 1880 and the 1930s, the height of western railway travel.
A public opening reception will take place at 7 p.m. Thursday, Oct. 4, with a presentation by the exhibition curator and Adkins Associate Curator, Hadley Jerman. Following the talk, attendees will enjoy live music, food and a chance to win two free, roundtrip tickets on the Heartland Flyer.
The exhibition highlights how artists and railway companies together influenced lasting perceptions of the American West, particularly the Grand Canyon, the Pacific Coast and the Northwest. "Designers and artists sought railway patronage to achieve their own ends as much as railways courted image-makers for wanderlust-inducing imagery," says Jerman. "This exhibition brings together, often for the first time, artists and designers who were engaged in parallel projects promoting western travel but also making use of railway patronage to promote their own careers and interests."
Some, like celebrated American landscape painter Thomas Moran, sought an opportunity to camp and paint in dramatic western landscapes. Maynard Dixon, best known today for his easel paintings of the Southwest, produced many poster and billboard designs for multiple western railways which he exchanged for free transportation via "artist passes." Women, including the Tacoma-based painter and activist Abby Williams Hill and St. Paul muralist Elsa Jemne, found in railway patronage an escape from turn-of-the-century social constraints. Other artists like W. Langdon Kihn and his teacher, Winold Reiss, bought into misguided period notions that Native populations were on the brink of "vanishing" as victims of modernity. In railway patronage, they found an entre into the indigenous communities they aimed to record.
The images in this exhibit, then, simultaneously reflect corporate railway concerns along with their creators' enthusiasm for dramatic landscapes and Native communities, particularly in the American Southwest, Montana and western Canada. This exhibition features paintings, studies, posters and graphics that emerged from the parallel relationships between artists and commercial designers with rail companies in the transnational American West.
Guest speaker Cliff Bragdon, nephew of Langdon Kihn, whose portraits are featured in the exhibition, will give a presentation prior to the opening at 3 p.m. Wednesday, Oct. 3, in the Mary Eddy and Fred Jones Auditorium at the museum. Exhibition curator Hadley Jerman, author of the Ticket to Ride catalogue, which will be on sale when the exhibition opens, will give a gallery talk at 1 p.m. Tuesday, Nov. 13.
The museum also will use use the exhibition as a jumping-off point for its new holiday train event, All Aboard, from 6 to 8 p.m. Thursday, Dec. 13. Model trains resembling Route 66 will take over the entire Sandy Bell Gallery in the museum. Included in this new family holiday event will be Santa Claus pictures, banjo lessons, a cookie and hot cocoa bar and much more. This family-friendly event starts at 6 p.m. with a train-lighting ceremony beginning at 7 p.m.
More information about this exhibition and related programs is available on the
museum's website at www.ou.edu/fjjma.
The Fred Jones Jr. Museum of Art is located in the OU Arts District on the corner of Elm Avenue and Boyd Street, at 555 Elm Ave., on the OU Norman campus. Admission to the museum is complimentary to all visitors, thanks to the generosity of the OU Office of the President and the OU Athletics Department.
The museum is closed on Mondays. Information and accommodations are available by calling (405) 325-4938 or visiting www.ou.edu/fjjma.