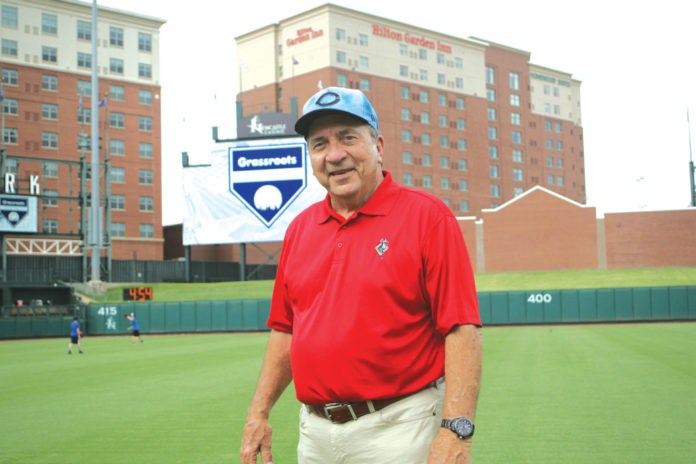 story and photos by Darl Devault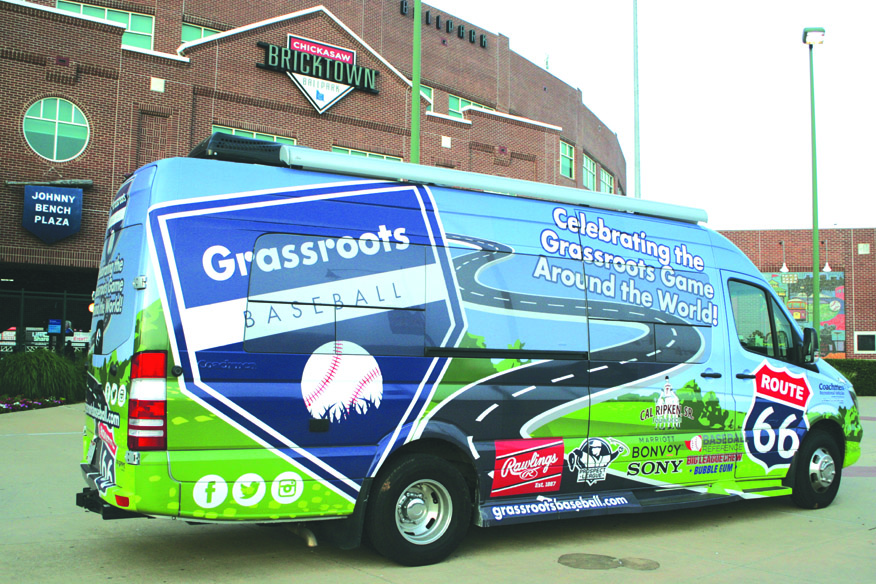 America's oldest sport, Major League Baseball, was a big question this year until it began playing a 60-game season on TV last month. There is no question Johnny Bench, the only living Oklahoma-born National Baseball Hall of Famer, exudes class by returning to the state as a volunteer to help promote youth baseball.
Seniors often step up to help projects they care about. Overall, the elderly make up a large part of the volunteer population.
In early July last year, the 14-time All-Star catcher returned to the Chickasaw Bricktown Ballpark in Oklahoma City where fans saw him honored by a bronze statue in 2001.
Bench made several volunteer appearances before an Oklahoma City Dodgers Triple-A home game with Round Rock. He was direct while speaking to a youth clinic. "Catch every ball — if you're going to play, learn how to play properly," Bench said. "Learn the mechanics. Watch the major leaguers. Watch how the guys here in Triple-A do it."
The best 20th century catcher was there to help the co-founders of Grassroots Baseball, noted sports photographer Jean Fruth and National Baseball Hall of Fame and Museum President Jeff Idelson. Their new nonprofit promotes the amateur game around the globe, focusing on growing participation at the youngest levels.
The Grassroots Baseball Route 66 Tour recruited Bench with other Hall of Famers and MLB stars from the Route 66 area. They helped deliver baseball instruction, inspiration, and equipment to children in 10 communities along The Mother Road from Chicago to Santa Monica.
Hailing from Binger, Okla., Bench, 72, the former Cincinnati Reds superstar, made that day special for a group of young players. He helped Grassroots Baseball give Rawlings' donated gloves and balls to each youth. He then joined them on the field for a short afternoon clinic. He walked among the young athletes, coaching proper throwing motions, and encouraging them to play hard to catch every ball.
Interested in players at the Triple-A level, Bench also toured both clubhouses after the clinic. He spoke with many of the players. Many asked for autographs and photos with Oklahoma's baseball legend who pioneered the now common one-handed catching style.
Bench continued his day as the focus of a news conference about supporting the nonprofit's effort to encourage youth baseball. "I drilled those youngsters to play properly, to try to catch every ball," Bench told the reporters. "Baseball offers them so many ways to watch the proper mechanics, they just need learn how to make it work for them."
Before the game, Bench reversed the tradition of throwing out the first pitch by catching the first pitch, as he is commonly known as the best catcher of his era. Playing baseball's most physically demanding position, The Sporting News named him the game's greatest catcher in 1998. He batted cleanup on the Big Red Machine, propelling him to the MLB All-Century Team with more than a million fan votes in 1999.
Once the game began, Bench and Fruth autographed the nonprofit's first hardcover book for Oklahoma City Dodgers fans. Grassroots Baseball: Where Legends Begin, is authored by co-founder Fruth (Sports Publishing, $60, 224 pages). The book is available and more info is found at www.grassrootsbaseball.com/
"I'm overwhelmed by the wonderful feedback I have received on the book," Fruth said last month. "Tying baseball heroes back to their roots and the kids who are following in their footsteps has been rewarding and delivers the message of, 'If I did this, so can you.'"
The book features first-person essays revealing how and where the following baseball careers began: New York–Whitey Ford, Mexico–Fernando Valenzuela, Mobile, Ala.–Hank Aaron, Japan–Ichiro Suzuki, Cape Cod–Craig Biggio, Oakland–Rickey Henderson, Cuba–Tony Perez, Williamsport, Pa.–Randy Johnson, Puerto Rico–Ivan Rodriguez, Tampa, Fla.–Wade, Boggs, Caribbean Series–Juan Marichal, Aberdeen, Md.–Cal Ripken, Jr. , Curacao–Hensley Meulens and Texas–Nolan Ryan.
Bench wrote the book's afterword. Available in the team store on the concourse, Oklahomans fully embraced their legend's return, as the book sold out quickly. A recent MLB Now TV Interview with Fruth and Bench about the book is available on YouTube: www.youtube.com/watch?v=dEe1dkl4dZI
Idelson was in OKC right before he was to retire from his role as president following last July's Induction Weekend. He served baseball in Cooperstown for 25 years, the last 11 as the Hall of Fame's president.
"The Oklahoma City Dodgers were an incredible partner who identified the kids and allowed them to learn about the game and life lessons from Johnny Bench, not only a Hall of Famer, but a local hero," Idelson said last month.
After the book signing, Bench finally slowed down when he joined family members and friends from Binger in a suite to watch the game.
The special day revolved around promoting Grassroots Baseball. New author Fruth photographed youth players for possible inclusion in a second book to be titled, Grassroots Baseball: Route 66.
The second book is coming together nicely," Fruth said last month. "I spent five months on the Mother Road last summer. I am shooting what I can as the country safely opens this summer. The relationship between baseball and Americana is so strong, and documenting the grassroots game, along this historic route, has been rewarding."
This was not Bench's first full day at the ballpark. In 2001, he and his longtime manager, fellow Hall of Famer Sparky Anderson, spent a full day there. An appreciative group of Oklahomans celebrated the unveiling of his bronze statue.
A larger-than-life statue honors Bench at the home plate entrance to Chickasaw Bricktown Ballpark near the corner of South Mickey Mantle Drive and Johnny Bench Drive. The ballpark also features bronze statues of Mickey Mantle and Warren Spahn.
You can relive the 2001 dedication of the Paul Moore sculpted statue by reading a verbatim transcript of the news conference preceding and the speeches made at the unveiling at: www.baseball-almanac.com/blog/johnny-bench-statue-dedication-day
During the news conference in 2001, Bench and Anderson talked extensively about those things that set the Red's greatest home run hitter's career apart from most Hall of Famer's. Anderson explained his first exposure to Bench's talent on the way to his famed 17-year career with the Reds.
Now living in Jupiter, Fla., and raising two young sons, Bench was the Reds catcher from 1967 to 1983. His powerful throwing arm shutting down base stealers led the Reds to back-to-back World Series Championships. He earned the 1976 World Series MVP vote.
Playing a demanding position as much as he did took its toll. Yet, he hit well, right up to the end of his career. He led the National League twice (1970 and 1972) in home runs. He also earned the MVP trophy both of those seasons.
He finished with 389 home runs and 1,376 RBIs, both of which still stand as franchise records in Cincinnati. He led the NL in RBIs three times. When he retired his home run total was the most for any catcher ever.
Bench's playing career ended in 1983 when he was honored with "Johnny Bench Night." He showed the packed-house crowd at Riverfront Stadium what they would be missing by hitting a two-run homer in the third inning.
Bench was elected to the Hall of Fame on the first ballot in 1989. The other Oklahoma-born Hall of Famers are Paul and Lloyd Waner, Joe Rogan, Mickey Mantle, and Willie Stargell.
"Johnny (Bench) is special. He cares about the game, he cares about the kids, and he cares about the Hall of Fame," Idelson said last month. "One of the important roles he plays is spending time with the new inductees each July. He sits with the new members to remind them who they are, where they are, and just how special of a fraternity they have just joined. He encourages them to wear the Hall of Famer mantle well. And to enjoy the experience because there's nothing like it."
The Los Angeles Dodgers bought the OKC RedHawks franchise and moved their Triple-A affiliate to OKC in 2014. They have now played five seasons as the OKC Dodgers. The ballpark was selected last month as the 2020 Triple-A Best of the Ballparks in annual fan voting held by Ballpark Digest.