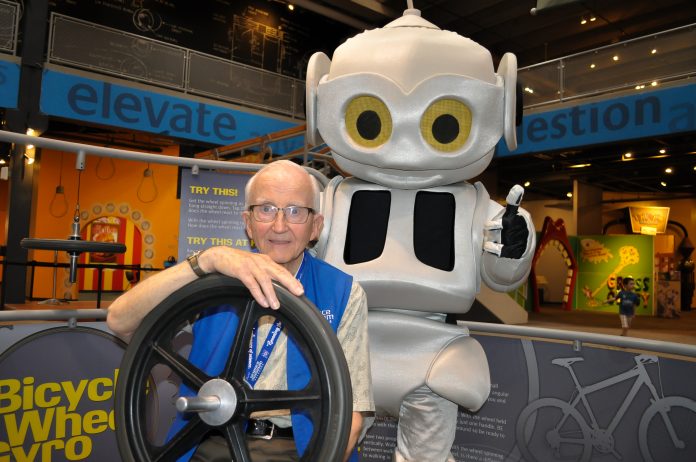 Story and photo by Mike Lee, Staff Writer
At 82 years young, Paul Scheie is having a ball teaching kids science.
But it's not in a classroom. He spent nearly 40 years doing that.
These days – actually two days a week, four hours at a time – you can find Scheie roaming the wide open spaces at the Science Museum of Oklahoma.
The pay is great, he says, noting his annual volunteer salary of zero dollars and zero cents doubles every year.
But Scheie's not in it for the money. No, he's in it for the wonder.
"I'm enjoying it. I'm having a ball," Scheie said. "People ask me if I work at the museum and I tell them 'No, I play at the museum.'"
Scheie moved back to Oklahoma in 2001 after retiring from a career teaching physics.
"We thought 'Gee, what are we going to do with all our time,''' Scheie said. "That was a foolish question at the time."
Living in Bethany, Scheie and his wife saw an advertisement from Putnam City Schools to help students an hour a week in Math and English.
The program lasted one year before Putnam City phased it out and the Scheie's were left adrift again.
A science teacher for nearly 40 years, Scheie spied another ad, this time one to volunteer at Science Museum of Oklahoma.
It peaked his interest, but not as much as the tour the volunteer coordinator gave of the Science Museum of Oklahoma.
"I saw all these toys I had worked with for the last 40 years and I thought this was an institution for learning," he said.
Things like centripetal force, magnetism and electrical current were on display through hands-on displays.
Some of those displays quite literally could make a child's hair stand on end.
"At home, all their hands are on are knobs on a computer or TV," he said. "You see that all the time here. I don't think they know which end of a screwdriver to use. I think they should experience those things."
"When I was a kid we had all sorts of things we could learn to use. Sometimes it was the hard way … but the kids need to experience things before they can start thinking about why something works."
Scheie's teaching career began at Oklahoma City University. He finished his degree and moved on to Penn State University and eventually Texas Lutheran.
His teaching career at Penn State coincided with the hiring of the legendary Joe Paterno, who would eventually become a college coaching icon and a mainstay in Happy Valley for some 45 years.
Scheie and wife Mary Anna have now been married for 52 years. When he heads to the museum, Mary Anna goes to her knitting group.
So what does Scheie see as his job description?
"To have fun," he says with a laugh. "You learn so much from kids. Sometimes I just stand so I can watch the kids do things. It's interesting the things they do and their reactions to things."
Scheie and the museum are busy preparing for their next big exhibit.
CurioCity funded by the Donald W. Reynolds Foundation, will open to the public Father's Day – June 21.
CurioCity, pronounced "curiosity", is 21,000 square feet and features eight unique spaces exploring basic science as well as promoting creativity.
"Neighborhoods" such as the Spark Park, Wunderground and Tinker Works will introduce science in unexpected and entertaining ways.
Museum officials worked with Roto, an Ohio-based exhibit design firm that has worked on projects around the world.
It's an exhibit Scheie is excited about but then again it's just another day at the state's only hands-on science museum and, with over 350,000 square feet, one of the largest science museums in the nation.
With a mission of enriching lives by revealing the wonder and relevance of science, Science Museum Oklahoma demonstrates the relationship between the physical sciences and everyday experiences.
The museum influences how Oklahomans learn about science through the medium of interactive exhibits, discovery-based activities, astronomy shows, Science Live! demonstrations, educational outreach efforts and special events. The museum's clear mission and firm focus on science literacy encourages families to develop and build upon a strong foundation in the sciences.
And it's a great place for grandparents to take their grandkids or, in Scheie's case, a great place to teach science.