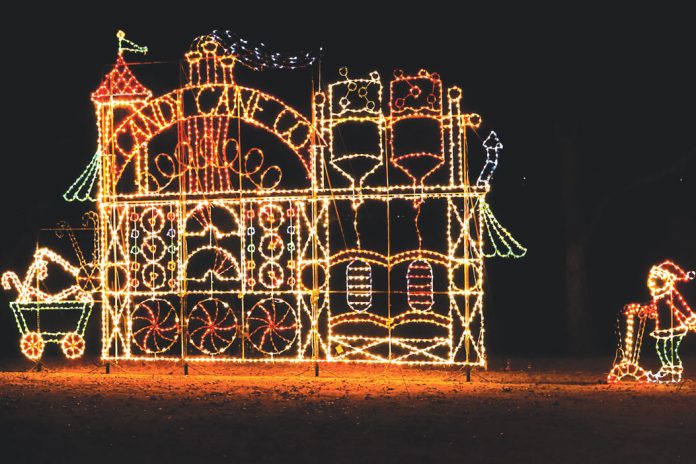 Now through Christmas night at Joe B. Barnes Regional Park
Story by Darl Devault, Contributing Editor
Midwest City's Holiday Lights Spectacular creates a free holiday drive-through wonderland of twinkling lights celebrating the magic of the season with more than 100 animated light displays.
"The City of Midwest City is excited to bring Holiday Lights Spectacular back for the 2021 holiday season," said Josh Ryan, communications and marketing director. "The lights are an important holiday tradition for families in eastern Oklahoma County. Despite the many challenges we had in getting the show running this year, we knew it was a challenge we had to overcome."
The lights at the popular destination giving visitors plenty of the Christmas spirit to enjoy shine brightly each night through Christmas night (Dec. 25). The holiday light's shimmer will be viewable from the comfort of personal vehicles in a driving tour from 6-10 p.m. Sunday through Thursday and from 6-11 p.m. Friday-Saturday and 6-11 p.m. Christmas Eve and Christmas day.
Joe B. Barnes Regional Park comes alive with secular and religious displays featuring the vibrancy of a majestic 118-foot Christmas tree Illuminated with more than 9,000 LED lights and topped off with a dazzling 8-foot star.
Visitors can enjoy driving through more than one million sparkling lights, many of which are animated. This seasonal celebration of animation is the hallmark of the display's dazzling winter wonderland claim to fame.
The lights of every color spectacular features the animated illumination celebration of a dancing forest light show performing to traditional holiday music. Visitors tune their vehicle radio to a specific frequency to hear the holiday music that accompanies the animation.
The one-of-a-kind Santa fly fishing in a 20-foot-tall waterfall with gliding fish and prancing animals is a unique feature of the loop through a quiet wooded area. Elves are seen baking their Christmas confections in the animated Candy Cane Company.
The Park is transformed into a lighted wonderland where visitors can see anything from the Nativity scene to Santa playing soccer. Visitors drive through the park and experience the displays while in the warmth of their car. The estimated drive time for completing the tour is 20-30 minutes.
This family tradition began in 1995 with just 44 displays and has grown to be what at one point was the largest animated lights display in a five-state region.
The Park, 10 minutes east of OKC at 8700 E. Reno Ave., is easily found from I-40. Head north on Douglas Blvd. to find the lit snowflakes heading west on SE 15th St. to the entrance south on Century Blvd between Midwest Blvd. and Douglas.
Admission is free, thanks to the Midwest City Chamber of Commerce and many merchants. The Holiday Lights Spectacular runs on sponsorships and donations. Donations are appreciated onsite or contact organizers.
With easy access from I-40 and just 10 minutes east of Oklahoma City, visitors and their family will want to make this an annual tradition for years to come.
For group arrangements for the light show, including guided group tours and itinerary planning and more general information call 405-739-1289 or visit Holiday Lights Spectacular | Midwest City Oklahoma. Organizers thank sponsors for their support that allows them to present this community service to the public.