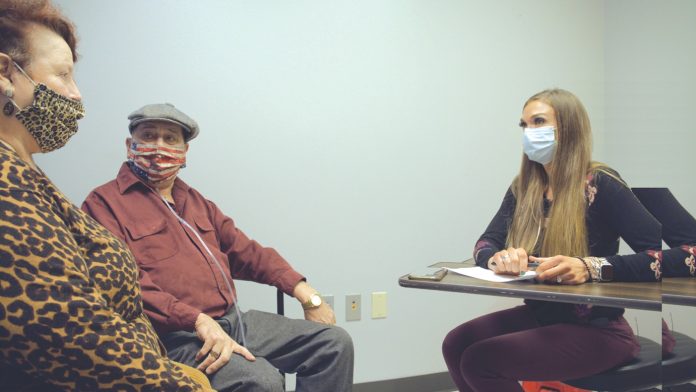 As Nelson and Lola Cresente sit, holding hands they realize the special gift they've been given this year. The gift of life.
Nelson nearly lost a battle with COVID-19. When doctors at the hospital told Nelson and his wife that he needed to be put on a ventilator they refused. He had been battling COVID pneumonia, but they feared a ventilator would be the end. They chose, instead, to go home with hospice care, to enjoy what time he had left together.
"The doctor told me I was going to take him home to die," Lola said.
Just weeks ago, he was home on hospice care. A BiPAP machine aided his breathing. Ashley Henson, a nurse practitioner with Valir PACE, handled some of Nelson's care at home.
"We even helped them call a priest," Henson said. "It was that dire." Week after week, Nelson kept fighting back, doing what he could to regain strength.
"I'm a fighter, 100%," he said.
During one trip to their home, Lola was explaining to Henson and a hospice nurse how a neighbor had stopped by the day before to pray over Nelson, specifically that his lungs would open. That's when they witnessed what they all believe was a miracle.
"I listened to his lungs and his hospice nurse listened to his lungs. We looked at each other and were like, 'We're hearing air here. Air is moving,'" Henson said.
Lola was shocked.
"You know what I did. I cried. And he did too. And praised God for it," Lola said.
From there, Nelson continued to make improvements. He was moved off hospice care and began at-home therapies through Valir PACE.
Now, just a few weeks later, he can once again leave his home. He's no longer connected to the BiPAP machine, using a portable oxygen machine instead.
"I really think he's a miracle," Henson said. Henson said the Cresentes were both vaccinated and she does believe the vaccine also played a role in his story. "I think even though he was vaccinated and came close to death, I think that probably would have been an inevitable thing had he not been vaccinated," Henson said.
One of the few things Nelson has not regained is his sense of taste. He said he is really looking forward to the day he can enjoy tasting the delicious meals his wife makes – especially a steak dinner.