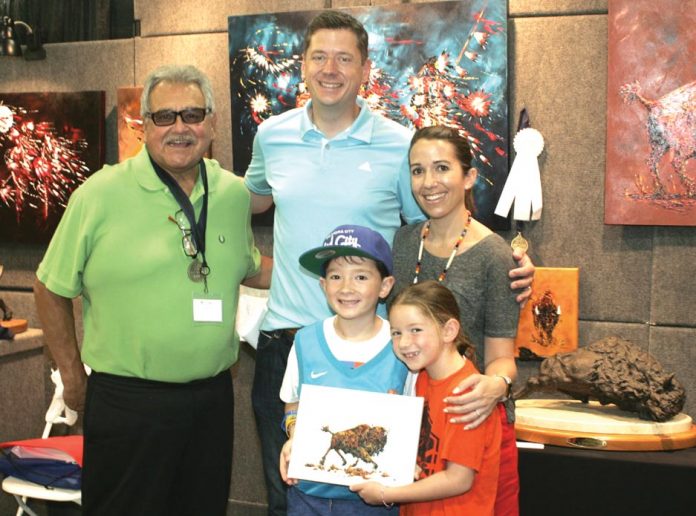 Story and photos by Darl DeVault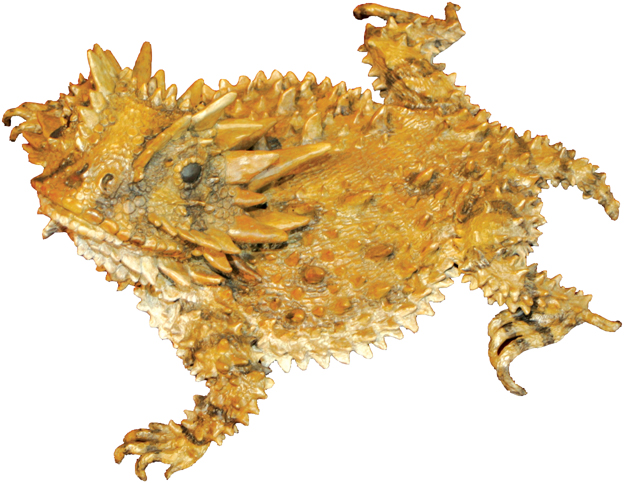 Retired and just now decompressing from a 39-year career teaching high school art in the Greater Tulsa area, Osage Nation member Clancy Gray says creating his own Native American art is truly rewarding at age 70.
Making that transition to full-time fine art modern master translated into more sales of his jewelry, paintings and sculptures the first weekend in June at the 33rd Red Earth Festival.
At the three-day event in downtown Oklahoma City at the Cox Convention Center Gray sold several of his important works and had his best show ever. Gray said the extra attention lavished upon his art by the board of directors of Red Earth naming him 2019 'Red Earth Honored One' sparked a successful sales weekend.
"Being the Honored One this year afforded me so many privileges that it just seemed natural that more people wanted to buy my work," Gray said. "We set it up with the t, who is also an Osage Nation member, mayor to stop by the booth after he and his family were a part of the parade Saturday morning. I showed his family around the booth and we talked for about 10 minutes. I was excited when he came back by my booth after looking around for an hour and bought a painting of a bison his son really liked."
That Honored One status, after Gray has exhibited at the Festival for 32 of its 33 years, put his art out front, in an expanded double-size booth nearest to the entrance to the juried art show.
Gray said that even though he was halfway across the state from his Broken Arrow home, his two sons, his brother and sister and many friends coming by or helping made him feel more at home than ever at Red Earth. The Honored One recognition is for a Native master visual artist whose support of Indian art has been substantial throughout his life.
Gray entered four items in the juried art portion of the show and collected two ribbons for top three placings. And again, in the truly rewarding vein, one of his first-place sculptures from three Red Earths back sold on Saturday.
Owners of one of Oklahoma City's prominent CPA firms, T.C. Burgin, stopped by the booth and purchased Scout, a heroic size bronze horned toad, for the new office building they will open in the fall.
Osage Nation member and bronze casting legend John Free Jr. cast several of the horned toads at his Bronze Horse Foundry in Pawhuska, Okla. Free is famous for capturing the artist's real goal in their work by applying some of the most skilled patinas in the crucible industry.
Gray said Free's ability to create a life-like patina to the bronze sculpture brings his horned toad Scout to life. He explains Scout's name in that the horned toad represents what Native Americans would often use to help locate their game while hunting. During a hunt, if they were not finding their prey, they would pick up a horned toad and say a prayer. When the hunter put the horned toad down, and it scurried off, that was the direction they would start in to continue their hunt.
"It is a privilege to get to work with John Free and his group at the Bronze Horse Foundry." Gray said. "I always say that sculpting success is a two-part process, the artist who first creates it in clay and the foundry master who duplicates it in bronze for them."
Gray's traditional and contemporary influenced jewelry reflects Gray's fondness for vivid color, texture, and asymmetrical design. The silver jewelry is often the most collected of his work, and leads to the most commissions. This nationally collected master silversmith has won many awards in exhibitions and museum shows.
Gray's paintings sold well at Red Earth as well. His building up depth from the canvas in the impasto style has elevated his status in the Native American art world. He uses a palette knife to apply vivid acrylics, giving the paintings intensity that allows light to animate the focus of his work. This signature style allows Gray to create a modern ruggedness. He says he works to celebrate the light's colorful and reflective sparkle built up in focused areas.
By creating a ceramic glaze depth with skillful repetitious palette strokes of the water-based acrylic paint, his paintings are dynamic and unique. Those high-gloss highlights have a richness of color that captures the eye, whether portrait or figures, still life, or landscape.
In retirement Gray says he now has more time to reflect on the achievements of his art students. He taught in Tulsa at McLain High School for 17 years and East Central High School for 18 years. He finished his teaching career at Edison High School after three years.
The insightful artist and teacher insisted his students master the basics of composition and design. He then encouraged them to create original works, rather than just copying ideas or pictures they saw. Gray has guided the beginnings of many art careers. More than 5,000 students graduated from his 39-year influence at those three schools.
"I tried to model strong basic skills, so as they learned those skills it would take them anywhere they wanted to go as artists." Gray said. "Our schools supported them so the best and brightest could go on to win many art competitions in the state and nationally."
Gray also made the students' academic progress an important part of their art educations. The result was a highly productive teacher who helped many students receive college scholarships and awards
"We had student artists earn important scholarships, and become award-winners in art competitions and students whose work is now shown in galleries," Gray said. "We had high expectations, we really wanted them to grow as much as possible as artists along the way."
Gray says his passion for teaching and creating a nurturing educational setting for all his students was a given. After his double major in art and physical education, Gray went on to earn a master's degree in education at the University of Central Oklahoma.
During his long career he also coached boys and girls soccer, boys baseball, girls softball, boys and girls cross-country and boys and girls swimming.
Gray says that one of the best features of retirement is the satisfaction of seeing how his many students' talents evolve. He enjoys following his former students' progress as they adapt to create great art in their growing careers.
He says that spark of excellence often stimulates him to keep up with his own art career. No longer constrained to a teacher's schedule, he has found that requests to put on exhibits have come more often now.
"Being named 2019 Honored One at Red Earth has been one of the highlights of my recent retirement," Gray said. "I had not danced in 35 years and was proud to dance in step as part of the procession at the beginning of the dance contests in my role as this year's Honored One."