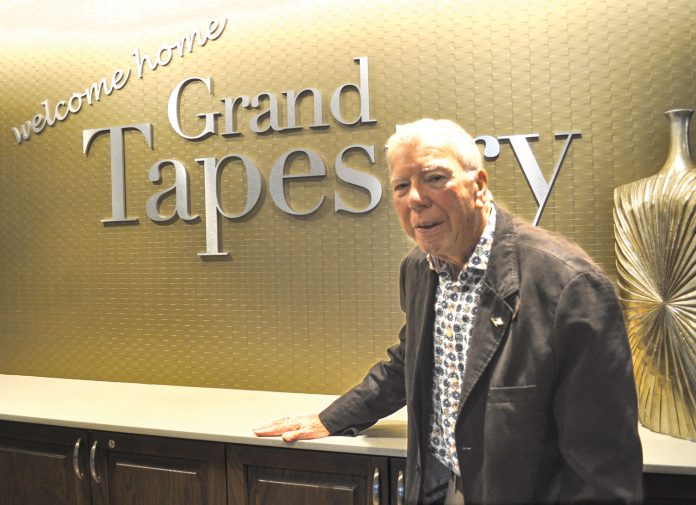 by Bobby Anderson, Staff Writer
Throughout Glenn Boyer's life he's had a knack for being in the right place at the right time.
Even after retirement – living life the way he wants to – little has changed.
"I've been blessed with a lot of things," Boyer said. "Most of these things I didn't choose, they chose me."
Being a man of firsts, Boyer has filled his life with love, laughter and a passion for his profession.
His home for the past year, Grand Tapestry at Quail Springs, has helped him continue living life the way he wants.
"It's great," Boyer said of his Northwest Oklahoma City apartment. "You meet a lot of people here. I don't want three meals a day or babysitting. I want to do what I want to do. You choose what you want and you do it."
By 7:30 each morning you'll find Boyer in the workout room or he might be taking a few laps in the heated salt water exercise pool.
Some days he'll invite his men's bible study over for a catered four-course meal.
In the evenings you might see him in the billiards room teaching a friend's granddaughter how to play pool.
"Things like that just make it home," Boyer said.
Being one of the inaugural Grand Tapestry residents is just another in a long line of firsts for Boyer.
In college, he was a shooting guard for Wichita State University's basketball team. He's a member of the first Shocker postseason tournament team.
An ROTC cadet, Boyer was drafted out of college and sent to Ft. Bliss
"Little did I know from then on it would be my career," he said.
The math major was assigned to the computer, missile and radar fields. He spent two years of his four years in the service on a missile site.
He applied for a job as a coach and teacher on the outskirts of Kansas City. The offer was $4,000 a year.
At the same time, Bendix Corporation offered him $12,000 a year as a computer programmer – a first for him.
"That was in 1961 when there were very few computers," Boyer said. "I've been in the field ever since."
He came to Oklahoma City in 1969.
In 1972 he started Applied Computer Systems, a business he still runs today with son Glenn Jr. at 3509 N. Classen Blvd.
Boyer enjoyed 65 years with his wife before she passed.
"I didn't know what I wanted but I knew I didn't want to live by myself in my house," said Boyer, who lived at Ski Island for 44 years.
His daughter brought him to Grand Tapestry.
It's a story told time and again.
"I just gave it a try and it turned out to be a good fit," said retired psychiatrist Liliana Schechter. "It's very cozy, very nice and we all help each other."
She definitely didn't expect to meet a fellow resident whose mother was also from Poland.
Schechter's Polish mother survived the Auschwitz concentration camp and the Holocaust.
The conversation between the instant friends just flowed.
"We go to the synagogue (together)," Schechter said. "It was truly a miracle."
Gwyn Walters watches the sun rise each day from her third floor apartment.
"Most of us would say the people," Walters said of what drew her to become a founding member. "And we have some really fun things to do. The educational offerings have been great, too."
From listening to University of Oklahoma Football Coach Bud Wilkinson's story told by his own son, Jay, to learning more about current topics, Walters has been able to experience it all in the comfort of her home.
She enjoys greeting visitors each day.
"I think this place is great," Walters said. "It's comfortable. That's one of the big things I feel here is comfortable and safe."
"I didn't feel this safe in my own house."
A new and vibrant place to call home, Grand Tapestry at Quail Springs is tailored to active adults age 55 and better, centrally located in the Quail Springs area of Oklahoma City.
Here, residents like Boyer chase their passions, enjoy their hobbies and seek out new adventures.
The architecture and interiors were designed to create comfort and convenience in a caring, maintenance-free setting. From the theatre offering an exclusive cinematic experience with reclining lounge chairs, to an outdoor kitchen equipped with grills, a fire pit and water feature, to the raised-bed garden, Grand Tapestry offers a social environment for everyone.
Residents also take advantage of concierge-style services and enjoy the community beyond Grand Tapestry at a variety of dining, shopping and entertainment options within steps of the front door.