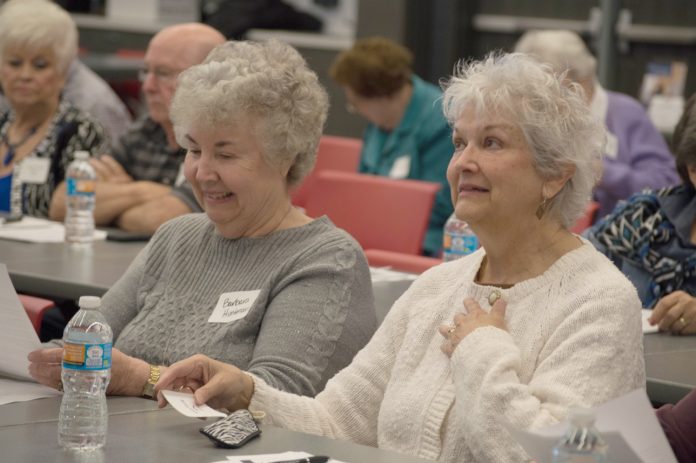 Navigating the uncharted territory known as aging is not always easy. In fact, it can be down right frustrating. Boomers and seniors are encouraged to "plan ahead," but knowing where to turn and who to trust when seeking information is often a challenge.
The Senior Living Truth Series, an ongoing educational program made up of monthly seminars and expert panels, explores various topics of interest to the 55 and over crowd. Boomers and seniors alike are invited to attend the free seminars.
Gary Harris began attending the seminars over a year ago.
"I appreciate the information provided at the seminars. says Harris. "They are well-organized and interesting with something new to learn every month."
Like Harris, many attendees are preparing for the next chapter of life. Where and how can I live? What kind of support is available? How do people pay for senior living? Who will help me downsize?
The Senior Living Truth Series originated when Nikki and Chris Buckelew of Buckelew Realty Group at Keller Williams Realty set out to become the experts in mature moves in and around the Oklahoma City metro.
"Because our team specializes in downsizing, rightsizing, and simplifying, we get a lot of questions about topics outside the discipline of real estate. It became important to have highly competent and trustworthy resources and that is how the series began," says Nikki Buckelew. "It was a grand experiment launched together with a small group of like-minded professionals, many still involved as sponsors."
The Buckelews have made it their personal and professional mission to educate and guide consumers about best practices related to post-retirement living.
The attraction of the series may be that attendees are promised frank and uncensored commentary on the issues. Dr. Don Emler and his wife Suzanne began attending the seminars last year.
"The programs cover a wide range of topics and provide people with valuable resources to assist them," Dr. Emler said.
As a retired religious educator and clergy considering his own options for future housing and care needs, he knows that many people are struggling with similar decisions. The couple also encourages formal and informal caregivers to attend the seminars so they are equipped to help others.
"I believe that clergy should attend so they can guide parishioners in making decisions about downsizing, moving, staying put in their own house, or daily care needs," he said.
Beyond the issues of housing and senior living, the Emlers have also learned about the intricacies of long-term care insurance, veteran-related benefits, and in-home care options.
"Knowing where to go can be particularly hard for widows, added Suzanne. When you have had a partner alongside you for many years, making changes alone can be scary. The seminars provide a non-threatening atmosphere where people can go to become better informed and equipped."
Melissa Hill of Home Care Assistance, a regular sponsor of the event, said the series has also impacted people in a way that was unexpected.
"Many people attend regularly and as a result, we get to know each other. The Senior Living Truth Series provides unbiased information and often answers questions that people didn't even realize they should ask," Hill said.
The next event is titled "The Truth About Probate for Property Owners " on June 8th from 10:00am – 11:30am at the newly completed MAPS3 Senior Health & Wellness Center located at 11501 N Rockwell Ave. in Oklahoma City.
"We hear so much misinformation about the probate process. People think they know all about it, but it seems to cause a lot of problems at a time when problems are the last thing you need. We simply want to dispel the myths and equip people with facts," Buckelew said.
Registration is free for those 55 or older and their guests. Registration for professionals is $25. Pre-registration is required and can be made at www.seniorlivingtruthseries.com or 405-563-7501. Space is limited.