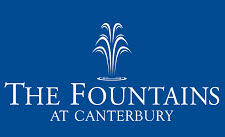 The Fountains at Canterbury has been named a Five-Star Quality community according to Medicare.gov in their most recent Skilled Nursing Facility (SNF) survey, putting The Fountains at Canterbury in the top 10 percent of skilled nursing facilities in the area. The Fountains at Canterbury is managed by Watermark Retirement Communities, which operates 52 communities across the United States.
Senior living communities are reviewed by Centers for Medicare and Medicaid Services (CMS) on more than 180 regulatory standards in conjunction with their state health inspection report. Communities are graded on a scale that gives greater weight to issues that cause critical exposure to any resident health or safety concerns.
Five-Star ratings are awarded exclusively to the top 10 percent of skilled nursing facilities that show extraordinary performance in the categories of health inspection, staffing and quality measures. The past three years of onsite health inspections are utilized as well as the staffing rating based on the number of hours of care provided on average to each resident each day by associates as well as quality measures on 11 different physical and clinical measures for residents.
"It is an honor to lead a team so dedicated to the care and well-being of our residents," said Cody Erikson, Executive Director of The Fountains at Canterbury. "It is an even greater honor to see the unwavering commitment of that team earn the Five-Star rating under the superb direction of Nursing Home Administrator, Katy Woodard."
The Fountains at Canterbury is dedicated to being the first choice in senior living, providing a continuum of care including independent living, assisted living, memory care, innovative rehabilitation therapies and skilled care. The Fountains at Canterbury is committed to creating an extraordinary community where people thrive. To learn more, please call (405) 381-8165 or go online to www.watermarkcommunities.com.