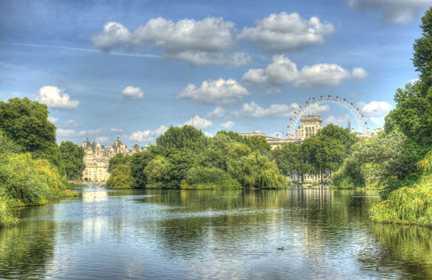 Take a stroll through one of these VirtualTourist recommended City parks.
Central Park, New York City, N.Y.
New ork City's Central Park is perhaps an obvious choice, but hard to beat. Central Park was the first public park built in America, and was constructed in the middle of the 19th century to create a breathing space for the 500,000 people then living in New York City. It occupies 843 acres of prime real estate between Fifth and Eighth Avenues, stretching from 59th Street south to 110th Street north. On any given day you will find New Yorkers and tourists there in numbers, making full use of this wonderful green oasis in an otherwise manic city. Whether walking, jogging, running, exercising dogs or themselves, boating on the lake, playing ball, catching up with friends on one of the many benches or simply lying in the sun — there are so many ways in which to enjoy Central Park. VirtualTourist members say one of their favorite things is to take a walk in the part of the park known as the Ramble, a protected ecosystem that feels more like the woods than a park, and then relax for a while on a bench watching the rowers on the lake. Other activities include a visit to Central Park Zoo, a ride on the carousel and a walking tour.
St. James Park, London, England
St. James Park, the oldest Royal Park in London, is surrounded by three palaces — Westminster, the oldest, and now the Houses of Parliament, St James' and, of course, Buckingham Palace. While VirtualTourist members say that all the London parks provide a welcome green oasis, St. James has the edge. Perhaps it's the lovely lake with so many beautiful water birds, or maybe the great views to be had from its bridge. Stand there for a while and look toward Whitehall — the domes and copulas will make you think you are somewhere far more exotic than London. Then turn to look the other way and you'll see one of the city's most famous buildings, Buckingham Palace, which some say looks better from this distance than close up. This is also a great park for picnics, and for people-watching. So linger a while on the benches — or why not follow a great London parks' tradition and hire a deck chair? And if you're looking for refreshments, the park has an excellent restaurant and several snack kiosks. VT Tip: The famous resident pelicans are fed every day at 2:30 p.m.
Kings Park, Perth, Western Australia
One of the world's largest and most beautiful inner-city parks, Kings Park in Perth has Aboriginal and European history, wonderful views of the city and the most spectacular Western Australian Botanic Garden, which displays more than 3,000 species of the state's unique flora. There are sculptures, water gardens, a treetop walk, a gift shop, cafes and restaurants, wildlife and much more. One of the most moving experiences is the Memorial Walking Trail (1 mile). Along the war memorial path, you will pass the Flame of Remembrance whose flame never goes out. A look at it and you can see four torches, each one represents one of these forces — Navy, Air Force, Army and Women's Services. It is a place to come and stand in silence, remembering the Western Australians who served in the wars and lost their lives. Around the walls are the names of all the major battlefields and there are plaques with the names of the Victorian Cross and the George Cross recipients from Western Australia.
Deukmejian Wilderness Park, Glendale, Calf.
Not many small- or medium-size cities can boast of three mountain ranges within its border, but Glendale, California, does. Stretching east and north from the San Fernando Valley, the city takes in substantial parts of the San Rafael Hills and the Verdugo Mountains, plus a small slice of the San Gabriel Mountains at the city's northern extremity. At this northernmost spot in Glendale, overlooking the foothill communities of La Crescenta and Tujunga, lies Deukmejian Wilderness Park, named after former California Governor George Deukmejian. The 709-acre wilderness park features a picnic area, amphitheater, miles of hiking trails and plenty of parking. It is home to the historic Le Mesnager Barn, built in 1914, which the city is committed to turning into an interpretive center in the not-too-distant future. It is also home to the city's robust volunteer Trails and Open Space program, which provides the community with opportunities for habitat restoration, interpretive programs, trail maintenance and trail safety patrols. The park is open from 6 a.m. until one hour after sundown and entrance is always free. VirtualTourist members say one of their favorite things here is the amazing views of Los Angeles, stretching as far as Santa Monica and Catalina Island on a clear day; as well as the animal spotting. Keep an eye out for numerous species of mammals, including coyote, mule deer, gray fox, bobcat and mountain lion, as well as a vast array of common lizards, snakes and 23 species of birds, including California quail, northern flicker, scrub jay, Nuttall's woodpecker, American kestrel and Cooper's, red-tailed and red-shouldered hawks. Golden eagles and California black bears have also been spotted!
Kandawgyi Park, Yangon (Rangoon), Myanmar
If the bustle of downtown Yangon is getting to you, you may want to go for a relaxing stroll in the Kandawgy Park, which translates as Royal Lake. There are plenty of shaded areas and it is very peaceful. The centerpiece of the park is the large Karaweik (Royal Barge). This is not an ancient monument, but a modern construction that houses a function hall amongst other things. As well as the Karaweik, there is a small children's zoo and play area and various food outlets. The park also serves as a venue for pop concerts on the weekends. Somewhat incongruously, you may spot a fully camouflaged tank nestled amongst the bushes and there is a bevy of black swans on the lake making the entire scene quite beautiful. There is an admission charge for foreigners, about $2 USD.
(c) 2016 Virtualtourist.com, Distributed by Tribune Content Agency, LLC