Photography and Text by Terry "Travels with Terry" Zinn [email protected]
With so much time on our hands it is comforting to look back on the opportunities you had with experiences with the talents and charisma in theater. November of course is a time for Thanksgiving, and I know you are as I am, being grateful for gabbing significant experiences.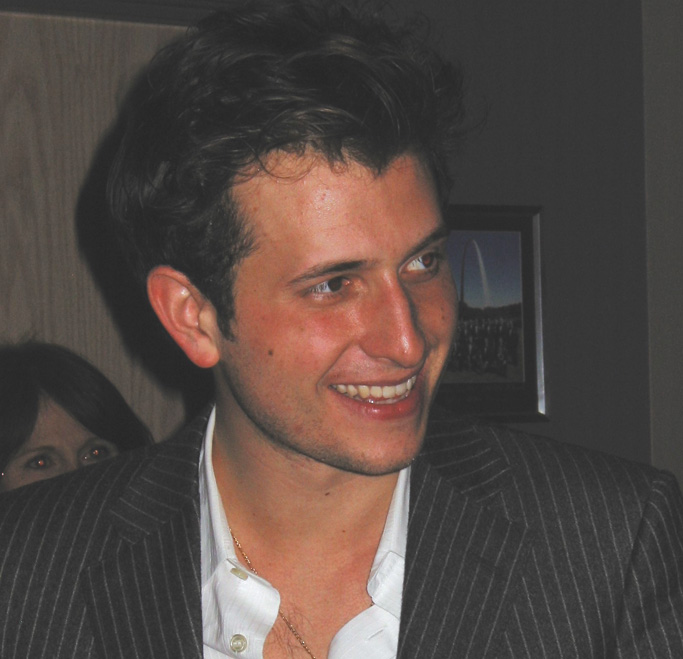 Three such persons for which to be thankful are, actor-teacher, Jonathan Beck Reed, choreographer and dancers, Derek and Julianne Hough, and singer musician, Peter Cincotti.
Well known to avid theater goers of Oklahoma is Jonathan Beck Reed. He started his acing career as a child in Lyric Theaters "Carousel" in the early 1970's. As a professional he toured the nation as Harold Hill in "Music Man" and reprises the role a September ago when he led the Concert Version at OCC, which featured many familiar Oklahoma Actors. Besides portraying the epitome of Harold Hill, another memorable role was as Brick in "Cat On A Hot Tin Roof," presented in the now razed Theater Center, as well as Tevye in "Fiddler on the Roof."
Perhaps my favorite was in the "Will Rogers Follies," where his charm and talent exceed expectations of any Will Rogers fan. Among other venues the "Follies" was presented on a mobile stage in 2007 at the State Capital for the Oklahoma Centennial Festival of Statehood. Currently Reed is again Ebenezer Scrooge in Lyric's holiday favorite, "A Christmas Carol," this year presented outside at the Harn Homestead in Oklahoma City. The duel cast show runs through mid-December, so bundle up and get your tickets as there is only one hundred available for each show. Besides his versatility, if for no other reason he qualifies as Greatness for his professional longevity. It has been my pleasure to have seen Jonathan Beck Reed in many productions.
Fans of "Dancing With The Stars," TV show already know of Derek Hough's dancing and choreography skills. He has won many awards for his choreography. His radiant personality and inventive dance makes him a natural for admiration. He was in Oklahoma City a few years back with his touring dance show. Seizing the opportunity, I bought a high-priced VIP ticket which included a personal short meet and greet before the performance. This event was well attended.
The production company allowed personal greetings with arms over shoulders for a commemorative photograph. Before the greeting patrons could pose in front of a "green screen", producing their image alongside Derek and sister, Julianne dancing. This image was either presented in hard copy form or in a digital file. Seeing Derek, now a "Judge on Dancing with the Stars," and in special TV appearances, gives a personal connection to dancing greatness. I think the choreography was equal to the great Gerald Arpino, of Joffrey Ballet fame, which I saw decades ago in Wichita Kansas's Century Two theater. That night in Oklahoma City it was my pleasure to relay that evaluation comparison to Derek and Julianne during our brief Meet and Greet.
Sometimes you just happen upon concert greatness, as I did at Edmond's intimate Jazz Lab where touring Jazz pianist and singer, Peter Cincotti performed. While the drums and bass were a little overpowering in person, as often can happen with live combos, Cincotti's talent and song empathy came through strong and clear. Putting his talent aside, his good youthful looks made a charismatic hit with the audience. As a hardworking professional he showed appreciation for his audience by staying over to sign autographs, CDs and a poster, which is now on display in the Lobby of the Jazz Lab. Later, listening to several of his CDs refreshed the memory of an exceptionally good time. Some songs elicited mature good-natured attitudes on love and dating, and others were just slow and heartfelt. Wanting a reprise performance by scouring his web page I could not find an appearance near Oklahoma, nor wanted to hop a plane to Japan. This reaffirmed the slogan, get while the getting is good, as it may be a onetime thing. I returned to the Jazz lab to take in theatrical productions such as, "Merry We Roll Along," "The Grass Harp" and university faculty concerts.
Thanks to you my readers for joining me in my reminiscences, that only Seniors can do, and hoping this encourages you to do the same, and revel, enjoy and congratulate yourself for your good time choices.
Mr. Terry Zinn – Travel Editor
Past President: International Food Wine and Travel Writers Association
3110 N.W. 15 Street – Oklahoma City, OK 73107
https://realtraveladventures.com/?s=terry+zinn
https://realtraveladventures.com/?s=zinn
http://new.seniornewsandliving.com/?s=TERRY+ZINN
www.martinitravels.com