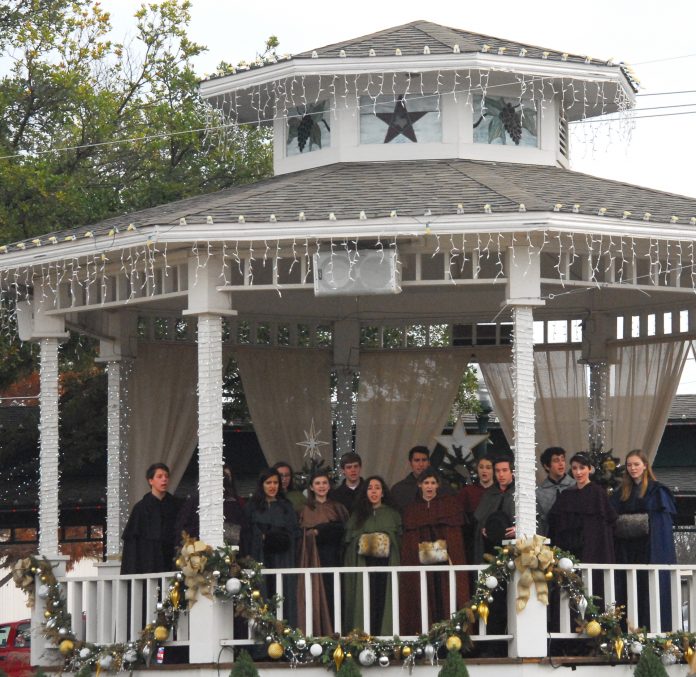 Grapevine Texas:  Festivals All Year Long
Photography and Text by Terry "Travels with Terry" Zinn  [email protected]
In late fall of last year, I had a delightful and fun filled December weekend in Grapevine, Texas, during their Christmas Celebration.  You know Grapevine is the Christmas Capitol of Texas, and everything seems to be bigger in Texas?  Between sips of wine, main street shopping and a couple of theatrical presentations, I discovered that Grapevine  is filled with festivals and celebrations through the year. Now is a good time to schedule your favorite Grapevine event.  With the listings below you can see how Grapevine is officially recognized as a World Festival & Events City by the International Festival & Events Association. Grapevine welcomed more than one and a half million visitors to the city's festivals and special events in 2014.
Some of Grapevine offerings are:
• 12th Annual Day Out with Thomas™, April 10, 11, 12, 17, 18 and 19: Take a journey with Thomas the Tank Engine™ at the 12th Annual Day Out With Thomas on the Grapevine Vintage Railroad.   The train ride is approximately 25 minutes. www.GrapevineTexasUSA.com/Thomas.
• 11th Annual ChocolateFest, April 24 and 25: Sweeten up your weekend at the 11th Annual ChocolateFest, benefiting Travelers Aid D/FW. On Friday, April 24, delicious delights await at An Evening of Chocolate and Wine at the all new location of Austin Ranch, 2009 Anderson Gibson Rd. (located near Grapevine Mills), 7 p.m. Guests must be 21 and above. On Saturday, April 25, sample an array of chocolate treats paired with beautiful works of art at A Day of Chocolate & Art at Austin Ranch from 10:30 a.m. – 3:30 p.m. www.ChocolateFestGrapevine.org.
• Grapevine Farmers Market and Grapevine Market, April 9 – October 17: Experience shopping at the festive open-air European-style Grapevine Market for an eclectic array of items including handmade jewelry, distinctive home décor, quality antiques and locally-grown produce and other products at The Grapevine Farmers Market. Located behind the Town Square Gazebo, Thursdays, Fridays and Saturdays, 8 a.m. – 4 p.m. www.FarmersMarketofGrapevine.com or www.GrapevineTexasUSA.com.
• 23rd Annual Blessing of the Vines and New Vintage Wine & Gallery Trail, April 11: For centuries, Old World grape growers marked the beginning of the growing season with the ceremonial Blessing of the Vines and this tradition continues in Grapevine. After the Blessing of the Vines, enjoy the New Vintage Wine & Gallery Trail, featuring tastings at each participating winery, food samplings and beautiful works of art at all of Grapevine's art galleries. www.GrapevineTexasUSA.com/NewVintage.
• 14th Annual Spring Into Nash, April 18: Celebrate life on the farm like Grapevine's earliest settlers. Held at Grapevine's historic Nash Farm, the event features heritage toys, kitchen gardening, cotton planting, authentic heritage animal breeds, tractor-drawn wagon rides, field cultivation, wood carving demonstrations, jump rope making, cooking demonstrations on a wood burning stove and blacksmith demonstrations. 10 a.m. – 2 p.m. www.NashFarm.org.
• 31st Annual Main Street Fest, May 15, 16 and 17: Tap into three full days of festival fun at Grapevine's Main Street Fest – A Craft Brew Experience. Events include craft brew tastings, pre-festival craft brew and dining experiences, live entertainment, KidCave, Carnival and Midway, Texas Wine Terrace, artisans and vendors, festival food and much more. www.GrapevineTexasUSA.com/MainStreetFest.
• 7th Annual SummerBlast, May 22 – September 4: Blast off with family-friendly summer fun in Grapevine, the perfect destination for  all ages. Some of the exciting activities include Summer Bash at Gaylord Texan Resort, Friday Night Fireworks Over Lake Grapevine, perfect poolside relaxation, shopping, wineries, dining and much more. Fireworks happen every Friday night at 9:30 p.m. over Lake Grapevine. And don't miss the special 33rd Annual Fireworks Show on July 4th. www.GrapevineTexasUSA.com/Summer.
• 29th Annual GrapeFest®, September 17, 18, 19 and 20: GrapeFest, the largest wine festival in the Southwest United States, celebrates the best of Texas wines, West Coast varietals and International offerings. This four-day family-friendly festival also features events such as the People's Choice Wine Tasting Classic, GrapeStomp, the Texas Wine Tribute, pre-event wine and food pairing dinners, the Champagne Terrace, KidsWorld, GrapeFest Golf Classic, GrapeFest Tennis Classic, ItalianCarFest, five stages of live entertainment and much more!
www.GrapevineTexasUSA.com/GrapeFest.
18th Annual Butterfly Flutterby, October 17: Flap your wings with the southern migration of the Monarch butterfly at the Grapevine Botanical Gardens. Guests help release more than 600 tagged butterflies during three scheduled releases throughout the event. Children and pets are invited to participate in the colorful Butterfly Parade and in the costume contest. Free admission. Activities also include plant sales, arts and crafts and more. www.GrapevineTexasUSA.com/Butterfly.
Hallo-Wine Trail, October 24 and 25: Scare up some fun along Grapevine's Hallo-Wine Trail! This spooktacular event features three tastings and food samplings at each participating Grapevine winery tasting room, a souvenir wine glass and a bottle of premium Grapevine wine. www.GrapevineWineryTrail.com
And of course don't miss out on the over the top Holiday celebration of the:
Christmas Capital of Texas®, November 2015 – January 2016: Unwrap the magic of the season in Grapevine, the Christmas Capital of Texas! Grapevine celebrates Christmas with more 1,400 events in 40-plus days and is the perfect place to celebrate with your family and friends this year. Millions of magical lights, enormous decorations, Christmas events and more perfectly capture the spirit of Christmas in Grapevine. Events include North Pole Express® November 27, 28 and 29; December 4, 5, 6, 11, 12, 13, 18, 19, 20, 21, 22 and 23) ICE! and Lone Star Christmas at Gaylord Texan Resort (November – January), Bass Pro Shop's Santa's Wonderland, Light Show Spectacular, Carol of Lights (November 23), Parade of Lights (December 3), Snowland at the Great Wolf Lodge, Main Street LIVE's Christmas Shows and classic Christmas movies at the Historic Palace Theatre, Christmas Wine Trains (December 10 and 17), after Christmas train rides and much more. www.GrapevineTexasUSA.com/Christmas.

Many of Grapevine's hotels offer special rates and packages during annual festival and events. For hotel information, tickets or more information regarding Grapevine's festivals and events, you may contact the Grapevine Convention & Visitors Bureau at 800-457-6338 or 817-410-3185 or visit www.GrapevineTexasUSA.com
I can personally attest that Grapevine, Texas offers big city events with small town hospitality!