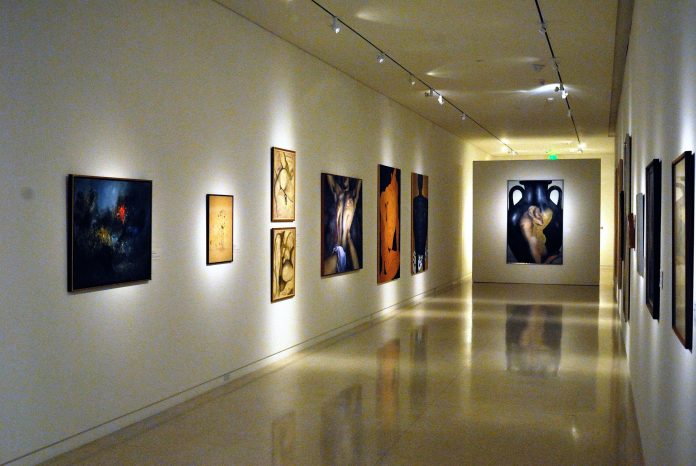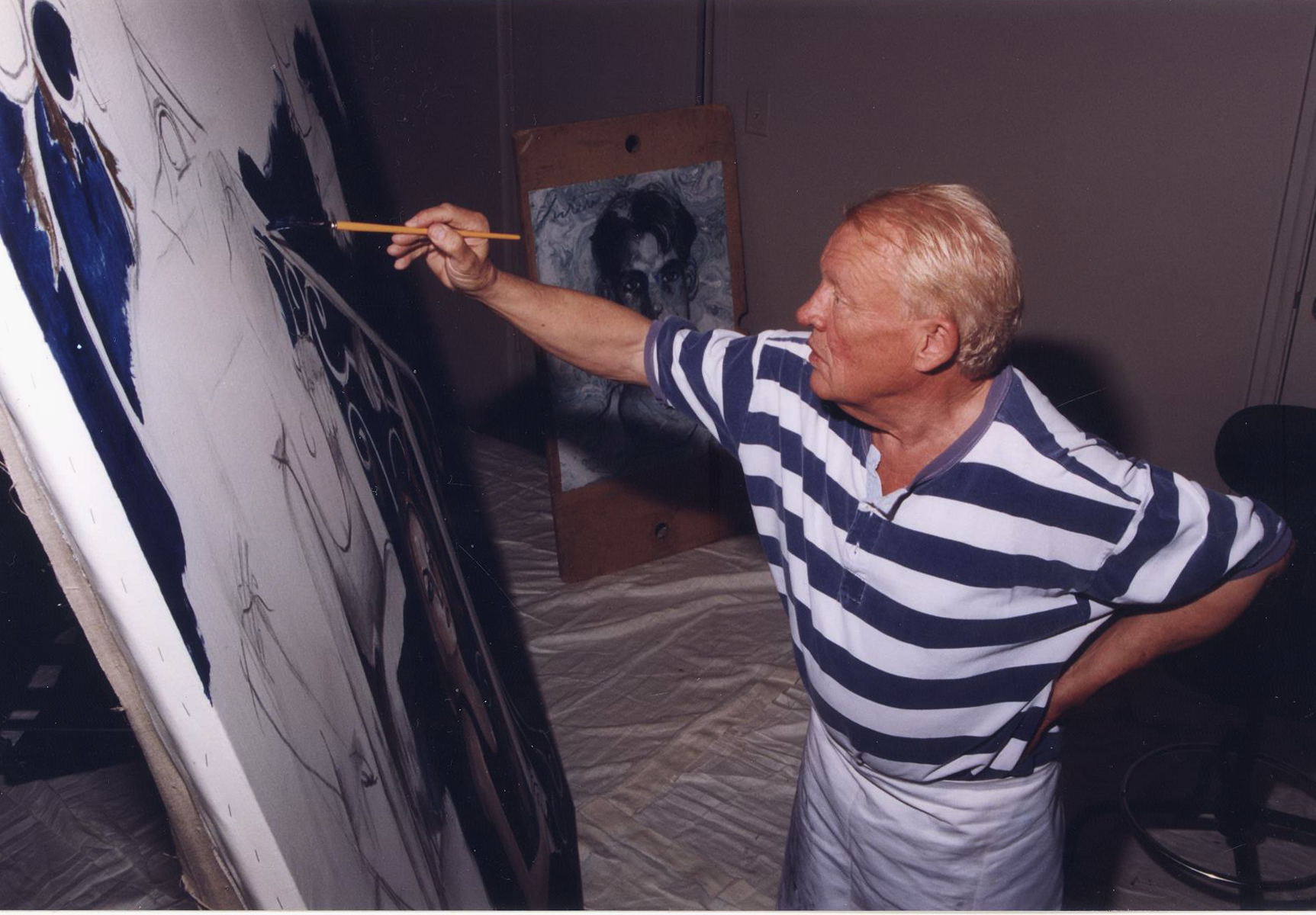 Artist Harold Stevenson  honored at Oklahoma's Fred Jones Junior Museum of Art
Photography and Text by Terry "Travels with Terry" Zinn  [email protected]
Idabel, Oklahoma native artist Harold Stevenson was recently reunited with friends and a selection of his artwork dating back to 1953 at the University of Oklahoma's Fred Jones Junior Museum of Art. "The Nature of Man: Paintings and Drawings by Harold Stevenson," will be on exhibit through May 2015, and was generously donated to the Museum by childhood friend and art collector, Ross Dugan.
The museum has previous works of Stevenson in its collection including his monumental series, "The Great Society" of a hundred larger than life portraits of his neighbors, friends and acquaintances generated in Idabel, Oklahoma in 1966.  Besides being in many private collections, Stevenson works are in the collection of the Oklahoma City Museum of Art and the Museum of Modern Art in New York City.
As descried in the gallery brochure, "The Nature of Man, explores Harold Stevenson's investigation of masculinity from his early career in 1960's to more recent works from the 1990's. The male body in Stevenson's works represents variously an expression of eroticism or memory of a reference to art history…. he produced naturalistic yet simplified depiction of the human body, frequently using a monumental scale and unconventional or unusual perspectives."  This style was rejected by the critics of the 1950s who were more interested in non-objective abstraction.  But Harold's creative artistic lust would not be quelled and his prolific painting continued to great heights.
A self-taught artist, at an early age in Idabel, Oklahoma, he moved away from his home's kitchen table and set up his own gallery/studio in a second story of a main street Idabel building.  From then on, his art took him to the University of Oklahoma, on to Paris, with homes there, in Key West, Wainscott Long Island, Long Island City and a cabin in the woods in Idabel.  This energetic octogenarian now lives in an apartment in his beloved Idabel.
It was a fitting honor to have Stevenson and his childhood friend and benefactor Ross Dugan at the intimate gallery event, where his longtime friend Mary Jane Rutherford and the Fred Jones Junior Museum of Art Interim Director Dr. Mark White, commemorate this reunion and celebrate of Stevenson's approaching 86th birthday.
It is not often that an artist and his friends have the opportunity to celebrate the man and his art near the end of a career, as does the Fred Jones Junior Museum of Art with this exhibition.  The museum is open to the public free of charge and as always presents and celebrates an eclectic exhibition of fine art.  Harold Stevenson is as original as his art, and the Nature of Man exhibition could be called the Nature of Harold, as it depicts his personality as well as artistic expression.
Authors Note:  I first met Harold at an impromptu Luncheon in Oklahoma City in 1995, hosted by Dr.  Duane Moore.   From this first meeting I knew I was in the presence of a celebrity with an extraordinary talent of telling tales of his worldly experiences with such notables as Andy Warhol and Peggy Guggenheim, among others.  His love of a luncheon ~ or anytime ~ martini reintroduced me to that cocktail of elegance and joy, resulting in my own photographic interpretation of the Martini through my worldwide travels.  www.martinitravels.com    Since 1995 I have visited Harold in New York, Dallas and of course Idabel, documenting his life and creativity in photographs and recorded interviews.
For Fred Jones Junior Museum of Art, times and more information visit, http://www.ou.edu/fjjma.html