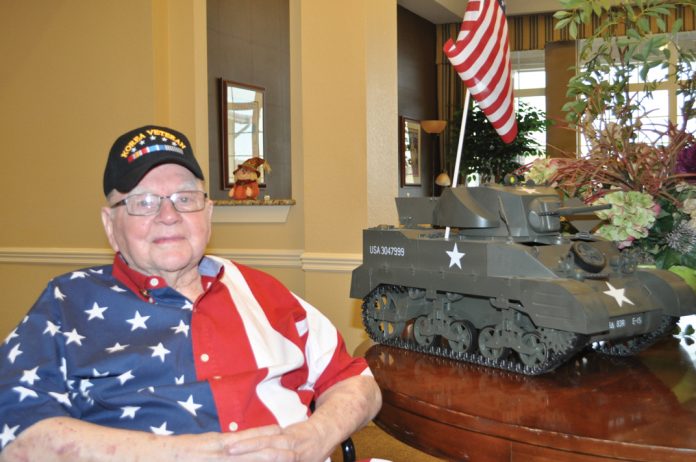 by Vicki Jenkins, Staff Writer
Each year, on November 11th, we celebrate Veteran's Day. It was the year 1938, Veterans Day became an official public holiday in the United States.
November 11, 1918, was considered the end of World War I and dubbed Armistice Day, according to the Department of Defense.
In 1938, Armistice Day became an official holiday set aside to honor World War I veterans. However, after World War II and the Korean War, veteran's service organizations urged the holiday to be amended. On June 1, 1954, Congress changed the holiday from Armistice Day to Veterans Day so all American veterans would be honored.
A big thank you goes to Legend Assisted Living and Memory Care for recognizing the veterans on their special day. Veterans were honored with a special Veterans pin by Reverend Miles Knutson, Bill Shahan, Medical Social Worker, David Dumbleton, Chaplain and Kristal Vasquez, RN, all from Valir Hospice. There were about 15 Veterans recognized. Mr. Dumbleton provided the music as he played his guitar and led the patriotic songs, a certain song for each branch of the military. Legend provided lunch for the Veterans and their families. The atmosphere was alive with emotions as there were a few tears shed, a little laughter, and lots of shared memories. Thank you to all of the men and women that have served their country over the years, past and present. You are all heroes to us.
While the Veterans were recognized for their military service, David Dumbleton, Chaplain of Valir Hospice read the following poem. Recorded over forty years ago by Dumbleton's uncle, Dumbleton revised it 11-16-16. This poem has a several different versions and has been read at numerous celebrations.
I am the United States of America
I was born on July 4, 1776 and the Declaration of Independence is my birth certificate.
The bloodlines of the world run in my veins because I offer Freedom the oppressed.
I am many tongues and many people. I am the United States.
I am 300+ million living souls and the monuments of those men and women died for me.
I am Nathan Hale and Paul Revere.
I stood at Lexington and fired the shot heard around the world.
I am Washington, Jefferson and Patrick Henry.
I am John Paul Jones, the Green Mountain Boys, Davy Crockett and Daniel Boone.
I am Lee, Grant, and Abe Lincoln.
I remember the Alamo, The Maine, Pearl Harbor, and Nine Eleven.
When Freedom called, I answered and stayed until it was over, over there.
I left my heroes dead at Flanders Field, Pearl Harbor, on the beach slopes of Korea, the rice patties of Vietnam, the desert storms of Kuwait and the Persian Gulf, the war in Afghanistan, the war for Freedom, and Shock and Awe in Iraq.
I'm the Brooklyn Bridge and the wheat fields of Kansas and the oilfields of Oklahoma.
I'm the coal mines of Virginia and Pennsylvania, the fertile lands of the west, the Golden Gate Bridge and the Grand Canyon.
I'm Independence Hall, the Monitor and the Merrimac.
I'm big and spread from the Atlantic Ocean to the Pacific Ocean, 3 million square miles thriving with industry.
I'm more than 5 million farms.
I am forests, fields, mountains, and deserts.
I am quiet villages and cities that never sleep.
You can look at me and see Ben Franklin walking down the streets of Philadelphia with a bread loaf under his arm.
You can see Betsy Ross with her needle.
You can see the lights of Christmas had people sing Auld Lang Syne as the calendar turns.
I am Jackie Robinson, Mickey Mantle and the World Series.
I am 200,000 schools, universities and colleges, and 300,000 churches where my people worship God as they thing best.
I'm a ballot dropped in an election box.
I'm a roar of a crowd in a stadium.
I'm a voice of a choir in a cathedral.
I'm an editorial in a newspaper and a letter to a congressman.
I am Eli Whitney and Stephen Foster and Mark Twain.
I am John Wayne, Ronald Reagan and Billy Graham.
I am Francis Scott Key, John Philip Sousa, and Kate Smith.
I'm Thomas Edison, Albert Einstein, and Dr. Ben Carson.
I'm Horace Greeley, Will Rogers, Paul Harvey and the Wright Brothers.
I'm George Washington Carver and Daniel Webster.
I'm Longfellow, Harriet Beecher Stowe, Walt Whitman and Thomas Paine.
Yes, I'm the Nation and these are the things and people that I am.
I was conceived in Freedom, and God willing, in Freedom I will spend the rest of my days.
May I possess always the faith, the integrity, the courage, and the strength to keep my character intact.
To remain a citadel of Freedom and a beacon of hope to the whole world.
I am the United States of America!