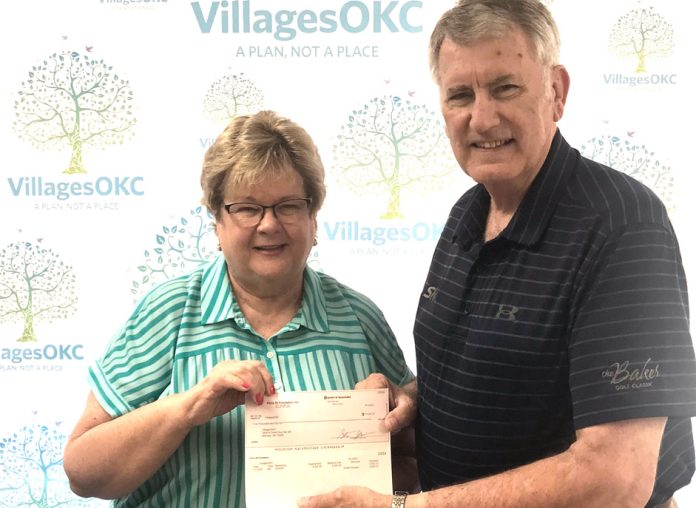 Story and photos by Eddie Roach
VillagesOKC received a $5,000 grant from Force 50 Foundation to be used to implement a veterans initiative called One-On-One Honor.
"This grant will be used in our pilot program seeking to bring awareness of the importance of bringing honor and patriotism into everyday life," said Marilyn Olson, VillagesOKC Executive Director.
The program will honor veterans in assisted living and low-income senior housing. Identified veterans will be honored in a ceremony at their facility and receive a veteran cap, service pin, photo, and certificate. The presentation will be conducted by a fellow veteran.
"VillagesOKC is part of the annual Vietnam War Era Pinning Ceremony each March 29 at the Oklahoma History Center. But, this One-On-One Honor program awards those who are in assisted living communities and cannot attend the annual pinning ceremony," Olson said.
Gary W. Banz, Force 50 Foundation Executive Director, said the grant application was open to any of the foundation's partner agencies. VillagesOKC was selected because its mission of connecting older adults to opportunities and services in the community is like Force 50 Foundation's objectives.
"We value a 'One Mission, One Force' network as the best way to connect organizations serving veterans," Banz said. "What we are all about is providing a platform for information sharing, connecting veterans to the various support opportunities." He explained that while there are many organizations offering veterans services, vets don't always know where to look.
VillagesOKC embraces a similar mission of connecting older adults to programs for learning, planning, and serving – providing a plan for aging that connects a community.
Gaylene Stiles, who submitted the grant for VillagesOKC, said the project also will engage Southern Nazarene University students from the SNU Veteran Center, providing an opportunity for students of all ages to observe and participate.
VillagesOKC is a nonprofit that connects adults ages 55+ in the greater Oklahoma City metro area to valuable resources that empower them to remain independent and age gracefully. VillagesOKC consists of virtual neighborhoods of volunteers who share vital connections, education, and programming with members to improve their quality of life.