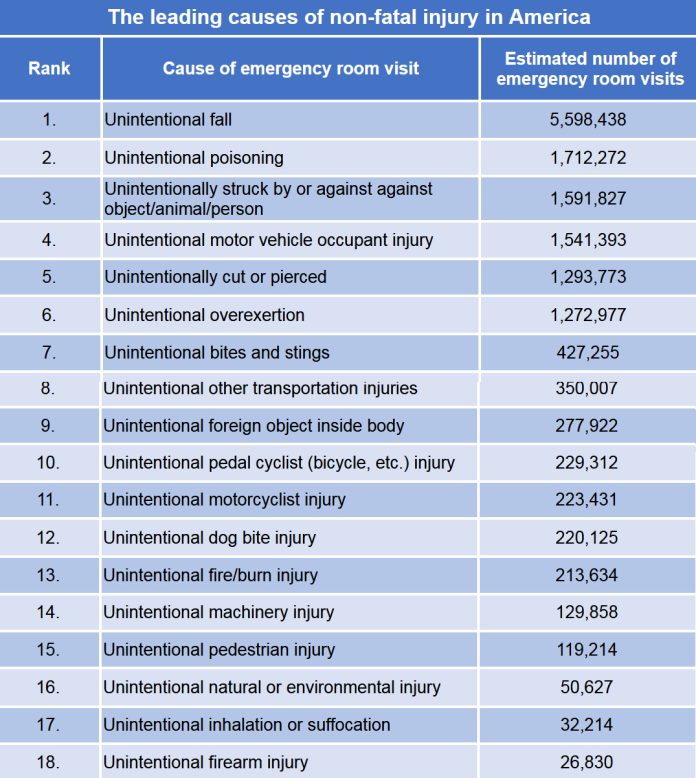 Unintentional falls are the most common, with an estimated 5,598,438 incidents yearly.
Unintentional poisoning came second, with approximately 1,712,272 incidents each year.
Unintentional firearm incidents are the least common, accounting for only 26,830 emergency room visits.
A new study reveals the non-fatal injuries that most frequently land Americans in the emergency room, with accidental falls being the top cause.
The analysis undertaken by experienced personal injury attorneys John Foy & Associates, used the latest data from the Centers for Disease Control and Prevention (CDC) to uncover the leading injuries prompting adults to seek emergency medical assistance.
Unintentional falls are the leading cause of non-fatal injuries in America, resulting in around 5,598,438 ER visits annually across all genders and ages. This type of accident may occur due to circumstances like slippery, cluttered, or unstable walking/working surfaces.
The second most common is unintentional poisoning, with around 1,712,272 individuals affected each year. From foodborne illnesses to drug overdoses, poisoning comes in many forms and represents one the largest ER risks nationwide. This category excludes the unexpected adverse effects of correctly administered drugs and bacterial illnesses like food poisoning.
Unintentionally struck by or against takes third place and accounts for 1,591,827 visits each year. These visits typically involve incidents where individuals are struck by an object, animals or person, rather than a vehicle or machinery. They can occur in a number of circumstances, such as at a person's workplace, while walking their dog, or rollerblading on the beach.
Occupants of motor vehicles are fourth, with an estimated 1,541,393 visits each year. These accidents affect occupants of cars, pickup trucks, SUVs, vans, heavy transport vehicles, and buses and most commonly occur as a result of traffic accidents.
Unintentionally cut or pierced is the fifth most common reason, accounting for an estimated 1,293,773 visits each year. Accidental incisions, slashes, perforations, punctures, and lacerations from household or occupational objects are common examples of this non-fatal injury.
The sixth-leading cause is overexertion, which can result from activities like heavy lifting or intense workouts, and accounts for more than 1,272,977 yearly emergency department visits.
Coming in seventh is unintentional bites and stings, causing around 427,255 emergency visits. This accounts for injuries such as snake and lizard bites, bee and wasp, scorpion stings, and even jellyfish stings. This also encompasses injuries involving penetration of the skin from plants or plant parts.
Other unintentional transportation-related injuries come in eighth, with about 350,007 cases each year. These injuries include pedestrians injured while boarding transport, accidents involving power scooters, go-karts, streetcars, and even space transport.
Presence of a foreign body is the ninth leading cause, with around 277,922 yearly incidents. Such incidents could involve accidental ingestion or insertion of foreign objects, such as toys, pebbles, or dirt, into the eye or other orifices of the body.
Rounding off the top ten is unintentional pedal cyclist injuries, with 229,312 incidents. This includes accidents involving bicycles and similar transport modes, such as losing control, colliding, or other traffic-related events on public roads.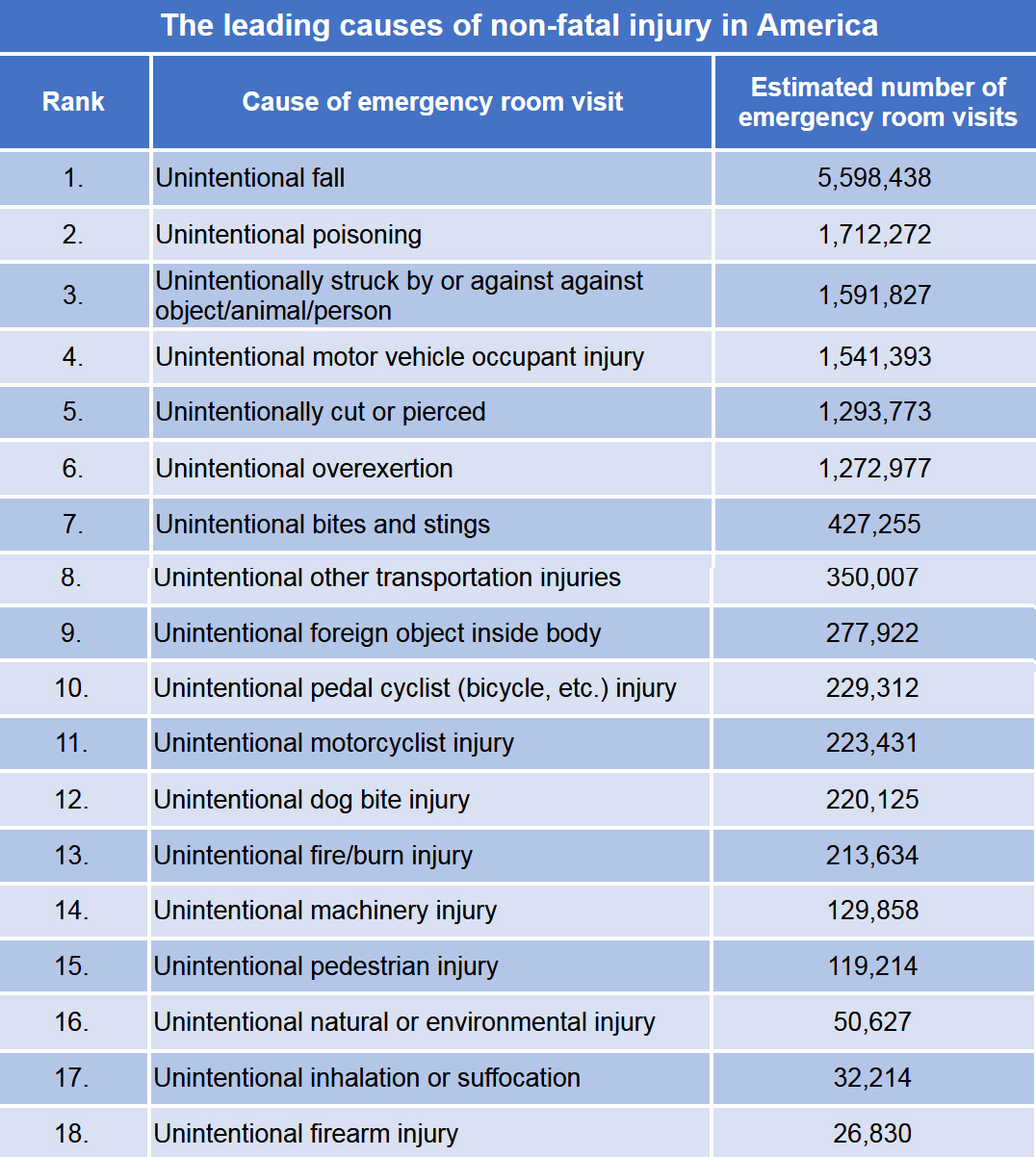 John Foy, founder of John Foy & Associates, commented on the findings:
"The data provided further important insights, when looking at sex differences between male and female ER visits. For instance, women are more frequently victims of dog bites than men, which could be in part due to the fact that more than 70% of dog walkers are female.
"Additionally, the data suggests that occupants of larger vehicles, such as cars, trucks, or buses, are 590% more likely to sustain non-fatal injuries than motorcyclists.
"It's also noteworthy that overexertion alone results in more emergency room trips than dog bites, pedal cycle incidents, and bites and stings combined."
About John Foy & Associates:
John Foy & Associates helps victims of catastrophic injury, wrongful death, workplace accidents, and defective drugs. The firm has been serving the community for over 25 years, helping their clients secure the compensation they deserve.
Sources:
Centers for Disease Control and Prevention
Methodology:
The research utilized the latest data from the CDC to identify the leading causes of non-fatal injuries among American adults aged 18-85+. Child-specific injuries were excluded to prevent skewness. Injuries were categorized and ranked based on the estimated number of emergency room visits caused. The data was then cleaned to make it easily digestible, with 'unknown' or 'unspecified' injuries removed. Patterns, like gender differences in injury types, were also investigated to provide insightful conclusions.
Images of the tables used in this release can be found here:
https://drive.google.com/drive/folders/1Mz2XkCoYG4RmiZYQmLEZEm8mgDzZ9ikV?usp=sharing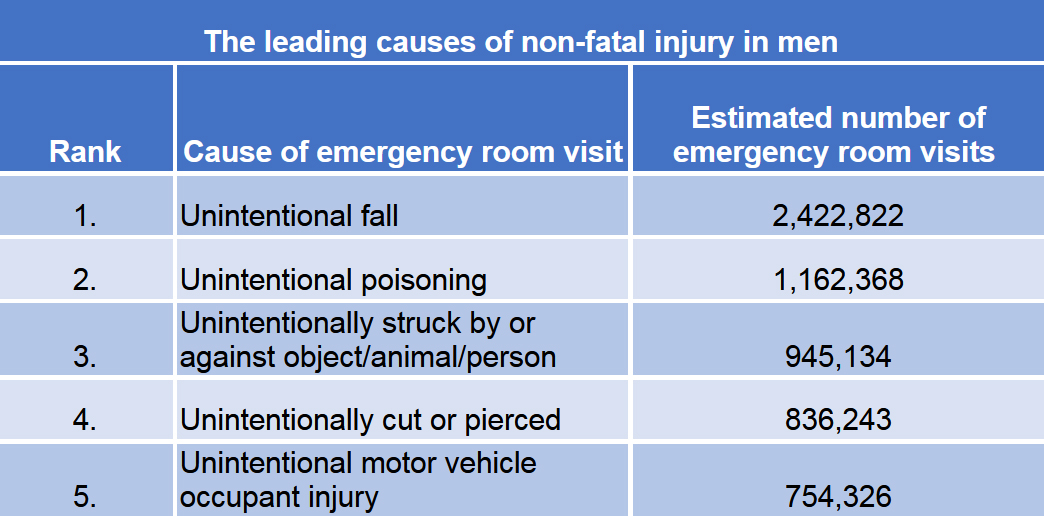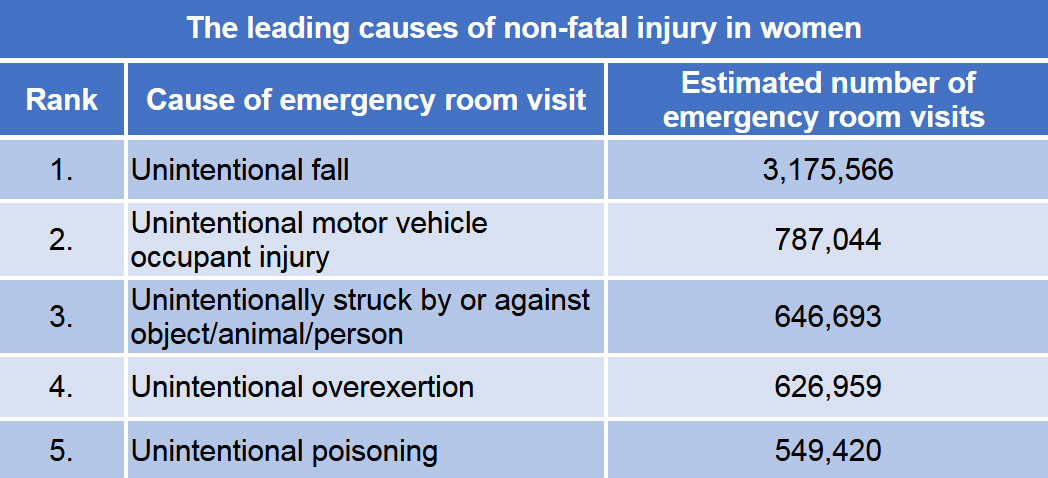 Story and links provided by https://www.johnfoy.com