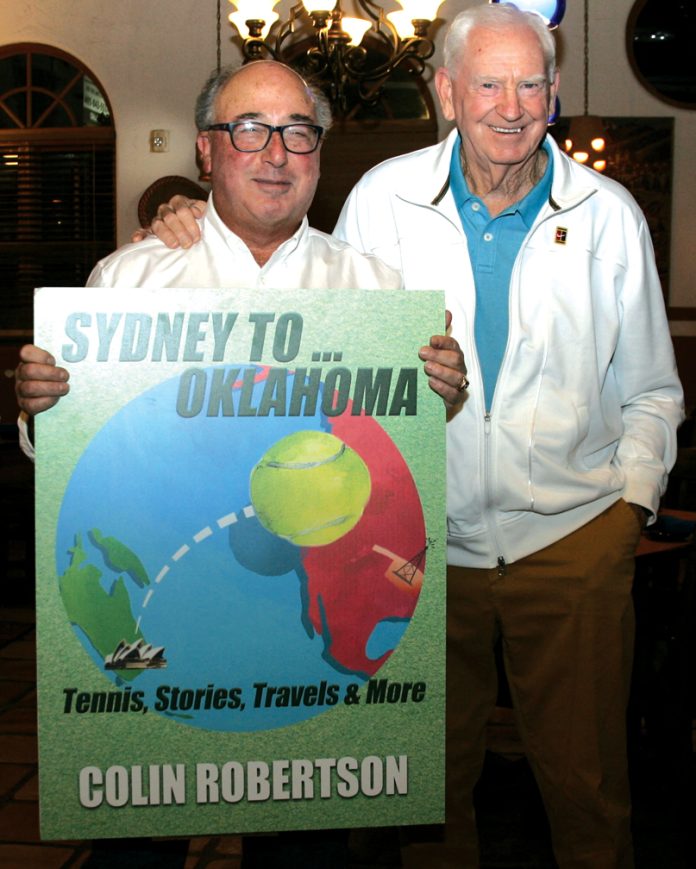 Story and photos by Darl DeVault, Contributing Editor
Few in Oklahoma have been more immersed in Oklahoma tennis than Australian ex-patriate Colin Robertson, 77, who came to Oklahoma City on a tennis scholarship in 1966. Seniors can now read about his five decades as a player, instructor, and coach entertainingly told in his heavily illustrated new book, "Sydney to Oklahoma: Tennis, Stories, Travels and More." (Total Publishing & Media, 2022)
Robertson richly details his playing days at Oklahoma City University in the new book. Seniors who joined the national tennis boom in the 1970s will remember him serving as the first tennis director at the newly opened Oklahoma City Tennis Center. He provided the spark in teaching many players who went on to serve the community as instructors and club managers. His move to instructing and managing at local private tennis clubs paralleled indoor tennis's dynamic growth in the 1980s and 1990s.
"I was in position over those decades to see tennis really take off in Oklahoma," Robertson said. "My hiring as the first director of the Oklahoma City Tennis Center in 1966 put me into contact with all the movers and shakers in tennis at that time in central Oklahoma. Many are still close friends to this day."
The author dedicates two chapters of his book to his years coaching tennis at Oklahoma City University (1987-2002). His insider's view of the ups and downs of coaching at a college level is revealing and heartwarming. Stories about the parade of international players he coached at OCU are at times hilarious and often inspiring. His teams' five national championships at OCU testify to the lessons he learned and put to use while guiding the program's success.
"Coaching at OCU was something I just fell into," he says, "but those turned into some of the most memorable years of my life. I'm proud of the success of many of those teams, but I cherish more the bond I developed with most of those players—many who had come from outside the United States."
The second part of "Sydney to Oklahoma" conveys the author's assessment of the current state of Oklahoma tennis from his court developer and tennis business owner viewpoint. The reader will be surprised and gratified at the progress the Sooner state has made in the last two decades at the public and collegiate levels. The magnificent new facilities at the state's major colleges are described and shown in striking photographs. Just as notable, the new public facilities in Tulsa and the Oklahoma City metro are detailed. Importantly, Robertson tells how interest and funds were generated to transform collegiate and public facilities.
"The extraordinary new tennis facilities at several colleges and city parks in Oklahoma is a great untold story in the state," Robertson says. "The national tennis community now sees Oklahoma as a leader in tennis facilities. Surprisingly, many Oklahomans are unaware of just how far the state has come over the last few decades with these new developments."
Robertson points out Edmond Center Court, the public facility in Edmond, is one facility gaining national prominence. Several tennis notables have called this indoor-outdoor facility the finest public facility in the world. "Edmond has done a remarkable job with their new public facility," Robertson says. "To be getting praise internationally really speaks well of this tennis center. Again, a part of the great untold tennis story in Oklahoma."
Over his decades in Oklahoma, the author personally met most of the key players and organizers in Oklahoma tennis—and many renowned players who came to Oklahoma for exhibition matches. His story of Bobby Riggs's visit to Oklahoma City in the 1980s is unforgettable. He pays tribute to many of these often-quirky tennis personalities in a revealing chapter on Oklahoma's tennis characters.
Now a tennis consultant at the Buccaneer Beach and Golf Resort in St. Croix, U.S. Virgin Islands, Robertson concludes the book with thoughts about the sport and tennis enthusiasts in Oklahoma. He held several book signings in Oklahoma City and Tulsa in late November. He will return to Oklahoma in February for a series of talks and book signings throughout the state.
This book is a must-read for seniors who have played or followed tennis closely in Oklahoma since the 1960s. It richly details the decades Robertson spent inspiring players and developing the sport in the state. Online purchases of this autographed book are available at www.OklahomaBooksOnline.com/colin-robertson.