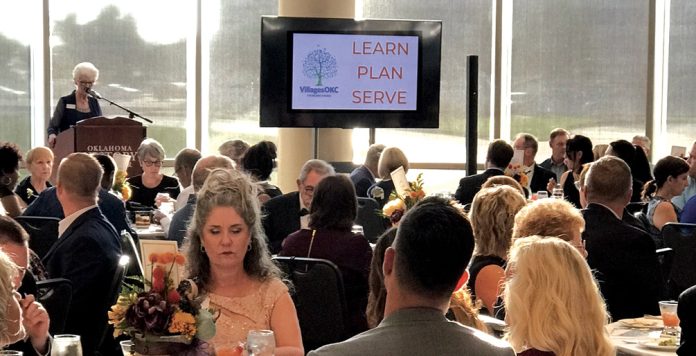 By Eddie Roach
As the new year begins, VillagesOKC reflects on a very rewarding 2022 and looks forward to an even bigger and better 2023.
VillagesOKC was established in 2018 as a plan founded on relationships rather than transactions. Like many small towns in Oklahoma, here like-minded members can trust the connections to valuable resources, education and programming. Membership allows for personal responsibility while Empowering Independence for mature adults to age well – in the way they choose.
The combination of internal leadership and external visibility has raised awareness and opportunities for VillagesOKC. Yet its three core values remain unchanged:
* LEARN (growing the brain at any age)
* PLAN (for the bumps in life)
* SERVE (helping others is life-giving)
Highlights of 2022 accomplishments:
LEARN:
* Offered monthly iPhone and iPad technology support
* Participated in monthly Town Hall Lectures
* Held six-week Brain Health Academy
* Continued 12-month Senior Living Truth Series as educational partners
PLAN:
* Updated the Gathering Information for Transitions (GIFT) workbook and expanded the number of facilitators
* Made GIFT registration, scheduling and payment available online
* Videoed GIFT testimonials for informational sharing
* Piloted one-hour workshops for Medical Power of Attorney and Advance Directive
SERVE:
* Launched the Veteran Initiative with pinning of 350 veterans at the Oklahoma History Center
* Expanded Caregiver Ambassadors to 18 faith communities
* Grew an exciting monthly women's coffee
* Expanded partnership with NewView Oklahoma
* Established partnership with OKC Friday Newspaper, Oklahoma Warriors Honor Flight and Force50 Foundation
In 2023, VillagesOKC will begin LifeSkills Academy, expand The GIFT and Power of Attorney Workshops, expand the Veterans Initiative, double the number of Church and Synagogue connections, and double the VillagesOKC Advisory Board.
VillagesOKC is becoming the magnet, the trusted one source for senior connections in greater Oklahoma City.
To learn more about VillagesOKC, go to their website: https://www.villagesokc.org/ or call (405) 990-6637.