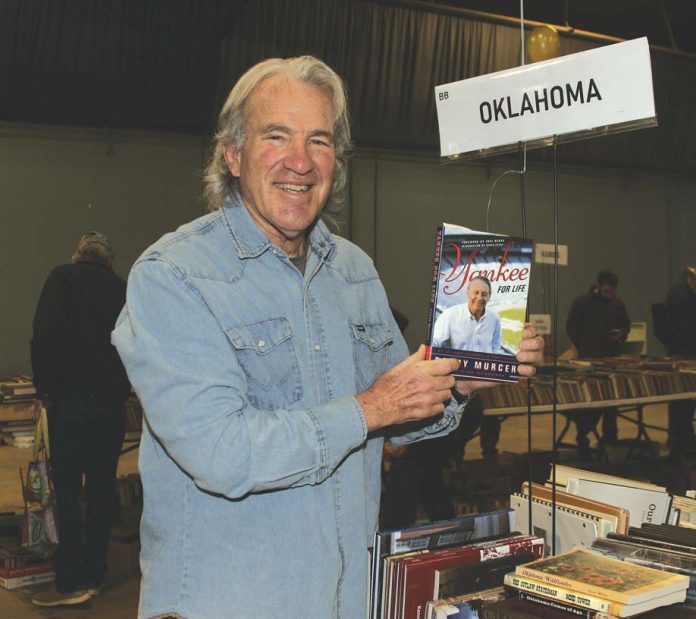 Story by Darl Devault, Contributing Editor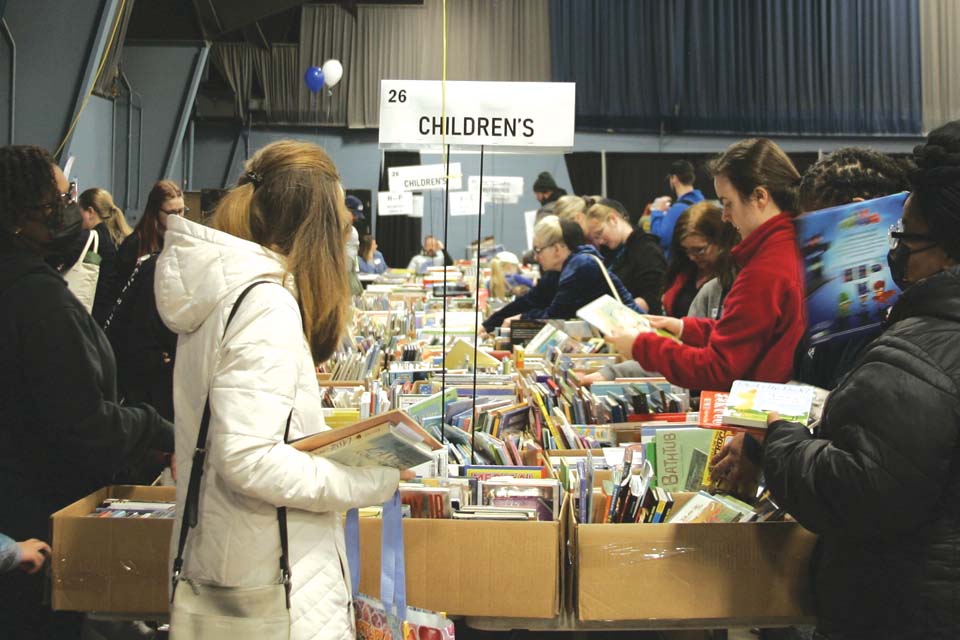 The annual Friends of the Metro Library Booksale in February is growing as senior volunteers step up to face the challenge of a crowd so large that organizers needed to limit the number of shoppers allowed in the largest building at the same time.
The used book selection was the most extensive ever seen at the book sale, as was the number of shoppers. Fortunately, the "Better Books" section in the smaller building had no entry restrictions during the day. Thousands of book lovers lined up early on Saturday, February 25, well before the 9 a.m. opening in the Oklahoma Expo Hall at the Oklahoma City State Fairgrounds.
Heather Zeoli, Metro Library System director of development said, "This event is growing every year, and we are proud of our volunteers, including Ellen DeFehr, who is working at the back of this building today."
It was undoubtedly a record crowd for Saturday, but estimating the number of shoppers at an event when the crowd never ends is difficult.
Many customers from out of state see the book sale as a do-not-miss event every year. In the crowd shopping the better books area, one senior customer said he had never missed a book sale. At the table for books by Oklahoma authors and books about Oklahoma, he was so excited that he was willing to brag about his good fortune this year.
John Carpenter, 68, was proud of what he found on offer this year. "I am buying a book written and autographed by Bobby Murcer (May 2008 autobiography, "Yankee for Life: My 40-Year Journey in Pinstripes" published by HarperCollins)," Carpenter said in an interview. "Murcer was a Southeast High School baseball player who replaced another superstar Oklahoman, Mickey Mantle, in the New York Yankees outfield. It is amazing to buy this donated book in such great condition with his autograph. It is as amazing as finding his autographed 1966 rookie card, except this is from the end of his career in the limelight since he died only two months after it was published."
Carpenter, a Choctaw resident and retired Oklahoma probation and parole officer, has become a well-known local yoga and spin teacher since retiring in 2011.
The sale's popularity has led to a competitive atmosphere among shoppers, who know this is a once-a-year opportunity to find great deals on books and other media. Despite the frenzied atmosphere, the sale remains a favorite among book lovers and bargain hunters alike, offering a unique opportunity to discover new authors and titles while stocking up on beloved favorites.
Customers come to shop for various reasons. Some try to select bestsellers, classics, collectibles, and research books needed for school. Others seek to complete personal libraries in certain subjects, while parents strive to enhance their children's reading exposure. The children's section was swamped all day.
Providing a diverse selection of paperback and hardcover books, CDs, DVDs, magazines and more for every demographic of customers this year, the sale's theme was "Books Bring Us Together." The books featured many subjects—fiction, nonfiction, cookbooks, biographies, medical, westerns, romance, children's, encyclopedias, reference and foreign language books. Several thousand big print books were offered with the larger point-size fonts needed to make reading easier for those with weak eyesight.
Despite the vast number of books on offer, the sale is organized by many senior volunteers in a way that allows customers to navigate through the different sections of tables easily. The literary sale has become a special event in Oklahoma and beyond, offering book lovers a chance to discover new titles, expand their collections, and connect with like-minded individuals. The sale's success is a testament to the enduring appeal of the written word. Its continued popularity was a testament to the passion and dedication of its volunteer organizers and supporters.
Volunteers worked tirelessly to ensure that everything ran smoothly. They went to great lengths to ensure that the thousands of books were well organized by subject and shoppers could easily find what they wanted. With so much on offer, getting lost in the sea of books could be easy, but the volunteers were always ready to help.
The sale raised money to support the Metropolitan Library System. In its 43-year run, the Friends had given more than $5 million in grants to the system.