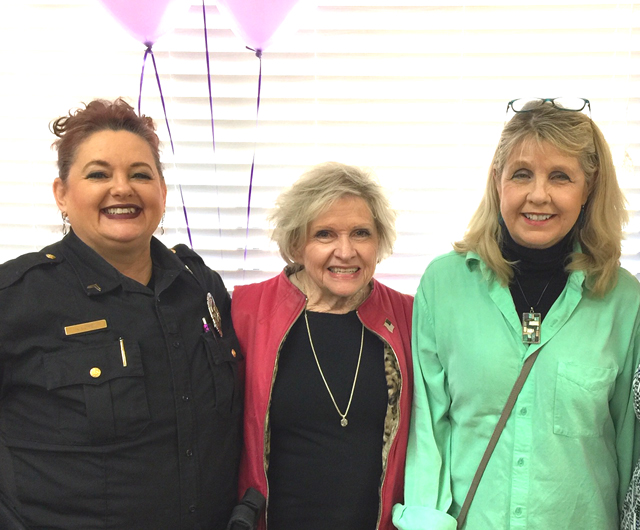 JOIN US FOR SENIOR DAY AT CROSSINGS COMMUNITY CHURCH MAY 10TH
Key Note Speakers including Elaine Dodd, Oklahoma Banking Association and Berry Tramel, Sports Editor Daily Oklahoman PM. Do you understand Social Security or how to choose a retirement community? Have you researched Alzheimer's' caregivers, Veterans benefits, or the million-dollar business in Oklahoma called Medicare? Senior Day is designed for those who are interested in diving deeper into these specific issues. There will be a selection of break out classes with topics like these for attendees to select and a very special Key Note speaker at lunch, Sports Editor Berry Tramel with the Daily Oklahoman.
This year there will be a raffle for "DUDE'S NIGHT OUT WITH BERRY TRAMEL, the host will be Lance Ward Pastoral Staff Crossings. Raffle tickets will be available at registration. Elaine Dodd, Oklahoma Banking Association will also present on how to limit elder fraud. Elaine worked with the OSBI for over twenty years and is well trained on how to identify and stop bank fraud for Seniors. Kim Lopez, TRIAD Director Oklahoma County Sherriff's Office, will share how to shop safely in a mall or grocery store. We have a new presentation this year- how to Use your I Phone! Mia Munnerlyn, Media Director for Well Preserved, will share some easy to follow tips for the I Phone. Ray Walker, Director Medicare Assistance Program will be thoroughly explaining Medicare. Jose' Olivero, Public Affairs Specialist with Social Security, will share your options on Social Security.
We are very excited to have Blair Schoeb, Director of Area Wide Aging for Oklahoma, Canadian, Logan and Cleveland County. Area Wide serves over 25,000 seniors a year. Blair recently returned from the National Association of Area Agencies in Washington, DC. There will be classes on downsizing your home. Nikki Higgins Lifestyle Realty will conduct a panel for an easy transition for a Senior home owner. How to choose a retirement community, presented by Jill Huff with Spanish Cove. Who needs Memory Care? Presented by Keri Dennis with Stone Creek Assisted Living in Edmond. What is Adult day care? Presented by Brian Rush, Director of the Daily Living centers. Daily Living Centers have four locations in the metro and Edmond. Kathy Logsdon will share the amazing story of Epworth Villa. There will also be Vendor displays for attendees to find out information from business that support Seniors in the Metro Area.
Last year the Crossings 4th Quarter event donated $2900.00 to RSVP. RSVP is a volunteer organization that serves 130 nonprofits in the Metro. This year, proceeds will be donated to non-profits that serve seniors in the metro area. Our thanks to the Title Sponsors Quail Creek Bank, Epworth Villa, Lifestyle Realty, Spanish Cove & Well Preserved Advisory Group,
Those topics plus many more will be explained on May 10th. If you are a Senior and want to come and learn—- JOIN us for SENIOR DAY at Crossings Church, 14600 N Portland, OKC – on May 10, 2019. Registration will begin at 8:30AM. This will be an all day event and will finish at 4:30. Registration is only $12.00 and that includes lunch.
To register go to CROSSINGS.CHURCH/SENIOR-DAY or call 848-5790 for more information.