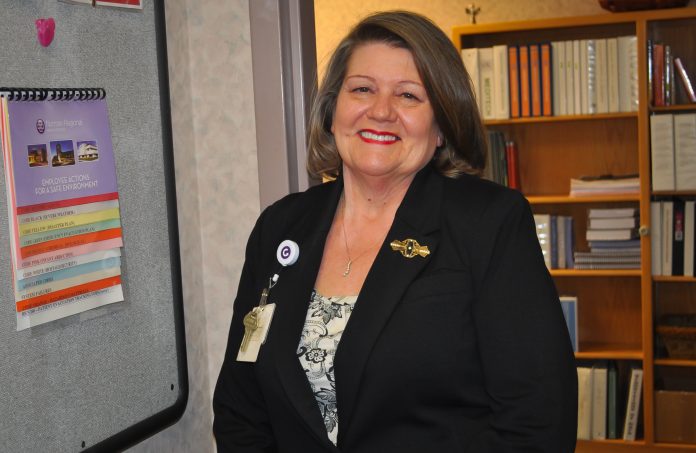 by Mike Lee, Staff Writer
Jodi Riddle, RN, has worked at Norman Regional for 19 years and served as a nurse for 22.
But it's something she's done for slightly more than a year that really has the 61-year-old veteran nurse excited.
In November 2013, Riddle turned 60. She picked up running as a post-midlife crisis.
"When you have a major birthday, when you leave your teens and turn 20 or turn 40 I think milestone birthdays are different for different people," she said. "Sixty is a pretty big milestone birthday for most people."
Riddle now has eight races under her belt. Every time she stands at the start line she wonders if this is going to be the race she doesn't finish.
"Starting something and finishing it is a really good feeling especially if it's something outside of your comfort zone," she said. "For me that's something physical like running because it's something I'm not used to doing."
Don't call her a distance runner. Riddle even shies away from being called a runner at all.
It's a distance for me," Riddle said. "Real runners wouldn't call it a distance. I've never run a marathon or anything like that but I started running 5Ks last year. That's a distance for me."
Nearing 60 was something new for Riddle so she decided to do something she had never done.
Riddle's supervisor, LeAnn Richardson, RN, had just spent an entire year working herself into shape through Crossfit.
"It made such a difference in her and her life and how she felt," Riddle said. "I was approaching this milestone birthday and I had always been a person with my nose in a book. I had never been athletic or done any kind of sports or anything.
"I wanted to be strong and healthy going into this next decade in life."
Riddle started the month of her 60th birthday doing Crossfit. Several people in the department also started on a weight-loss journey.
A few months later a charity walk was embarked on.
"We did the fun walk and like an idiot I ran it and I lived," she giggled. "I thought I could run. This was interesting."
A couple weeks later she was approached by a coworker who told her about an upcoming race in Moore. The race was to be run in dedication of the Oklahoma spirit and what that community had just gone through with the tornado.
"I was at Moore when the tornado took the hospital out," Riddle said. "I thought I was going to do that. I didn't know if I could run the whole way but I knew I would start and hopefully finished."
Not only did Riddle start, she finished and won first-place in her age division.
"Mainly it makes me feel strong," she said. "It's always a good feeling when you accomplish something you're not quite sure whether you can or not."
With runners never being satisfied, the natural progression for Riddle would be longer distances.
She runs in the morning 3-4 miles most days.
"My husband says if you're getting up at 4:30 so you can run before you go to work then you're a runner," Riddle said. "So I'm trying to keep that mindset. I'm not looking at a half marathon but I'm thinking my next challenge might be a 10K. I'm thinking about it and that's the first step.
During her nursing career, Riddle has worked in the flex pool, which is basically a per diem nurse position that took her all over the hospital.
And Riddle has never been one to shy away from a challenge, volunteering to tackle the hospital's move to electronic medical records.
Knee deep in technology she struggled to understand, Riddle remembers wondering what she had gotten herself in to.
"Unfortunately, during my career I've frequently thought that when I've been changing positions," she said with a laugh. "Getting out of your comfort zone can sometimes be a little frightening."
Physically, Riddle says running has helped her in so many ways.
"I always looked at people doing sports and thought that was a huge amount of effort," Riddle said. "The surprising thing to me was after that first run I wasn't wiped out and could still function. I had scheduled nothing for the rest of the day because I thought I would be in bed.
"I just feel like I have more stamina. I feel like my day starts better when I run in the morning."
When she's not running she's chasing seven grandchildren courtesy of her three daughters and one son.
Riddle is planning on running with one of her daughters in the near future.
There's a plan for her daughter to run the OKC Memorial Marathon and for Riddle to do the 5K. Prior to that Riddle will run the Health Dash 5K in March.
And she has no idea what she plans on taking on at age 70.