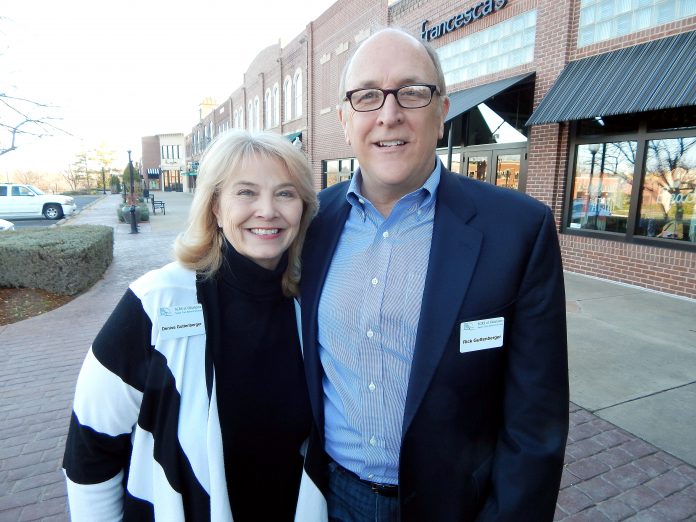 by Jason Chandler
Staff Writer
Rick and Denise Guttenberger help families who are faced with finding senior care options, navigate to find those options.
"It can be confusing and complex at times, so we help them do that at no cost to them," Rick said.
The Guttenbergers are the owners of Senior Care Referral Services, a company based in Edmond and serving the greater metropolitan area of Oklahoma City. Their service area ranges from Edmond to Norman and from Mustang to Midwest City.
"We get to say, 'We can help you,'" Denise said.
Whether seniors need independent living communities, assisted living, memory care or at home care, Senior Care Referral helps seniors find the resources they need.
"For the past couple of years, we have felt called to work with the senior community," Denise said. "I can't really explain it other than it was a calling and we needed to do something and we started looking at different options that might be available."
Rick recalled the common conversations with his peers before they founded the company. Friends would say, "Gosh, I've got to do something with mom. She can't live at home anymore.'"
He recognized a need for guidance to establish a place to start.
"We really felt there was a need locally for a trusted group that could provide that information for them," Rick said.
They found their niche with Senior Care Referral Services. It is a wonderful way to walk with families, providing them ease of mind by simplifying their search for answers.
"What does it cost? What kind of care am I going to find? Does my insurance pay for it?" are typical questions posed by their clients.
Oftentimes when approached by a prospective client, the Guttenbergers will hear, "We don't know what to do.'"
Helping seniors to navigate, making their life easier with a myriad of answers, brings joy to both the Guttenbergers and their clients.
When a client needs home health, then Senior Care Referral Services will provide referral services to companies they recognize as senior-friendly leaders in the field.
"We spent quite a few months visiting almost all the communities in the greater Oklahoma City area," Denise said. "We took the tours.  We talked to the marketing people and the director, looked at reviews, so we could feel confident that any place we would take a family is a place we would take our own family."
Primary caregivers can reach a point in their lives when there are more questions than solutions. Their own energy becomes spent in trying to do more than they can handle. Senior Care Referral Services allows the Guttenbergers to find solutions for seniors.
"Sometimes it's just time. Sometimes it's, 'Gosh, I think mom would be safer if we helped mom find a community she could live in and where meals are prepared and the maintenance is done. She doesn't have to get out on the roads to drive.'"
A fall or injury with a loved one may prompt a son or daughter to make a decision to enhance their parent's quality of life for the better.
The first determination made by Senior Care Referral Services is to determine the level of care a client needs, Rick said. It could be independent living, providing meals and a safe environment.
Others may need assistance with daily living activities, he said, such as dressing, eating and medication management.
"The next thing is — do they have a geographical preference?" Rick continued. "Do they want to be in Norman. Do they want to be in Midwest City or northwest Oklahoma City?"
One's budget is the third consideration, because prices vary significantly, Rick said. There are average prices for certain levels of care, so Senior Care Referral Services helps clients to understand what services can fit their budgets.
"The fourth thing is timing," Rick said. "When someone is coming out of skilled nursing Tuesday, and they need a place Tuesday because they can't go back home — that may limit their options with the availability in different communities."
All of these considerations are fine-tuned into an understanding of choices that are best suited for the individual clients' needs. Services provided by Senior Care Referral Services are free to the clients. Service providers in the community pay for the cost.
"We can help narrow their option choices pretty quickly," Rick said. "What might take them months to figure out on their own, we can help them figure that out in a 20-minute phone call."
Sometimes, Rick and Denise will work with the seniors themselves, who have become isolated. Churches have asked them to help some of their members.
"We'll go and get them and help them go on tours, and find their new home," Denise said.