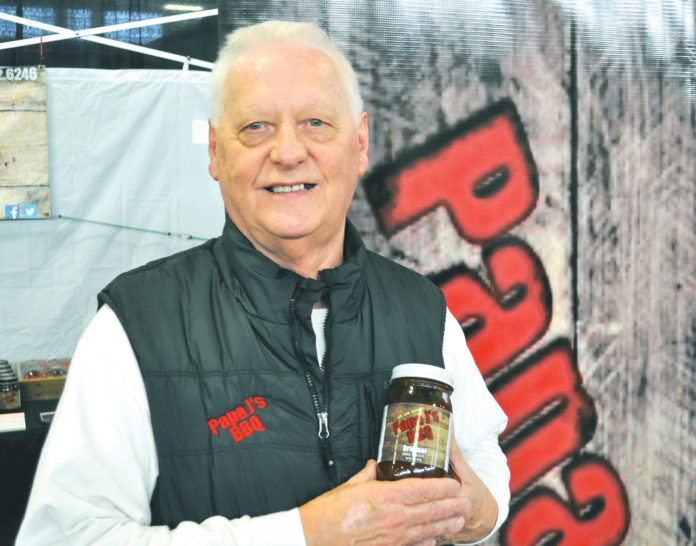 by Bobby Anderson, Staff Writer
It's a scene that continues to play itself over and over again whenever folks taste Jerel Jalbert's barbecue sauces.
The culinary-trained Jalbert has been making BBQ sauce for decades. He tweaked it here and there during his 20 years in the Air Force and brought his love for sauce to the Sooner State when they moved here 20 years ago.
"My two kids said 'Dad you have this barbecue sauce and you need to do something with it,'" he said.
He decided to take his original sauce and started testing it on groups. The feedback recommended a medium and a hot version were necessary.
It took 18 months to come up with the right spice levels before Papa J's BBQ launched August 2014.
"We did a lot of test groups and had a lot of people try it. We knew we had a good product but the challenge was getting it processed and getting it ready," he said. "But everyone seems to really like it."
FAMILY AFFAIR
Papa J's is family-owned with Jalbert's two sons pulling equal weight.
"We're all part of the company and we're all owners and each one has a job," he said.
Eldest son, Jeffrey, serves as the finance officer.
Youngest son, James, is the marketing director.
James jokes there's absolutely no pressure when it comes to marketing the family business.
"It's an easy product to market to be quite honest." Being that we're such a rare sauce in the fact we're a whiskey barbecue sauce make it that much easier to really sell and market it. I think it comes down to how you sell it, how you present it to your customers and really come up with a great sales technique to make that happen."
James' degree is in marketing. He's a loan underwriter at a local bank during the day when he's not hitting up customer's about the family sauce.
"I knew it was going to be a challenge," Jeffrey said. "Raising the capital has been difficult. We're a pretty blue collar family. You don't make much in the military and on a military pension so there wasn't a whole lot."
Jeffrey drew heavily on his contacts as a commercial lender locally. He's now a chief financial officer for a highway construction company.
"I take a lot of the tools I've learned in my current role and try to implement in our small business, the barbecue business," he said.
This year the focus is on expanding distributorships and getting onto more Oklahoma shelves.
Barbecue-focused businesses are a natural draw but the family would one day like to see the Papa J's brand at stores like Crest and Whole Foods.
"This year we've shifted to try to go to greater volume to increase sales," Jeffrey said, acknowledging forging those relationships takes time. "Some of those companies want to sell wholesale for $2 or $3. When it's $4.50 to $5 a jar … I think they're harder to sell on.
"So it's trying to find those companies that are willing to specialize a little more and in the quality of that sauce."
Papa J smiles when you ask which whiskey he uses.
"People always ask what we use and the analogy I use is if you go into a package store whiskey is on levels. The cheap stuff is on the bottom, there's the mid stuff and your top shelf," he said. "We're up there."
Matriarch Hope tries her best to support her boys in the venture as well as put a lovable face on the brand at the multitude of shows, bazaars and events the company markets at.
"I introduce people by letting them sample. I do hands-on stuff," she laughs. "The majority of the people love it. I describe the flavor first."
The original sauce has the most whiskey flavor. The spicy version is a warm spice. The smoking hot is a five-second delayed heat tingle on the back of the tongue.
Forget the syrupy sweet or vinegary tang most sauces leave in your mouth.
Papa J's sauces have a smoothness that you can definitely tell took a while to arrive at.
Papa J credits that smoothness to the whiskey.
And as to where Papa J's goes in the future, Papa J has high hopes.
"I hope it's an inheritance for my kids," Papa J said. "I want it to grow and really take off. Barbecue in Oklahoma is really competitive. There's a lot of sauces out there and you have to find that unique niche."
We think we've found that but it's a challenge to get to those places and have the availability."
You can find out where to find Papa J's sauces online at papajsbbq.com or on Facebook.