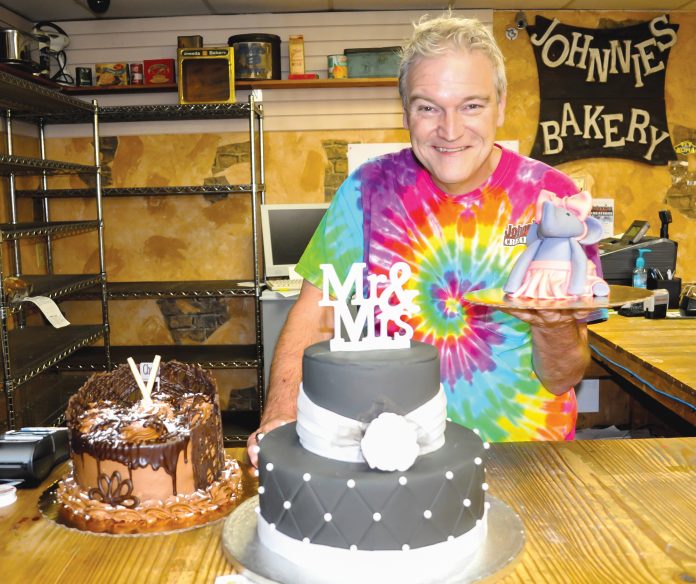 by Bobby Anderson, Staff Writer
Growing up in the tiny borough of Hummelstown, Pennsylvania, Bruce Heikes would travel most weekends and summers to nearby Hershey around midnight to don an apron.
At age 15, he worked for Louis Memmi, who owned G. Memmi and Sons Bakery.
"Man you roll down the window on the way there and you can just smell the chocolate," Heikes said. "It's overpowering it smells so good."
It was in the shadow of the Hershey's Chocolate empire that Heikes' career began to rise.
More than 40 years later, Heikes continues to pour his artistry and love for what he does into everything he bakes at Johnnie's Sweet Creations in Oklahoma City.
The shop at 8419 S Western is not only Heikes' livelihood, it's his life.
It's easy to see when children walk into the shop and a big smile spreads across his face.
"Who wants a cookie?," he says, with a grin that's always returned with one just as big.
IN IT FOR THE DOUGH
Growing up, fresh-baked goods were the norm.
The bakery where Heikes learned to bake bread had a delivery truck that made daily rounds to all the supermarkets.
There were no plastic-wrapped, preservative-laden loaves that could sit on store shelves for weeks at a time.
"You've got to worry when you take a loaf of bread you just bought and put it on top of the refrigerator where the heat comes up from the back and it keeps for a month," Heikes said. "They've got so many preservatives in there you could die and still keep going for weeks."
His brother-in-law brought Heikes and his brother, Ron, to Oklahoma to work for Skaggs Albertson's.
A move to Buy For Less as a bakery and deli manager followed as did a stint in Ingrid's Kitchen.
He eventually became a food broker for a company that sold bakery products to the warehouse that sells to many Oklahoma grocery stores.
It was a Monday through Friday job, something Heikes never had.
But for some strange reason, he wanted to own a bakery.
Heikes knew the previous owner of Johnnie's Sweet Creations, who purchased the store in 2000. An illness forced her to put the business up for sale in 2012.
She called up Heikes and he was sold.
A few weeks later so was the business.
Now he makes less money, works Monday through Saturday – Sundays, too now through Christmas this time of year.
"Sometimes I think, why do I do this?," Heikes said. "But mostly there is so much pleasure in making something good for these people and when they taste it and their eyes roll in their head … that stuff makes it all worthwhile. It really does."
A RISING BUSINESS
Heikes' daughters work at the store. His brother's daughter works there. Both his wife and Ron's wife – who are registered nurses – come in just before Christmas or Valentine's Day when the store really needs the extra hands.
"We get such huge orders and I don't want to turn them down," Heikes said. "I don't want to turn them down because of the money but I also don't want to turn them down because I want to be there for them."
With more than 40 years manning the ovens Heikes can take a loaf of bread in his hands, give it a squeeze and a quick smell and tell you what's right – or not.
It's why his employees come to him when something's not quite right.
It's truly an art.
That's one reason he cringes every time he walks past a grocery store "bakery" aisle.
"I used to sell that stuff as a broker. Those cakes come in a box. They have a year shelf life and all of the icing comes in a bucket," Heikes said.
Every week Johnnie's makes six to seven 55-gallon barrels of butter creme icing from scratch.
"I probably go through at least 100 sheet cakes and just multitudes of eight-inch rounds and cutouts – not to mention the weddings," Heikes said.
Heike's favorite sweet in the store is his butter pecan brownies. He's made them for 20 years at home.
"I could not show up to Thanksgiving or Christmas without bringing those butter pecan brownies," he said with a laugh. "It's a real simple recipe but it's so rich and so good and it's unique. You just don't find them any other place."
Ten years from now Heikes will be 67.
He hopes his son, Justin, is working the ovens.
"I hope I could bring him in here – maybe even one of my other sons – and teach him the legacy of doing this and carry this on," said Heikes, who has eight children.
But whatever the future holds, Heikes doesn't see himself venturing too far from the ovens.
After all, who doesn't want a cookie?