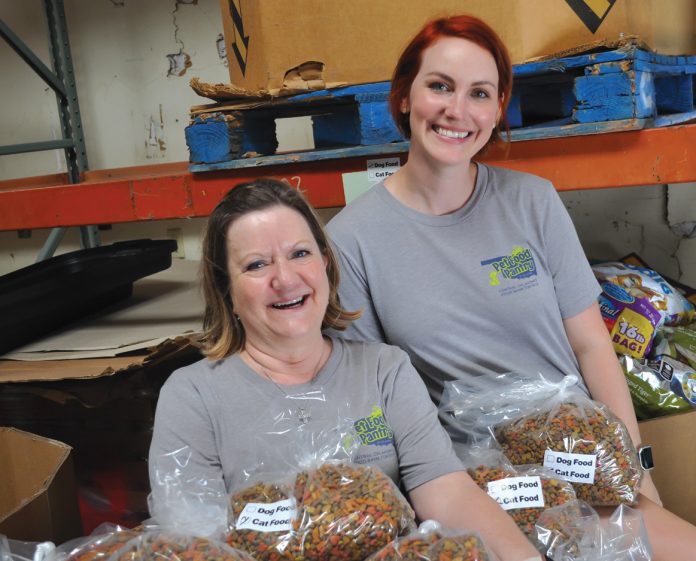 Pet food ministry reaches out
by Vickie Jenkins, Staff Writer
Too many Oklahoma seniors face financial challenges each month.
But for Kim Pempin, founder of Pet Food Pantry, those decisions should never force seniors to decide between feeding themselves or feeding their best friend.
"Seniors can't just go out and get more money," Pempin said.
Pet Food Pantry delivers free pet food and supplies to low-income seniors, veterans, homeless and those in domestic violence shelters so they can feed and care for their companion pet while helping them afford their own food and medical supplies.
Pempin and husband, Mike, started Pet Food Pantry in their garage in June 2010.
Feeding street dogs and doing rescue work was just something that came natural for Kim.
She had been delivering food regularly to the men's mission in cowtown and whatever was left over she would hand out to those on the street with animals.
"God spoke to me and said "Why don't you do more,'" she remembered. "I knew people in rescue. I knew people who loved seniors and those who loved the homeless.
"I called some friends and asked if anybody was doing this."
The answer was a resounding, no.
Two weeks later the group had its name and eventually a 501(c)(3) non-profit designation.
A bunch of pet food from a friend was donated. She called a friend at Skyline Ministries to see if they might need some.
She unloaded cases at the organization's Primetimers programs and noticed something interesting.
When seniors would win Bingo games they would get their choice of a food or clothing item.
"When the pet food was there they would forego that and would get the pet food," Pempin said. "That kind of told us it was a real deal."
Branching out from Skyline Urban Ministry clients, Pet Food Pantry continued to grow to its current 150 seniors that receive home delivery and "at least that many in homeless."
Mike Pempin does a homeless outreach twice a month to make sure pets of the homeless are fed.
The also group regularly provides food to the Homeless Alliance and domestic violence shelters, where kennels are maintained to help in a crisis.
"There's probably about 800 pets we feed per month through all of this," Pempin said.
That equates to nearly five tons of food for Oklahoma City's dogs and cats.
Reaching Out
Applications for pet food assistance are required. But other resources are provided.
Pantry assistance, medication assistance and other resources are also readily available for Pempin to plug participants into through various metro resource providers.
"We do pet food, litter, bowls and treats and all that but we also do a three-month supply of flea and tick medicine," Pempin said of what her group can provide.
Mindy Duke has volunteered with Pet Food Pantry since 2014.
"The first thing we did was help Mike start bagging food because he was doing it all himself," Duke said. "Now we're expanding out and we know corporations are out there looking for opportunities for their employees.
"Everybody who comes seems to have a good time and they keep coming back to help us."
The Regional Food Bank of Oklahoma is a major supporter of Pet Food Pantry as are private businesses and citizens but the need is growing.
You can contact the organization by calling 405-664-2858.
Free pet food to those 63 or older, or U.S. Veterans (any age with proof of service) is offered with the condition that all pets must be spayed/neutered.
Areas currently served include Bethany, Britton, Del City, Edmond, Midwest City, Moore, Mustang, Norman, Oklahoma City Metro, Warr Acres, and Yukon.
Volunteers including sub route drivers, bin managers, event, and fundraising volunteers are always needed.
Tips for Pet Health
For dogs who have trouble eating dry food, a few hours before your pet's feeding, place dry food in bowl and add just enough water to cover food. Place bowl in refrigerator. Dry food will plump up and be easier to eat – plus will give your pet some extra moisture. Take bowl out of refrigerator, add some warm water or warm in microwave checking to be sure food is not too hot. Smash food into smaller pieces with a fork. Repeat for each meal.
Healthy alternatives
Green beans are healthy treats and good for controlling pet's weight. Store in freezer and give as a frozen treat or thaw in the refrigerator and serve with dry dog food. Low calorie, high fiber helps pets feel full and satisfied without increasing their weight. Green beans in the frozen section will have less sodium than canned green beans.
100% canned pumpkin is good for their digestive system – helps with constipation and diarrhea. Keep refrigerated. Add a spoonful to their food or place "dollops" on waxed paper and freeze. Also good for giving pills.