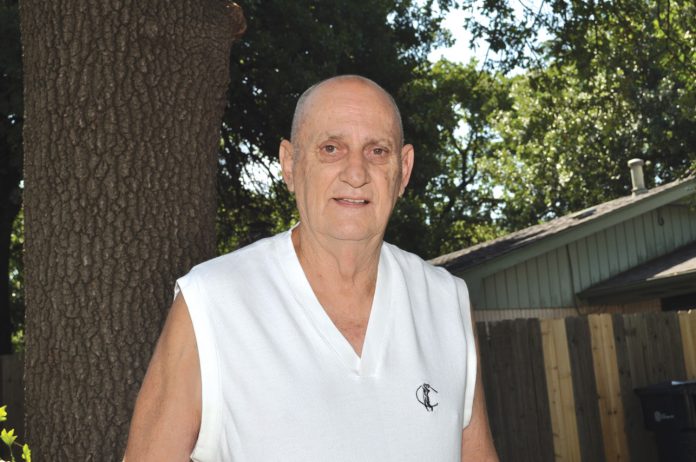 Vickie Jenkins
Staff Writer
Meet Mr. George Martin, 69, an Army Veteran, a kind and considerate gentleman that believes in second chances in life. He is also an amputee. Martin is an amazing man that has a story to share with others.
Martin had a rough childhood with his parents and ended up going to live with his aunt. His aunt was attending a little, country church. "I remember being about 12 years old and I would go to church with her and then one Sunday, all of a sudden, I felt God calling me. It was a strong feeling that I had never experienced before," Martin said. "It was as though God knew that I needed to know what love was. So, it was that Sunday that I got baptized in a horse trough. Back then, that is what they used," he added.
It was the year 1967. Martin was in the Army, fighting the Vietnam War. It was on March 13, 1968 that Martin found himself in a foxhole. He got shot in the leg 3 different times with an AK47. "That is a mean weapon," Martin said. "A tourniquet was placed on my leg to stop the bleeding but every time my heart beat, I felt the blood gushing out!" He was taken to the hospital where Martin had bled to death and was pronounced dead!
This is when Martin felt a peace come over him. He heard the nurse say, 'we lost him.' This is when Martin felt himself floating upward. "It's true how people say they see a tunnel, full of light. I saw that tunnel and then, I saw Heaven open up! I saw all of God's Glory!" Martin said. "I saw streets of gold; a pure gold that seemed transparent. It was beautiful! I had an overwhelming feeling of peace, love and joy! It was so magnificent! There was beautiful green grass, not a flaw in it. I heard a choir and orchestra, praising the Lord. I was surrounded by beautiful flowers! The praises were everywhere! I saw water in the distance and it sparkled like diamonds! Beams of glory were all around! I heard God speak to me…I am going to put you to sleep now. I have a purpose for you!"
"The next thing I knew, I was waking up in a body bag. It was dark and I felt a toe tag. With all my might, I tried to move, as much as I could. I heard a voice close by and then, a scream! I was out for 3 days but I was alive! The doctors and nurses were trying to get me stabilized, sending me to a hospital in Japan. I got very ill and spent 8 months in the hospital. Being in Vietnam, we had all been sprayed with Agent Orange. (A herbicide and defoliant chemical, causing many health problems for any individual who were exposed.) It was eating up the inside of my body!"
"That was 50 years ago. The Lord has seen me through so much but I am alive! I continue to give Him praises. I attend a little, country church and I share my testimony in different churches around Oklahoma. I am thankful to God for giving me a second chance and showing me that I still have a purpose here on earth."
"Yes, I am an amputee; I am living my life for Him. A big thank you to Patriot Prosthetics and Orthotics for everything," said Martin.
A big thank you to Michael Huggins and Dallas Curtis for taking care of the many Veterans and their prosthetics. The first prosthetic that Martin had was a wooden one, heavy, uncomfortable and bulky. That was in 1968. Now, thanks to Patriot Prosthetics and Orthotics, Martin's prosthetic is light weight, comfortable and a digitized prosthetic. Martin has been going to Patriot Prosthetics and Orthotics for about 20 years.
"They are such great people over there and I trust them with everything." Martin said.
It is of the utmost importance of the staff to treat each patient with respect, dignity and fairness. They strive to promote a greater acceptance of each prosthesis or orthosis through a positive spirit and education for each patriot's individual potential and rehabilitation. They are committed to providing the highest quality of Prosthetic and Orthopedic care with compassion. The staff is dedicated to learning the latest advanced technology to better serve the needs of each patient.
A heart-felt thanks to the many men and women who have or are presently serving our country today. You have given us freedom.