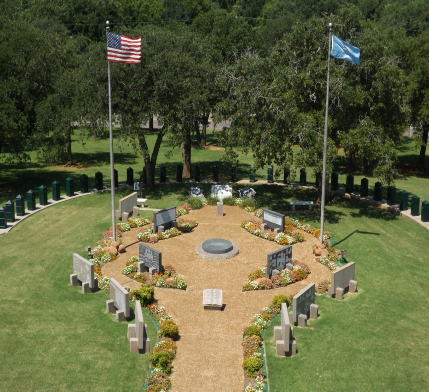 With the installation of a twenty-four foot Blue Light Centerpiece this week, the Oklahoma Law Enforcement Memorial added the final piece to the newly repaired and renovated memorial plaza. The Oklahoma Law Enforcement Memorial is the oldest state law enforcement memorial in the United States, dedicated on May 15, 1969. A few years ago it was discovered the memorial was sinking after almost fifty years of withstanding Oklahoma weather and rain water flowing over and apparently under it. Donations were made and the work to repair and renovate the memorial started on December 15th of last year when the memorial stones were taken up and stored. The renovated memorial was for the most part completed and was rededicated during the Fiftieth Annual Memorial Service on May 18th of this year. The center piece was the only part not ready by the service.
This Sunday, November 4th at 5:30 p.m. during the Oklahoma Chapter of the Concerns of Police Survivor's Annual Blue Light Ceremony the perpetual Blue Light Center Piece will officially be turned on as a constant reminder of the service and sacrifices of our law enforcement officers. The memorial is located on the west grounds of the Oklahoma Department of Public Safety Headquarters, 3600 M. L. King Avenue in Oklahoma City. The public is encouraged to attend.
The names of over eight hundred officers who have died in the line of duty in Oklahoma, both before and after statehood, are engraved on the memorial. See the memorial's web site at www.oklemem.com for more information on the memorial and Oklahoma's fallen officers.