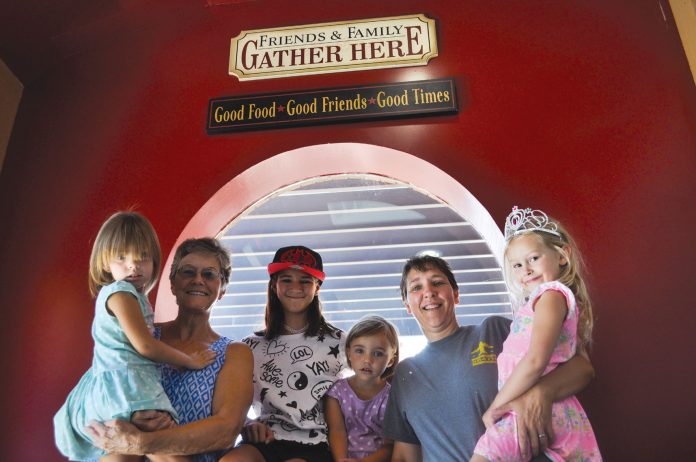 by Bobby Anderson
Staff Writer
For nearly 20 years Bridget Hefner worked as an aircraft mechanic at Tinker Air Force Base.
So when retirement came around she thought it was time to finally pursue her dreams.
The money she earned she decided to pour into what has become a labor of love and Norman's newest gathering place.
August 8 will be the official opening of The Screen Door, an event center and coffee shop that Hefner hopes fascinates the community as it has her for the past few months.
Hefner, her mother Patricia Whaley, daughters and even her grandchildren have been painting and prepping for months now.
The search for a building was a long one with plenty of properties getting checked off the list.
"It just happened the building itself happened to have everything," Hefner said of the building at 408 W. Main. "I looked at buildings that didn't have restrooms, buildings that didn't have air conditioning and buildings that didn't have the fire system in it. This building was perfect."
The former Coneys and More location has a patio that looks down Main Street onto a thriving business district.
Inside is a spacious, steampunk-themed cafe with seating ranging from tables and stools to cushy leather oversized chairs.
Hefner eventually would like to free herself up enough where she can offer seminars revolving around dreams and philosophy.
For now, poetry slams and musicians have been scheduled.
The space is available for free for those who just want to meet up, Hefner said.
"The point of it is to bring the community together and make things more social," said Hefner, a Navy veteran. "It's a place where people can gather, meet or just hang out."
Sandwiches, salads, soups and desserts will be offered with the menu ranging from meat to gluten free and vegan. Coffees, teas and frozen fruit smoothies are also on the menu.
The Screen Door is open seven days a week from 5 a.m. to 10 p.m. Free WIFI will be available for those who want to drop by and surf the web for an hour or two over coffee.
"Hopefully there will be different types of groups and meetings will come in," Hefner said.
Hefner put out the word well before she left Tinker. Once she rented the building she began canvassing the neighborhoods.
"I've been going house to house just to let people know we're here," Hefner said. "I thought it would be a little more personable."
Hefner welcomes feedback. A large chalkboard will even allow patrons to put up their comments, sayings or thoughts for the day.
The sky is the limit for The Screen Door which plans on hosting wine tastings, murder mysteries, Mad Hatter tea parties and a 1920s dance in addition to whatever else guests can think up.
The location is directly across from Republic Bank. It's within walking distance of the Cleveland County Courthouse, Norman High School and Norman's original downtown.
A portion of the 5,800 square-foot building will be available for private use as well for $50 per hour.
The idea has been ruminating in Hefner's head for two years now. She wanted a space she could invite others into as well as a space people would feel welcome.
Making a difference daily is the theme for the new venture. In keeping with that, all of The Screen Door's paper products are eco-friendly and biodegradable.
"I'm hoping our product will be good enough quality that word of mouth will get out," Hefner said.
Every week discounts will be offered to different groups of people like firefighters, police officers, medical professionals or teachers. A different charity each week will also be able to receive some of the proceeds of the sales.
Right now Hefner's mom and her oldest daughter are her best employees. But she has hired a sous chef from Packard's kitchen to put together a menu ranging from strawberry jam muffins with streusel to roasted vegetable and goat cheese grits.
The Screen Door's Facebook page is one of the best places to get information about what's coming up but the business also has a website at www.screendoorok.com where you can find out more information.