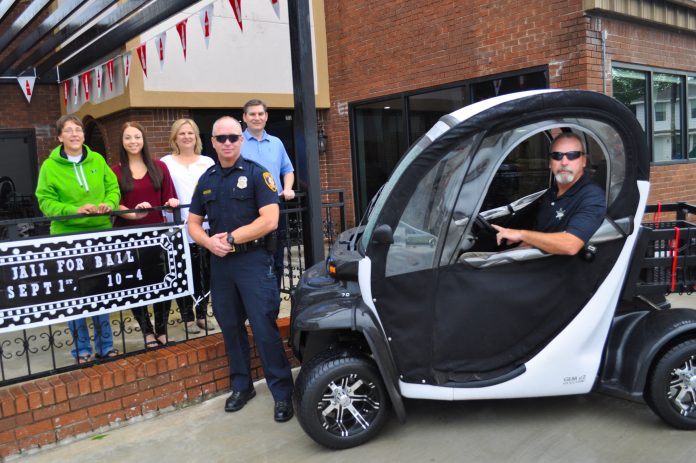 Home Instead helping families keep seniors safe
story and photo by Bobby Anderson, Staff Writer
It's at the core of what Harold and Lucy Mahoney provide every day as owners of Home Instead Senior Care in Norman.
So it's just natural for the husband and wife to throw their support behind an upcoming fundraiser designed to help families quickly find their loved ones in the event of an emergency.
A Stroll Down Main Street on September 1 in Norman will feature an antique car show, discounts, giveaways and a Jail and Bail event. Several downtown executives and community officials have already volunteered to be "arrested" for the fundraiser.
The money will go to help the Norman Police Department and Sunbeam Family Services offer reduced-cost technology that can save a person's life.
"The reason Home Instead is passionate to get funding for the Care Trak device is that it is a strong resource for families, Police and Fire Departments," said Home Instead Community Relations Director CJ Judd.
Care Trak is a program that issues bracelets which emit a radio frequency to help Norman Police officers electronically locate at-risk people who have wandered off or gone missing. Care Trak has been used nationally since 1986, and with it thousands of missing persons have been located.
Care Trak bracelets look similar to a watch, can be worn on a wrist or ankle and are meant to be worn 24 hours a day. They are waterproof and include a thick band which can only be removed by a caregiver.
In the event your loved one goes missing, you can call the Norman Police Department to report the missing person and tell the dispatcher that he or she is wearing a Care Trak Bracelet.
In 1986 Care Trak created telemetry tracking of high-risk people with Alzheimer disease and special needs kids primarily with Autism. Since starting more than 24 years ago the company has earned a 100 percent rescue rate and has become the oldest, most respected name in Telemetry based people locating worldwide.
Hundreds of Sheriffs, Police, Fire Departments, SAR Teams and more use Care Trak to quickly locate at risk individuals with Alzheimer's disease, dementia and special needs kids primarily with Autism and Down syndrome.
Thousands of lost individuals were rescued by trained emergency responders in an average of less than 30 minutes. Everyone reported missing who was wearing a Care Trak wrist transmitter was located.
The assurance that a loved one will be brought to safety was the appeal to Harold and Lucy Mahoney.
Lifelong Arkansas residents, family has always been important to the Mahoneys, who raised two boys before settling down in Norman.
Harold grew up working with his five brothers in the family body shop and wrecker service their father started.
A quarter century before the Mahoneys ever thought of owning a personal care service they took care of Lucy's grandmother.
From meals to medicine to baths, the Mahoneys took care of every need.
"We loved it and we loved caring for her," Lucy said with a smile remembering the care that ranged from meals to baths to trips to the doctor. "We made her wish come true to be able to stay at home."
After her grandmother passed Lucy entered the medical profession for 25 years.
"It's just a passion that I have to take care of people," Lucy said. "I was with a client the other day and she made me think of my grandmother. She was lonely and she needed someone to talk to. It was wonderful to know that I had made her smile and she was happy to have me there and that's why Home Instead is so personal to me."
Keeping the integrity of a client's life is what it's all about, Lucy says.
"I was with a client yesterday and she said 'I just want to be able to stay in my home,'" Lucy recalled. "She was happy in her home, even though her life had changed. I told her we were there to help her and take her where she needs to go."
Professional in-home care allows your family members to age in place. They can continue to live safely and independently in the home they've known for much of their lives. In-home caregiving offers peace of mind – and it does so very affordably.
Unlike the high, fixed costs associated with assisted living facilities or nursing homes, the price of in-home care stays flexible to meet your needs. You can keep control of your budget by scheduling as few or as many hours of care as you need.
Proceeds raised during the Downtown Norman event will help Sunbeam Family Services offer Care Trak on a sliding scale based on income.
Scholarship applications and payment plans are available and there are no membership fees associated with Care Trak.
For more information about the event you can call Home Instead at 405-310-2756.
It's peace of mind the Mahoneys think is well worth their time and energy.