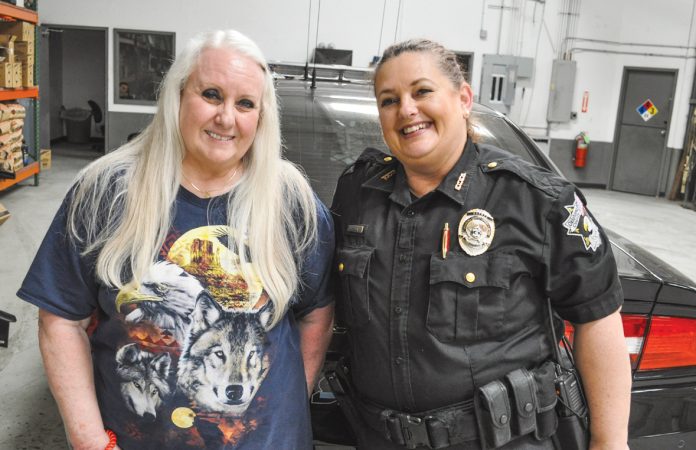 story and photos by Bobby Anderson, Staff Writer
With more than a decade in law enforcement, Oklahoma County Sheriff's Deputy Kim Lopez knows criminals have nothing but time to figure out new ways to prey on society.
Nationwide, and in the Heartland in particular, seniors are quickly becoming a favorite target.
That's why Lopez is passionate about taking the message of awareness to seniors across the metro through the TRIAD Program.
TRIAD is a collaborative effort between the sheriff's office, local police departments and senior citizens working together to reduce and prevent crimes against seniors.
The Oklahoma County TRIAD program began in 1997 and has developed into the strongest program in the state and one of the best in the country.
S.A.L.T. (Seniors and Law Enforcement Together) Council is the group which carries out the TRIAD activities and Lopez says there are currently 19 councils.
Vickie Hogan was one of the first members of the Valley Brook S.A.L.T. Council.
A former town trustee, she remembers when Southeast 59th St. was still a dirt road and when someone came to her grandmother's home offering to seal her tin roof garage.
"There's a lot of fraud with seniors," Hogan said, unfolding the story of why she got involved.
"All they did was spray paint (the roof) and when the two of them went in to get their money they took whatever money she had left. I had to take all of her jewelry off because she was always walking around talking and shaking hands with everybody because she was so friendly.
"Seniors are so friendly and the older you get the more trusting you are of other people."
Lopez says the goal is to educate seniors on crimes directed at their age group and how to prevent becoming a victim.
The program offers educational seminars on frauds, scams and personal safety issues.
"It's given us a lot of information on how to avoid (fraud)," Hogan said.
Through the program, Hogan says she's learning to be more vigilant when she's out.
And it's a constant process since criminals move from scam to scam.
Lopez said the goal is to arm seniors with information on new scams as they arise.
A current scam is people calling homeowners to verify that they've filed their homestead exemption. The caller requests a copy of your driver's license to verify that you are indeed receiving the tax credit.
Seniors have also reported individuals calling and posing as law enforcement and notifying them they are involved in a civil suit and did not show.
Callers threaten them with jail that can be avoided in lieu of a prepaid debit card or cash payment.
"The thing you learn in S.A.L.T. is 99 percent of those you're not going to fall prey to if you don't answer your phone," Lopez says. "We preach that and we teach that. Let it go to voicemail."
Lopez stresses to seniors that current technology allows callers to manipulate the number and description of the call that appears on caller ID.
"They can make it look like it's coming from the IRS, the Pentagon or the police department when they're asking for funds to fingerprint children," Lopez said. "Don't answer your phone unless you know exactly who it is."
"The other one is don't call numbers back. A lot of these incoming messages are left as a coercion to have you call back."
Listening to how criminals can "wash" checks and reuse them or steal PIN numbers through special heat-sensitive cameras on their cell phones was an eye-opener for Hogan.
"I was shocked. I had no idea," she said.
Lopez says resources are available for seniors through the various S.A.L.T councils.
A few of these include:
* The Refrigerator Information Card Program gives emergency responders immediate information to help serve you better in case of an emergency. Cards are available at no charge upon request.
* Oklahoma Seniors Against Fraud – An innovative educational campaign to inform seniors and other consumers on how to detect telemarketing fraud. Contact Southwestern Bell Pioneers 1-800-585-7448.
* Smart Alert Light Program – Light bulb flashes to help emergency responders find your home when seconds count. No special equipment or electrician needed. Available at the Light Bulb Store for $5.00 located at 3940 NW 10th St, Oklahoma City.
* Remembering When-Fall and Fire Prevention Program for the elderly.
* Bridges Program-Bridging the gap between the generations. Brings youth and senior citizens together bridging the gap of understanding.
"People that aren't coming to S.A.L.T. aren't getting this information," Lopez said. "So much of this can be prevented."
For more information you can contact Lopez at 405-713-1950 or by email at [email protected].