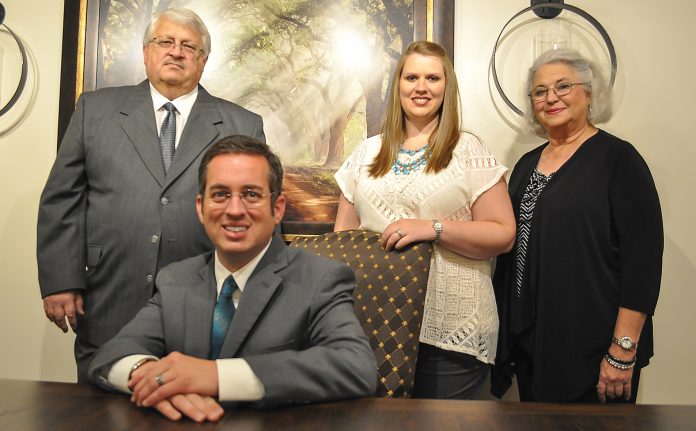 by Bobby Anderson, Staff Writer
It's Friday morning heading into Memorial Weekend and Tim Ingram has been up since 4 a.m.
The general manager of Yukon's Smith & Turner Mortuary rose early to make sure the finishing touches were in place for that day's service.
Later in the day, Ingram and his staff would open their doors to the family and friends of a beloved husband, father and grandfather.
Celebrating the life of a career truck driver with more than two million miles was on everyone's minds.
Pictures, clothing, memorabilia, a love of John Deere tractors, farming and cans of A&W root beer were all pieces that seamlessly would weave this individual's story together.
There would be tears for sure, but Ingram wanted to make sure there would be smiles and even some laughter inside.
"We're taking the funeral industry into a whole new area that most people haven't seen," Ingram said. "It's a whole new way. You don't have to be mournful through the entire service. A lot of these people have struggled for months or years and so now it's time to take a deep breath and celebrate their life."
A SERVANT'S HEART
While many Oklahomans would spend the holiday weekend at the lake, Ingram would be visiting local cemeteries making sure Smith & Turner grave sites were properly adorned for visiting families and friends.
It's not just a business it's a calling for Ingram and his family.
Ingram has also been a registered nurse for the past 18 years. Working in the ICU and then hospice, Ingram remembers feeling devastated.
"I was handing families over to funeral homes that weren't even doing their own work. The funeral home wouldn't even come to pick them up, they were sending some service out to meet with these families," Ingram said. "I had just spent all this time with these families and (funeral homes) weren't even caring."
The sound of his patient's name being mispronounced or wrong information given during a service grated on him.
"My wife and I prayed about it and decided this was a mission field that needed to be filled," said Ingram, who earned a degree in Mortuary Science. "This is a ministry for us. We look at it as a way to get people through the grieving process. We not only help our families but we're here for the community."
Ingram serves on the board of Compassionate Hands, which serves Yukon as a clearinghouse, networking service, and referral agency to provide services, support and to foster hope for self-sufficiency.
"It's pouring back into the community," Ingram said.
CELEBRATING LIFE
Taking care of people through nursing and funeral services just seemed to go hand-in-hand.
"It's the same," Ingram said of the two fields. "I feel it's just like taking care of a patient but you're taking care of the family. You think of the nursing process as assessing, diagnosing and treating. You're always looking at what's going on with that body. The same thing happens here as soon as you meet that family. You're assessing the situation, family dynamics, who's getting along and who isn't, what did they like and what do you see around you."
Smith & Turner Mortuary dates back to 1925, serving four generations of Oklahomans in that time.
It's a business that has to be ready 365 days a year and has to be flexible enough to serve families on their terms.
"A lot of our families don't go to church anymore and so the tradition of the ladies at the church preparing a meal has kind of gone by the wayside," Ingram said. "We have a gathering room that accommodates large families."
From cookies, punch and tea and coffee to catered meals, Ingram makes sure families can choose.
"We want to serve all families," Ingram said. "Families that don't want (a traditional service) you shouldn't put them in that mold. If they want to go out to the farm and have something at the pond we go to the pond."
"If they want to go to the bowling alley and grandpa liked to bowl and was on a league let's get out of the building and go to the bowling alley and let's bowl."
"Whatever it takes for that family to get through the grieving process is what we want to do."
Walk through the halls at Smith & Turner and you'll notice the attention to detail Ingram and his staff have maintained.
Smith & Turner Funeral Director Andy Shoaf has helped guide families through the process for 44 years.
Large rooms open to smaller sitting areas for one or two people to take a moment to themselves and work through the process.
Fresh-baked cookies great guests.
It's a place for families.
"We want spaces where families don't feel on top of each other and where they can come in here and socialize," Ingram said.