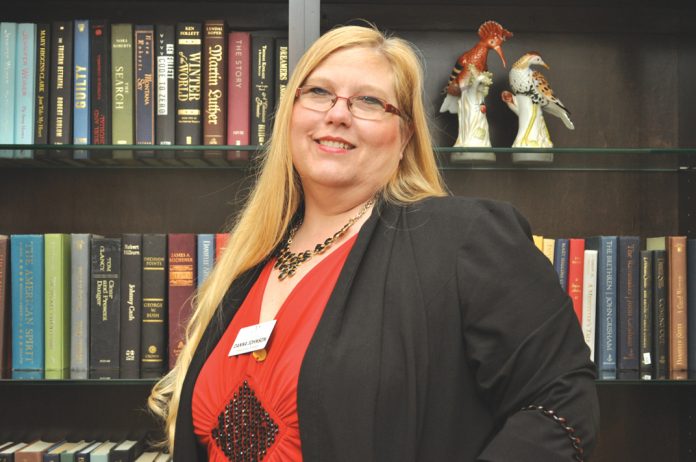 by Vickie Jenkins, Staff Writer
Located in the sought after city of Edmond, OK, you will find The Veraden, a clear choice for today's retirees and their families. With medical services, shopping, restaurants and hospital all close by, conveniences are built right it. Danna Johnson, RN is the Executive Director at The Veraden. Danna Johnson has been a nurse for over 25 years and an Executive Director at other long-term care for 11 years.
Opening in January in 2017, The Veraden modernizes and redefines the retirement experience. With independent, assisted living and memory care apartments, every need is addressed with styles and compassion.
Born and raised in Dodge City Kansas, Danna attended school in Kansas and the Belleview University of Nebraska. She moved to Oklahoma City, OK in 2010.
What qualities make a good nurse? "A nurse needs to be caring and compassionate, striving for excellence in everything they do, have a positive attitude and make the residents happy. The residents come before anything else," Danna replied. "There are 142 residents here and each one of them is special in their own way. Their care is the main focus of the caregivers here at The Veraden," she added. "The title of Executive Director is only as good as the people underneath them," Danna commented. "Here, we care about the one-on-one with the families. Everyone works very hard making the residents happy. Their happiness makes the whole day brighter."
What is your favorite part of your job? "I love spending time with each of the residents and I like helping serve their lunch to them, helping any way I can. I think I spend more time in the dining area than anywhere else because I want to visit with all of the residents," she said. "The number one concern is to make the resident feel loved, cared for and happy. I like to make them smile and laugh!" Danna answered.
"The biggest challenge in healthcare is the turnover in our 3-11 shift. Sometimes, the third shift can be the hardest shift to cover. We always seem to manage though and I think that is because everyone is willing to help out the other. Teamwork plays a very important part in working here, "Danna said.
Danna enjoys her job as Executive Director and sees herself here at The Veraden in five years from now or longer. "I like my work here and there are a lot of great nurses, caregivers and staff here. We support each other and we all help out in any way that we can," Danna said. "That can be hard to do in a workplace such as nursing and long term care, "she added.
Asking Danna to describe herself, she replied: "I am a happy-go-lucky person; I smile a lot and laugh a big portion of the time. People say that I have a contagious laugh and the residents know when I am coming down the hallway. We try to keep the residents happy. None of us want to let the residents feel sad about anything," Danna commented.
Recognition speaks volumes here at The Veraden. "We got voted as being the best Senior Care facility in Edmond, OK for 2018. It was such an honor because the people of Edmond voted for us and votes were announced in the Edmond Sun newspaper that we won! We even won over the winners that had been chosen for the last nine years. What a great feeling to be honored as the best senior facility in Edmond, OK," Danna said. "In April 2019, there will be an Awards Banquet and one person from each area (The best of the best) of Veraden will be chosen and for that reason will attend the Annual Banquet."
Danna enjoys spending time with her husband, Tony and her daughter Hannah – 16 and son Dean – 10. "Family time is very important to me," Danna said. When asked what her favorite T.V. medical show was. "I hardly ever have time to watch T.V. but when I did; my favorite medical show was ER. I guess that tells you how long it has been since I watched a show like that," she said with a laugh.
"Every day at work, I start off with a positive quote for our nurses, caregivers and staff. I like to set a positive attitude first thing in the morning. It seems to brighten everyone's day, along with the residents," Danna said. On a personal note, Danna's daily words of encouragement are live, laugh and love. "I live by those words every day," she said.