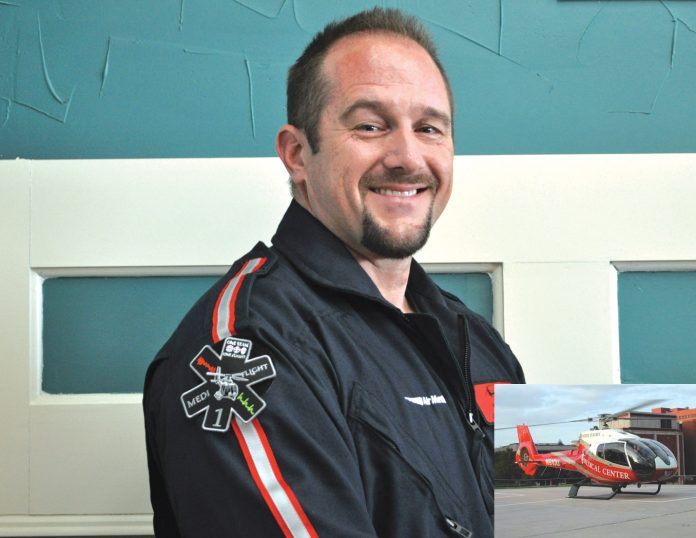 by Vickie Jenkins, Staff Writer
If you find yourself looking for James Brigida, you will most likely have to look up in the sky. He will be one of the three crew members on the Medi Flight helicopter. James is a Flight Nurse and a National Registered Paramedic.
Born in Las Angeles, CA and raised in the bay area, James was in his early twenties when he decided to visit a cousin in Oklahoma. He liked Oklahoma so much, he decided to move here and go to nursing school. That was sixteen years ago and he has enjoyed his job ever since. Having a job as a paramedic in 1998, he soon had the opportunity to be a flight paramedic. From there, he became an RN, and then a Certified Flight Registered Nurse. "I was getting great critical care experience and good basic knowledge. Now, I work for Medi Flight based out of Chickasha, OK and the parent company, Air Methods is based out of Denver, CO," he said.
James explained how the helicopter crew consisted of one pilot, one nurse and one paramedic. "We have to do some life-threatening actions. There are two different types of flight emergencies calls. 1. Scene flight; a call made by a firefighter or a policeman. 2. Transfer call; these are the phone calls usually coming from smaller towns where there is no hospital; needing to transfer the person by helicopter," James said. "Either way, the flight nurse and paramedic have to know what to do, how to do it and when to do it. We have seconds to take care of that patient in a unique and isolated situation while we are 1,000 feet in the air. We have to have critical thinking skills, performing emergency procedures. Seconds count! The flight nurse and flight paramedic work as equals," he added.
"Flight nurses have bits of the same schedule as a firefighter. We work 24 hours, twice a week. We have eight flight nurses and eight flight paramedics with four shifts, rotating the schedule. Medi Flight is at Grady Memorial Hospital in Chickasha, OK. Mr. Deacon Vice is the Medical Director of the ER there," James commented.
Does the helicopter fly in any weather? "Actually, the pilot of the helicopter is like a weatherman. They have to know all of the weather conditions before taking off. There has to be 1,000 feet from the ground to the ceiling (clouds) and be able to see two miles ahead for visibility. In the winter, they have to watch for the helicopter freezing over," James replied.
Asking James to describe himself, he said, "I'm an outgoing, passionate guy that has a true desire to help. I am a great team player and have a lot of empathy for others."
What advice would you give to someone if they wanted to be a flight nurse? "I would encourage them to start out by getting experience in the critical care unit. The reason is the fact that all of this training and experience will get them closer to becoming a flight nurse. Also, get all of the certifications you can. It will be even better when you try to get a job as a flight nurse," James answered.
James isn't always up in the sky though. "I also have a second job," James said. "I work at the OU Trauma Center in the ER. This is the one and only Trauma Center in Oklahoma. I am blessed to have a job that I love, doing what I love to do, helping others and fulfilling my passion for flying."
Living in Edmond, OK, James is married to the love of his life, Patty. They have three children, Matthew, 18, Dante, 20 and Alejandra 22.
James' hobbies include exercise; working out at a great place called True Grit in Edmond, OK. "It can be a great stress-reliever," James said. "That's pretty much my hobby. Working out and sleeping. I love to sleep," he said with a laugh.
From the days of his childhood, dreaming of aviation and flying, James is blessed to have the title Flight Nurse. "I get to take care of patients and fly in a helicopter. I continue to learn and use my critical thinking skills in my everyday job. I have a wonderful family and I continue to help others in any way that I can, in the air and on the ground," James said.
Asking James to sum up his life in one word, he answered, "passionate".