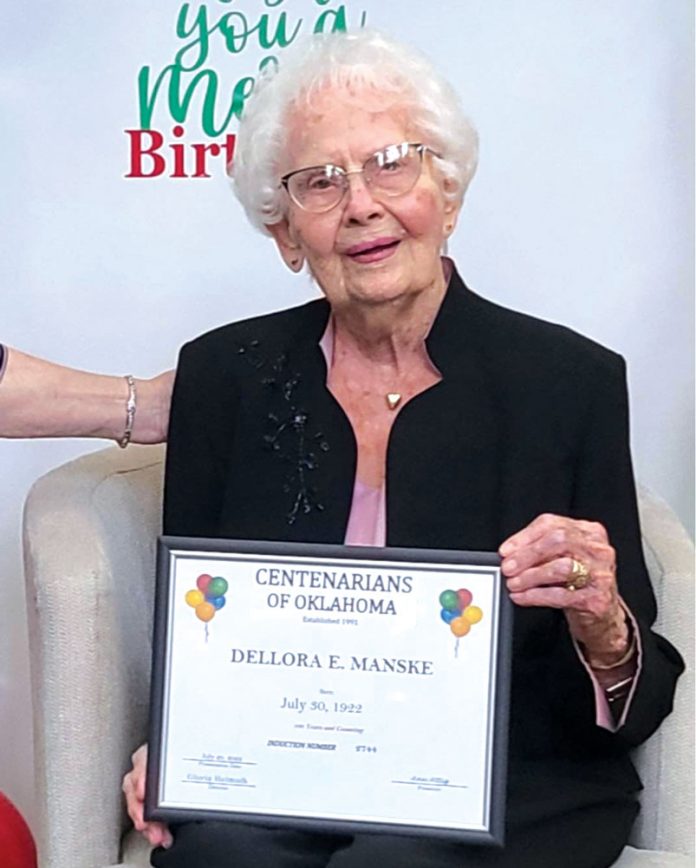 CENTENARIANS OF OKLAHOMA was proud to honor Oklahoma City resident, Dellora Manske, on the occasion of her 100th birthday, and induct her into the Centenarians of Oklahoma Hall of Fame. Dellora is a retired school teacher who continued her vocation by volunteering to help students with their school work. Dellora has these words of wisdom for younger people: "Work diligently, be honest and truthful." "Study hard to learn new things and follow the Golden Rule"!
There are believed to be 400-500 centenarians living in Oklahoma. On average, there are about 300 living centenarians in Oklahoma that we have honored. Additionally, there are about 50 other centenarians that we are attempting to locate, recognize, and honor.
To date almost 3000, centenarians have been honored in the state. All of the historical records of these people are in Tulsa, currently in the offices of Centenarians of Oklahoma. Once a Centenarian passes, their records are filed at the Oklahoma Historical Society in Oklahoma City.
The work performed through the Centenarians of Oklahoma could not happen without generous supporters like you and the organization operates by volunteers and donations while providing this special honor to our "Golden Okies".