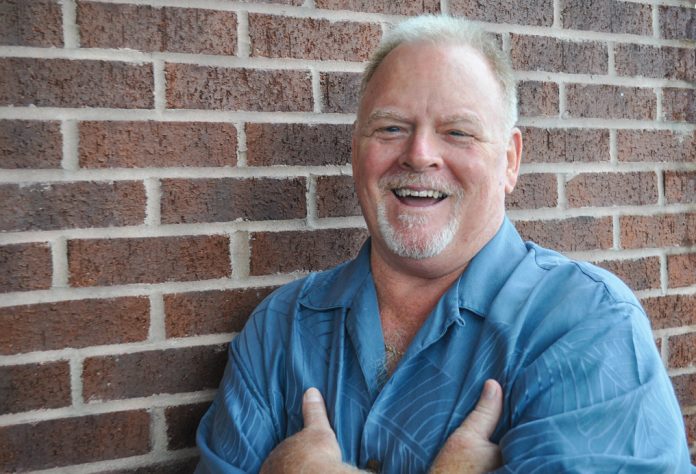 story and photos by Bobby Anderson, Staff Writer
Dennis Johnson spent the first half of his professional life working with his hands, building things that would stand the test of time.
"It's hard to go up and down Interstate 95 and not cross a bridge I didn't have a hand on," Johnson says proudly.
But a shoulder injury would bring Johnson to a crossroads.
His days working with steel were over and he had to take a hard look at what his financial options were.
At a relatively young age Johnson was forced to deal with his 401k, the loss of his primary income as well as the only profession he had ever known.
It was overwhelming. And he knew it had to be the same for others.
So instead of self pity Johnson poured himself into the only thing he ever knew: figuring out a way to build something for others.
"I've been 1,200 feet in the air and pushed a hundred tons of iron around and I know what a hard day's work is," said Johnson, who absorbed everything he could get his hands on to become a self-taught financial advisor. "I'm a blue collar guy. I've always told my clients I know how hard it is to make a buck. I know how hard it is to swing a beater for eight hours just to get one pin in."
Just like swinging that hammer, Johnson approached his new career with a laser focus. Registered designations, licenses and accolades followed.
The third-generation iron worker from Baltimore built a multimillion-dollar portfolio in Arizona before selling it all and moving to Oklahoma in 2014 with the intention to retire with his love Cathy Belzer.
Retirement did not suit Johnson at all. With plenty of time to do whatever he wanted he realized he missed taking care of people.
Johnson is a veritable Swiss Army knife when it comes to financial services work. His registered investment advisor license dates back more than 20 years. Along the way he's picked up life and health insurance licenses and registered advisor status.
"I used them when a client needed them," " said Johnson, now an advisor at Tree Line Capital in Edmond. "I never made a big deal about pushing any of it."
A friend, Robert Ford at Tree Line Capital, convinced him to join his burgeoning firm.
"Why don't you come over here with me,'' Johnson remembers hearing his friend say. "We'll build something."
Those were the magic words.
"I just want to help," Johnson said. "Everybody needs a second opinion. That's the guy I want to be. I'm really enjoying it. I'm having fun again and enjoying the business again."
Johnson's not the kind of guy you'll find behind a desk all day wearing a suit and tie. You're more apt to find him playing a round of golf or sitting down with buddies talking football.
There's an ease about Johnson that goes with his blue-collar roots and his genuine desire to help people.
So it's no surprise people gravitate toward him.
Today's financial services industry is filled with fresh-faced, college graduates begging to take a crack at people's portfolios.
Johnson has had individual clients longer than most of those new advisors have been alive.
Some clients Johnson will never let go, or more precisely, they won't let him go.
"I have a client who is 93 years old and it feels so good because she tells everybody 'If it wasn't for (Dennis) I never would have made it,'" Johnson said. "We started with a relatively small amount of money and she's lived and lived well for 25 years now and she's still going.
"I have so many clients like that."
Johnson relishes the fact that his clients see hard work pay off.
"In the beginning you don't see that," Johnson said. "The first five six or 10 years you're building clients. But after they're with you and you know them and you see (everything) … it's so satisfying to have their children come up. When every month that checks shows up in their mailbox and you know you're the guy that put it together that's a great feeling."
He even helped his partner get her insurance license after 30 years working in health care.
Belzer and Johnson are gearing up for their busy season.
Enrollment for Medicare Advantage begins this month.
Medicare Advantage enrollment has increased in virtually all states over the past year. Almost one in three people on Medicare (31% or 17.6 million beneficiaries) is enrolled in a Medicare Advantage plan in 2016.
Plans like these are just one piece of the puzzle that Johnson and Belzer work on for people every day.
"I've always had to have a plan and I've always had to be organized," he says.
"You need somebody who is a team, who wants to listen to you and find out about your family and your kids."
And, most importantly, you need someone who knows how to build something that will stand the test of time.