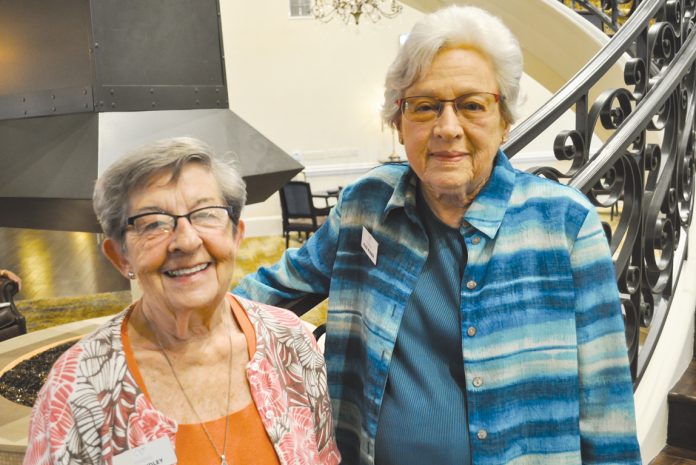 story and photo by Bobby Anderson, Staff Writer
For years, Kay Dudley and Alice Musser worked across the aisle from each other in the Oklahoma Legislature representing South Oklahoma City.
Musser was a Democrat, Dudley a dyed-in-the wool Republican.
They lived on opposite sides of Pennsylvania Avenue on the city's south side.
Neither had children in the same grade school. Their churches were different, too.
But both shared a sense of civic duty.
Neither ever imagined one day they would be living under the same roof at The Veraden in Edmond.
"We didn't know each other, not when we went into the Legislature," Dudley said. "She was on the East side of Pennsylvania Avenue. I was on the west side."
TIME TO SERVE
Dudley, a Republican caucus secretary, was elected to the Senate in 1986. She was a member of the Senate's Education, Human Resources, Finance and Transportation committees, as well as the joint Senate and House Task Force on Child Support and the Governor's Task Force on Child Abuse.
She was married to Dr. Tom Dudley, an oral surgeon who practiced in south Oklahoma City for more than 26 years. They had three children.
Musser served on the House Criminal Justice Committee, Retirement Laws Committee and Economic Development Committee.
She sponsored legislation establishing the Energy Conservation Assistance Fund providing grants for lower income, elderly and handicapped homeowners to weatherize their homes and save on energy costs.
She and husband, Carl, had six children.
Musser represented House District 91, which was made up of a part of Dudley's Senate District 44.
"It was an open seat and I had run once before,'' Musser said of her election in 1988. "I decided it was a job I needed to do."
OLD BOYS CLUB
Both ladies admitted bumping their heads on the proverbial glass ceiling as they entered a profession historically dominated by their male counterparts.
Neither was ever asked to get someone a cup of coffee but they were always keenly aware they were the elephant in the room.
"I really didn't think about it that way although I knew," Musser said.
"I don't think we got the same amount of respect as the men," Dudley echoed.
There were definitely challenges.
"I loved being there," Dudley said. "But regularly I kept thinking 'I'm really not accomplishing much.' And it's a good ol' boy system – whoever has been there the longest thinks they're smarter than everybody else and they try to influence the newbies.
"There were some that I had total respect for and there were others I had no respect for. You just learn who to believe and what to believe."
Each followed their heart and spent way more time than they had ever imagined trying to serve the needs of Oklahomans.
It was exhausting but both said their time serving at Oklahoma's highest level of government went quickly.
"I thought I could change the world and I didn't," laughed Dudley.
"Well, I thought I had time to learn and then do something and I had two years," Musser added.
Nowadays you're likely to find them talking across the dining room table at The Veraden.
But the topic rarely turns to politics.
Neither have the energy for today's versions.
"There wasn't that wall that there is today," Musser said comparing politics 30 years ago to today. "I can remember going to things in the evening and it was everybody, it wasn't just one party or just the house or the senate."
They've found that sense of community at The Veraden.
Life at The Veraden revolves around modest luxury, personal freedom, and optimal health. Comfortable surroundings, social activities, delicious meals, accommodating associates, and a prime location come together on this unique campus to form a fresh and vivacious lifestyle.
That was the draw for both Dudley and Musser – even though neither knew the other was considering moving in.
Dudley was one of the first residents. Musser came a few months later.
The Veraden modernizes and redefines the retirement experience. The independent living apartments offer chef-prepared dining, daily activities planned around residents' interests, scheduled transportation to and from shopping and appointments, and a variety of social outings.
The pet-friendly community also offers laundry and housekeeping services plus apartment maintenance, allowing you to have the freedom to pursue the lifestyle you enjoy.
After politics, life moves at a more comfortable pace for the two ladies.
Young, female political hopefuls have sought them out over the years for guidance.
Each are ready to share their story even though it might come from a slightly different perspective.
"Well, you can't agree with the Republicans very often," Dudley teased her fellow former legislator.
"Sometimes, I don't agree with the Democrats either," Musser laughed.