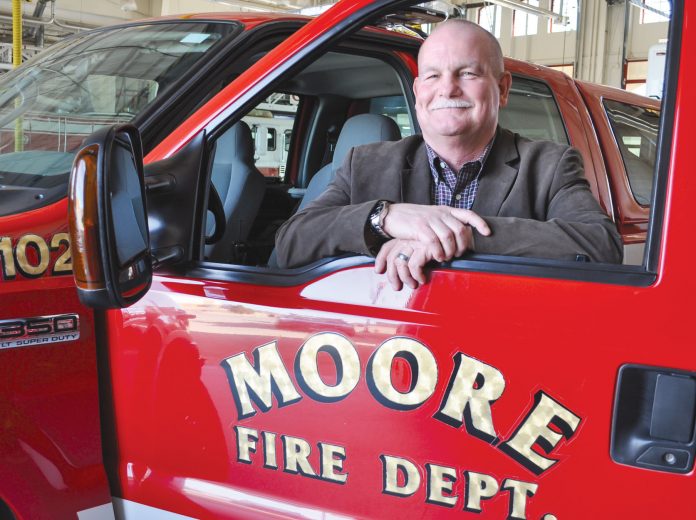 by Bobby Anderson, Staff Writer
Three things immediately stand out when you walk into Moore Fire Chief Gary Bird's office.
A black leather-bound Bible rests within arm's reach on his desk.
A copy of The Wisdom of Solomon at Work sits across a nearby table.
Pictures of his three smiling grandkids perch behind him, framing the imposing figure that has helped guide the Oklahoma City suburb through its darkest times and into a period of unprecedented growth – all too often at the same time.
Faith, fire and family.
That's about all you need to know about Bird, who has devoted more than 30 years of his life keeping his community safe.
On this day, Bird sits in a 19,000-square-foot fire station that doubles as the department's administrative headquarters.
It's one of four stations serving the needs of Oklahoma's seventh-largest city, populated by more than 55,000 as of the last census.
Just looking out from one of the fire bays Bird sees that number growing daily. More than 1,000 apartments are springing up in the community and room is being cleared for even more. Big box stores like Target, Dick's Sporting Goods, Home Depot and Lowe's are now staples in a community that 10 years ago had none.
The City of Moore has come a long way, and so has Bird's department, which just celebrated 100 years of services a few months ago.
EARLY DAYS
For nearly the first three decades of its existence, the City of Moore had very little fire protection. A public water well was dug at the intersections of Main and Broadway. When a fire broke out residents would form a bucket brigade handing off water.
Those first fire alarms came in the form of three pistol shots.
On July 18, 1916 the Moore Volunteer FIre Department was established. Paul R. Simms served as the first chief.
That November the town council passed a resolution to purchase a Badger chemical fire engine, which was hand drawn.
Simms added to that when he rebuilt an old Model-A Ford and kept it in a garage next to his barber shop on South Broadway.
Two years later the city's first firehouse was built, a 10-foot by 10-foot building.
By the 1930s the council established the first Moore Firefighter's Pension fund which provided for retirement for firefighters after 20 years of service.
It wasn't until 1963 when the town started paying a full-time wage for firefighters, phasing out the volunteer brigade as each member retired.
Howard Boatman, Jr., holds the distinction as Moore's last volunteer, retiring in 1977.
Bird would come along a little later.
August 12, 1985 was Bird's first day on the job as a recruit. He spent 16 years on a rig before advancing to deputy chief and then chief in June 2012.
"It's hard to believe it's been 100 years," Bird says. "Some days I feel like I've been here all one hundred. Then there's days where it seems like I've been here no time at all."
TOTAL DEVASTATION
Few fire departments in the country have been asked answer the call as often as Moore.
Over the last two decades two of the strongest tornadoes ever recorded struck the city. Five twisters in five years made the community a punchline for Mother Nature's sometimes cruel humor. Massive rescue and recovery operations were undertaken each time.
The New York City Fire department is famous for what it went through during 9/11. That came from a 10,000-member fire department.
Currently, the Moore Fire Department has grown to 73 uniformed employees with a 66-member shift corps that rotates through 24-hour shifts.
People from around the country have rang Bird's phone in the weeks and months after each disaster.
And they all want to know one thing: How did you do it?
"The guys were amazing," Bird said. "We had off-duty guys coming in and we had a lot of them that just didn't want to leave. The guys jumped right in there and stayed with it."
"The people in this city are resilient," Bird continued. "For people it's home. We'll build it back and go on. They just keep going. Some of this area has been hit by a tornado three times and the vast majority are still there."
Bird is one of two employees that are on-call 24-hours a day, seven days a week, 365-days a year.
Bird's department responds to more than 5,000 calls annually ranging from structure fires to medical emergencies.
Bird himself started his firefighting career as a volunteer in Ninnekah. He has tremendous respect for the individuals all across our country who volunteer to protect their communities.
He makes it a point to note there are more volunteer fire departments nationwide than paid departments and larger volunteer departments than the professional one he runs.
But he stays grounded and so do his men.
Faith, fire and family. It's what it's all about.