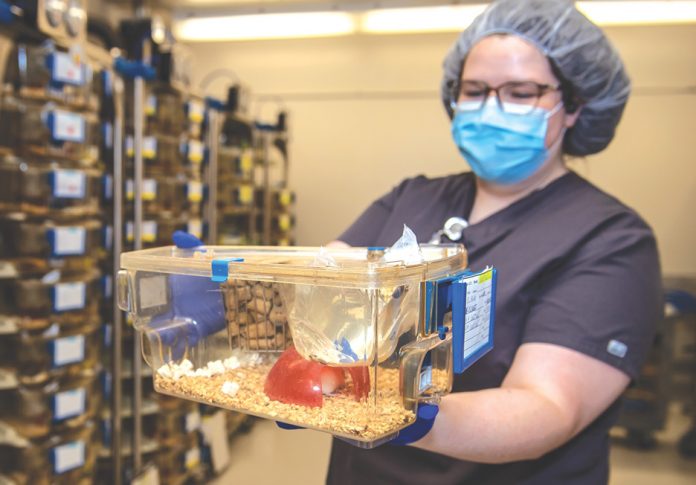 Five grants totaling $1.5 million have provided new cage-cleaning and sterilization equipment for the more than 20,000 mice that call the Oklahoma Medical Research Foundation home.
Offices in the animal facility, known as the Donald W. Reynolds Center for Genetic Research, also are being renovated, thanks to grants from the Hearst Foundation, J.A. Chapman and Leta M. Chapman Charitable Trust, National Institutes of Health, Presbyterian Health Foundation, and Robert Glenn Rapp Foundation.
Researchers rely heavily on lab mice, which share more than 95% of their genomes with humans. These mice help deepen scientists' understanding of diseases ranging from cancer to Alzheimer's to multiple sclerosis and often play a crucial role in developing new treatments.
Mice receive a new cage every one to two weeks. Research technicians wash, sterilize and provide new bedding for nearly 1,000 cages per day. After 20 years, the highly specialized equipment was breaking down regularly: In 2020, OMRF's contracted technician made 38 visits for repairs.
"What kept us up at night was the prospect of our repair technician getting ill or that the equipment would have a catastrophic failure," said Jennie Criley, D.V.M., OMRF's director of Comparative Medicine.
A catastrophic failure, Criley said, could have meant a six-month wait for new, custom-made equipment. This would have caused sweeping delays in research operations, including experiments involving a select group of "germ-free" mice for OMRF researchers like Matlock Jeffries, M.D. These mice have no detectable microbes, and everything that enters their environment must be sterile.
"Our lab studies the relationship between osteoarthritis and microbiomes in the gut," Jeffries said. "The germ-free facility allows us to give mice a precise microbiome and examine the effects on knee cartilage when we perturb the microbiome. It's critical that their environment is kept reliably sterile. These grants provide that assurance." The grants replaced seven pieces of equipment utilized by researchers at OMRF, the Oklahoma City Veterans Affairs Medical Center, University of Oklahoma Health Sciences Center, Oklahoma State University College of Veterinary Medicine and the University of Oklahoma.
The new equipment provides not only reliability, but also energy savings, resulting in more efficient use of foundation funds.
"These facility updates will provide decades of support for OMRF researchers to garner new insights and treatment strategies for diseases that impact people everywhere," said OMRF President Andrew S. Weyrich, Ph.D.
NIH funds for the renovation are from National Institute of General Medical Sciences Centers of Biomedical Research Excellence program grant No. P20GM139763-01.