Photography and Text by Terry "Travels with Terry" Zinn [email protected]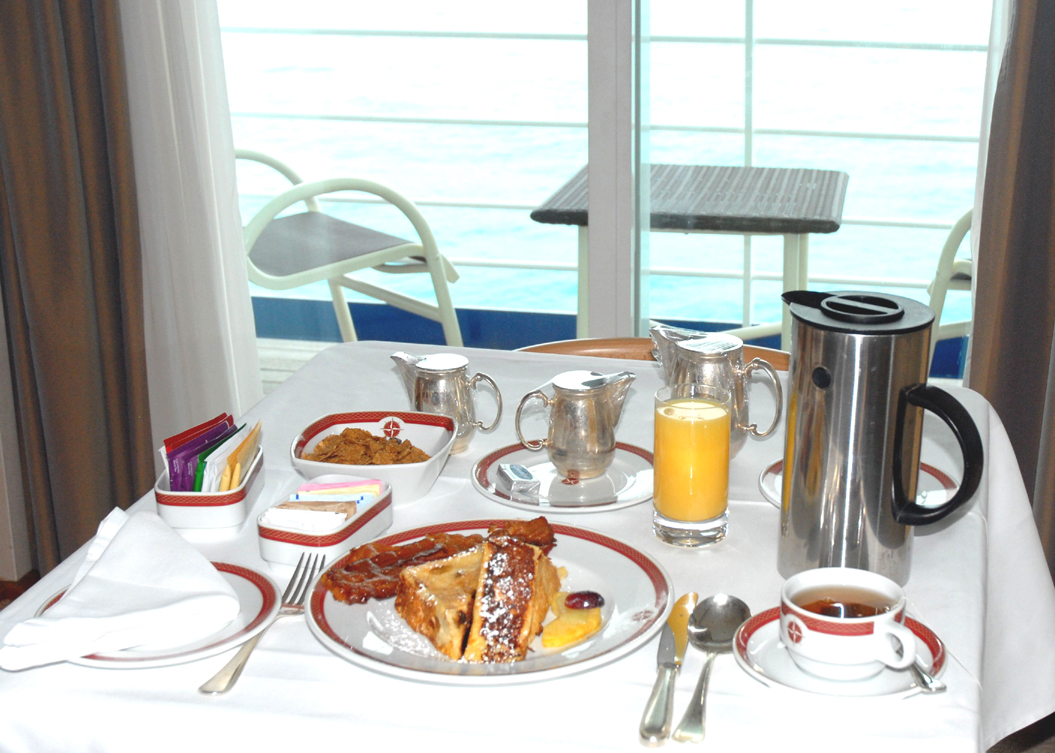 Due to health limitations, I do not travel as much as I used to, but enjoy the travel I have had. I still enjoy looking back at my travel experiences, and sharing the best with you.
Love is defined as any of a number of emotions related to a sense of strong affection and attachment.
If this is true, then I think I'm in love – in love with a cruise ship and its crew! Regent's Voyager of the Seas is worthy of love. On a Baltic Cruise I was delighted with the services provided and the expert delivery on those services. (www.rssc.com)
This state of the art ship is only half the story. With every cabin comes with a comfortable balcony and large picture window with a cozy balcony enabling you to soak up like an appetizer the exotic ports of call – or a calming day at sea. Breakfast room service is must for those not so early bird people when you have an 8:30 am shore excursion. Room service for any meal request is available 24 hours!
Seven Seas Voyager is the world's second all-suite, all-balcony ship and the second to feature a restaurant operated by Le Cordon Bleu of Paris, following sister ship Seven Seas Mariner. The service at "Signature," recalls the days of exquisite, formal yet friendly service in a fine Paris restaurant complete with synchronized Silver Bell service for your entree. It's a real travel adventure in itself when you order a traditional French appetizer of sweet breads, and find it surprisingly savory. There are four other main dining venues for less formal dining,
You enjoy impeccable service thanks to some of the highest space and service ratios at sea. This is exemplified not only in the food and beverage services but in the shore excursions, housekeeping, Internet services, boutique requests and the friendly cruise social staff. I say that the Voyager of the Seas is large enough to serve you, yet small enough to know you. After alerting Ginalyn, my housekeeping stewardess, that I liked my ice bucket always filled, it was done without fail each day with her daily service and found in the mini fridge. It's the small comfort touches that keep Voyager at the top of cruise ship ratings.
At 4 PM high tea is offered followed by a 4:30 trivia contest where passengers can team up together to win on board points, exchanged near the end of the cruise for souvenir items. After dinner entertainment is eagerly anticipated as it may be a song and dance performance by the Regent Entertainers, specialty acts, a champion ballroom dance team, a magician, virtuoso musical spotlights or a very special all crew talent show.
Late night, for me was always up in the Observation lounge where Pedro my favorite mixologist could prepare his one of a kind Crush Martini, to accompany the relaxing virtuoso musical talents of European Charming pianist Vlado. And should all this entertainment not be sufficient there are 150 free movies available in your suite to lull you, with the gentle ships sway off, to slumber land.
I believe that the ease of cruising gets you the biggest bang for your travel buck. You get what you pay for in cruising with the Regent Line, and more. And there's much more to tell than space here can accommodate, so please feel free to ask.
I thoroughly agree with the quote printed on one of the chocolates left during turn down service. "We wander for distraction, but we travel for fulfillment." – Hilaire Belloc For your travel fulfillment visit Regent at www.rssc.com.
I hope to someday cruise again, as it is the best travel invested money, and travel memories, you can have.
Mr. Terry Zinn – Travel Editor
Past President: International Food Wine and Travel Writers Association
3110 N.W. 15 Street – Oklahoma City, OK 73107
https://realtraveladventures.com/?s=terry+zinn
https://realtraveladventures.com/?s=zinn
http://new.seniornewsandliving.com/?s=TERRY+ZINN
www.martinitravels.com