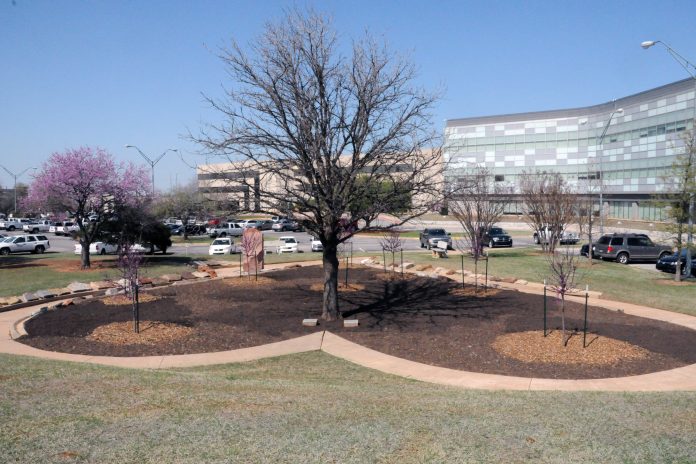 The Oklahoma Department of Agriculture, Food and Forestry (ODAFF) recently held a renewal dedication for its Heartland Memorial Tree Grove, which was originally planted in May 1995 in memory of the seven US Department of Agriculture (USDA) employees who perished in the Alfred P. Murrah Federal Building. In commemoration of the 20th anniversary of the Oklahoma City bombing, Governor Fallin was on hand to help dedicate the new generation of redbud trees that were planted to replace the original ones.
The grove, located on the ODAFF grounds, is built in the shape of a heart, surrounded by native stones from all 77 Oklahoma counties which symbolize strength through unity. Seven redbud trees represent the USDA employees who perished, a whitebud tree represents lost innocence and a bur oak tree symbolizes the tenacity of the Oklahoma spirit. A granite marker lists the names of everyone who died in the bombing, including the seven USDA employees: Olen Bloomer, Jim Boles, Peggy Clark, Dick Cummins, Adele Higginbottom, Carole Khalil and Rheta Long.
"As the daughter of a USDA employee who lost her life in the bombing, it is very special to me that our Agriculture employees and community have continued to remember the tragic events of April 19, 1995," said Blayne Arthur, Deputy Commissioner, Oklahoma Department of Agriculture, Food & Forestry. "The Heartland Grove is truly a living memorial to those that were lost that day."
Others who spoke at the grove dedication included Jim Reese, Oklahoma Secretary of Agriculture; Blayne Arthur, Deputy Commissioner, Oklahoma Department of Agriculture, Food and Forestry; Mark Bays, Urban Forestry Coordinator, Oklahoma Forestry Services; Ray Vaughn, Oklahoma County Commissioner and Susan Winchester, Chairman of the Board of Trustees, Oklahoma City Memorial Foundation.
Participants included family members of the USDA employees who lost their lives in the bombing, Arbor Day Kickoff Celebration attendees, member of the Oklahoma Urban & Community Forestry Council and ODAFF employees. The event was officially recognized by the Oklahoma City National Memorial & Museum.