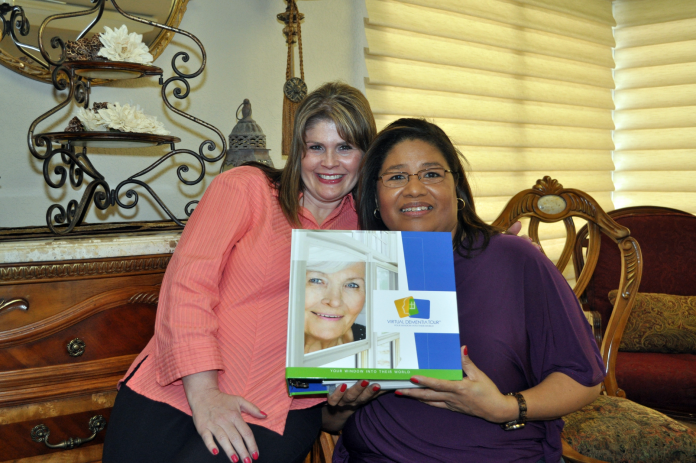 by Vickie Jenkins
Sommerset Assisted Living and Memory Care Senior Community is a place you are sure to feel welcome. Recently, I talked with Yvonne Gutierrez, Life Enrichment Coordinator for the Memory Impaired and Progressive Care units. It's easy to see why the residents love it here. Yvonne is very energetic, enthusiastic and enjoys spending time with the residents of Sommerset. She has been the Life Enrichment Coordinator for the last 3 years.
Yvonne enjoys spending time with the residents as they meet to share conversations, discussing the latest news, reading, playing dominoes and working puzzles. "There is a time and a place where the women like to get pampered, getting their hair done and getting the perfect manicure. They look forward to that," Yvonne says. "It makes each one of them feel very special," she adds. The Memory Care and Progressive Care residents enjoy a family day on the second Saturday of every month.
Asking Yvonne what her favorite thing is about being the activity director, she replies, "I love seeing the residents having fun and enjoying their time together. I look forward to the many activities that we have and I enjoy talking to all of the residents. We really get to know each other. Most of all, I like the hugs. Something so small but it goes so far. I love my hugs." "If you were describing yourself in 3 words, what would they be?" I ask Yvonne. "I am definitely outgoing, very vocal, and I am always ready to help someone."
Alzheimer's disease is an irreversible, progressive brain disease that slowly destroys memory and thinking skills and eventually even the ability to carry out the simplest tasks. In most people with Alzheimer's, symptoms first appear after age 65. Estimates vary but experts suggest that as many as 5 million Americans age 65 and older may have Alzheimer's disease.
Alzheimer's disease is the most common cause of dementia among older people. Dementia is the loss of cognitive functioning; thinking, remembering, reasoning and behavior abilities to such an extent that interferes with a person's daily life and activities. Dementia is severity from the mildest stage, when it is just beginning to affect a person's functioning to the most severe stage, when the person must depend completely on others for basic activities of daily living.
P.K. Beville, a geriatric psychologist and founder of the nonprofit senior citizen advocacy group Second Wind Dreams created the Virtual Dementia Tour, an experiential kit used to simulate the symptoms of age-related Alzheimer's and dementia to help caregivers better identify and cope with their resident's behavior and needs.
In the last few months, Yvonne Gutierrez and Connie Flowers, Director of Marketing and Admissions have been working on setting up the Virtual Dementia Tour at Sommerset. A walk-through exercise is given where 5 tasks are to be completed. The latest results show that out of the 5 tasks assigned, the average person accomplished 2. The most common comments were: angry, confused, powerless, embarrassed, scared and rethinking what their loved ones go through.
I also spoke with Dave Gooshaw, Clinical Special Education Coordinator of EMSA. He was very pleased with the Virtual Dementia Tour. He suggests that all caregivers go through this exercise program. "It was very interesting and it let me know what it is like for anyone that has Alzheimer's is going through. I'll have to admit, when I finished, I was frustrated by not completing all of the tasks, but it also made me aware of how a person with Alzheimer's must feel. I am thankful that Sommerset has this program available. Overall, I consider the Virtual Dementia Tour fascinating."
Sommerset is one of the few healthcare facilities in Oklahoma that has the Virtual Dementia Tour. If you have a loved one with Alzheimer's Disease and other dementias, and this is impacting your family, you shouldn't pass up the opportunity to participate in this exercise. You may feel lost, scared and frustrated, but you will feel closer to your loved one and better prepared to help them.
If you or someone you know would like to experience the Virtual Dementia Tour, please contact Yvonne or Connie at 405-691-9221 to schedule an appointment.