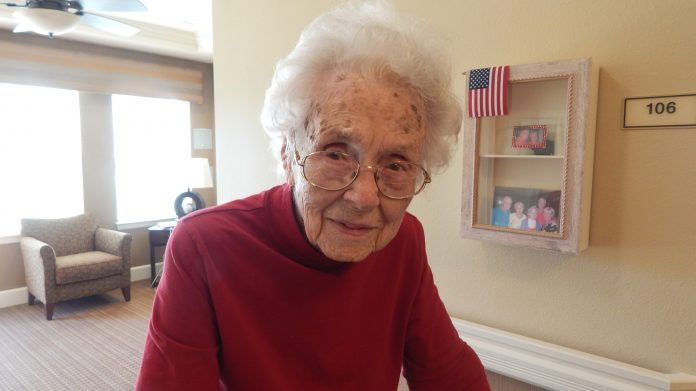 by Mike Lee, Staff Writer
One hundred years can go by in the blink of an eye, but Lois Butler doesn't plan on missing another second after celebrating her 100th birthday recently.
Butler lives at Heritage Point, located at 12000 N MacArthur Blvd, in Oklahoma City.
And she positively radiates to anyone who meets her.
"It's pretty amazing that she is able to get around quickly at her age," said Billie Upshaw, R.N. at Heritage Point. "She is very with it, too. All who are around her know her kindness and benefit from her wisdom."
Butler was born and raised in Cheney, Kansas – a city in Sedgwick County with a population now of just over 2,000.
Her intention was to always live there after working a career as a telephone operator before becoming a homemaker before the birth of her first child.
Her and her husband raised three daughters.
"My mother is a very kind, generous and loving person," said Rochelle Rayburn, Butler's daughter. "Mother was always busy with her family. She loved to entertain and was a wonderful cook and hostess. She always made sure she was available as a mother. I have so many memories of coming home from school and smelling chocolate chip cookies just coming out of the oven."
Butler and her sisters grew up with a mother who was very active.
Butler was very active in the Order of the Eastern Star, a Freemasonic appendant body open to both men and women. It was established in 1850 by lawyer and educator Rob Morris, a noted Freemason.
The order is based on teachings from the Bible, but is open to people of all religious beliefs.
Butler advanced to the position of worthy matron, the highest and presiding officer of the 18-office chapter.
She was also active in P.E.O, which was founded on January 21, 1869, by seven students at Iowa Wesleyan College in Mount Pleasant, Iowa.
This circle of kindred spirits – bonded by their enthusiasm for women's opportunities – eventually expanded to include women off campus, as well. Today, P.E.O. has grown from that tiny membership of seven to nearly a quarter of a million members in chapters throughout the U.S. and Canada, with headquarters in Des Moines, Iowa.
Her mother was always active at school and church and served on the hospitality board at The Golden Age Home in her 80's and 90's.
Visiting every Sunday, The Golden Age Home was what Butler chose as her personal ministry.
Butler was an integral part of the family wheat farming business. She would drive the wheat truck during harvest when needed.
When she wasn't behind the wheel she was cooking for the hired hands and taking lunch to the field.
Butler credits her positive attitude and great emotional strength for much of her longevity and she's quickly become a staff favorite at Heritage Point, which opened earlier this year.
"She is an absolute sweetheart and I like spending as much time talking with her as I possibly can," staff member Charlie Brittain said.