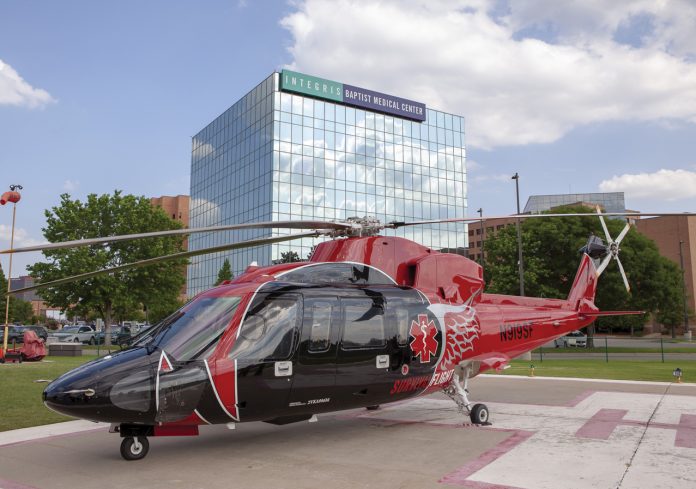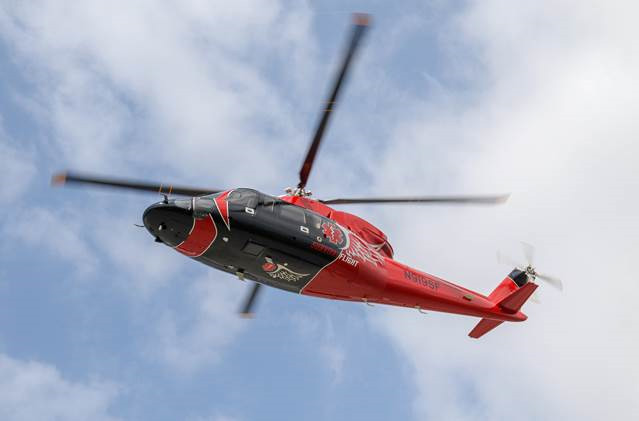 Sikorsky has been the world's leading helicopter manufacturer since 1939, producing every presidential helicopter in the modern era, as well as the highly celebrated military grade Black Hawk helicopter.
INTEGRIS is now using a Sikorsky SK-76 as an integral part of the health care system's critical air medical transport efforts.
The unique aircraft, which is the most advanced multi-role helicopter of its kind, is being housed at INTEGRIS Baptist Medical Center and is owned and operated by Survival Flight.
This particular helicopter is specifically designed to transport injured and critically ill patients from hospitals across the state and region to INTEGRIS to receive specialized care. It will also be used in rescue operations and organ transplant procurements.
"The Sikorsky SK-76 is ideal for transporting the sickest of the sick patients, who demand the highest level of medical care," says Tim Johnsen, president of INTEGRIS Baptist Medical Center. Before becoming an administrator, Johnsen was a cardiac intensive care nurse and director of an air medical transport program. He was also a director of emergency services at a trauma center. He was instrumental in bringing the Sikorsky to INTEGRIS.
"At 52 feet long, it is considerably larger than the average medical helicopter, making it possible to carry not only additional medical equipment and supplies, but also entire teams of medical professionals. These highly trained individuals can then deploy life-saving therapies while en route back to INTEGRIS Baptist Medical Center. It truly is a mobile intensive care unit in the sky."
Aly El Banayosy, M.D., is executive director of critical care and circulatory support at the INTEGRIS Nazih Zuhdi Transplant Institute. He says the Sikorsky helicopter will allow more people access to sophisticated and specialized therapies like cutting edge heart pump technologies such as the LVAD and Total Artificial Heart and extracorporeal membrane oxygenation, known as ECMO.
"ECMO is a last resort lifesaving technique for patients facing imminent death caused by heart or respiratory failure. In many cases it really is a person's only hope for survival. While there are other ECMO programs in the state, INTEGRIS has the only mobile ECMO team where we physically travel to other facilities to retrieve these patients. Now thanks to the superiority of the Sikorsky helicopter, our team is able to travel farther and faster to stabilize dying patients and give them one last chance at life."
The Sikorsky helicopter is one of the fastest medical helicopters in existence and is capable of traveling 300 miles without refueling.
Douglas Horstmanshof, M.D., is a heart failure cardiologist with the Advanced Cardiac Care program at INTEGRIS. He says maintaining the highest quality continuity of care during transport is crucial. "Patients in need of air transport are typically in a very vulnerable state. Having a helicopter like the SK-76 allows the smooth and safe transport not only of the patient, but also the team of physicians and nurses necessary to provide the best possible care during that critical time."
The helicopter went into service on May 5. INTEGRIS is the only health care system in the region utilizing a Survival Flight Sikorsky SK-76 for air medical transport.